Finder is committed to editorial independence. While we receive compensation when you click links to partners, they do not influence our opinions or reviews. Learn how we make money.
NYU Federal Credit Union personal loans review
Funding open to all credit types for students, faculty and staff of NYU.
finder.com's rating: 3.7 / 5.0
★★★★★
Best for NYU students, alumni and employees looking for a loan from their second home.
Pick something else if you need to borrow more than $10,000.
Details
| | |
| --- | --- |
| Product Name | NYU Federal Credit Union personal loans |
| Min. Loan Amount | $500 |
| Max. Loan Amount | $10,000 |
| APR | 6% to 15.5% |
| Interest Rate Type | Fixed |
| Min. Credit Score | 550 |
| Loan Term | 1 to 6 years |
| Turnaround Time | 5 to 3 business days |
Expert review
Review by
anna.serio@finder.com
---
Anna Serio is a trusted lending expert and certified Commercial Loan Officer who's published more than 950 articles on Finder to help Americans strengthen their financial literacy. A former editor of a newspaper in Beirut, Anna writes about personal, student, business and car loans. Today, digital publications like Business Insider, CNBC and the Simple Dollar feature her professional commentary, and she earned an Expert Contributor in Finance badge from review site Best Company in 2020.
Expert review
New York University Federal Credit Union (NYUFCU) personal loans are useful for students and staff who need to borrow cash to pay for just about anything — from a vacation to holiday shopping to small emergencies. Small-dollar loans traditionally come with higher interest rates, but NYUFCU's APRs are relatively low — they cap at 16.5% for those with low credit scores.
Many of these loans are secured with a percentage of the amount you borrow — 10% for most personal loans — which it calls a "pledge at funding." You must have at least this amount in your NYUFCU savings account until you pay back your loan in full.
But you'll need to be an NYUFCU member for at least six months before you're eligible to borrow. And it's not ideal if you need to borrow more than $10,000 — where its loans max out. It's also not the fastest option out there — it could take up to five days to get your funds from start to finish.
Can't qualify for membership to NYUFCU? Compare your other options below.
First, am I eligible?
To qualify for a personal loan, you must meet these eligibility requirements:
NYUFCU member
Credit score of 550+
Debt-to-income ratio 45% or less
"Life happens" and quick-cash loans are only available to NYU employees who've worked at the university for at least two years.
What types of personal loans does NYUFCU offer?
The majority of NYUFCU personal loans are low-interest, fixed-term loans. Only the share-secured loan offers a variable rate.
Depending on your needs, you can choose from a wide variety of loan structures to get the APR, repayment terms and loan amount you want.
| Loan type | How it works | Amounts | APR | Terms | Pledge at funding |
| --- | --- | --- | --- | --- | --- |
| Personal loan | Fixed-term loan to cover any legitimate personal expense. | $500 to $10,000 | 9% to 16.5% | Up to 5 years | 10% of loan amount |
| Vacation or holiday loan | Fixed-term loan to cover the cost of a trip. | Up to $3,000 | 8% to 11.99% | Up to 1 year | 10% |
| Share-secured loan | You borrow against the value of your share draft account to lower interest rates. | 95% of your share account balance | Dividend rate + 3% | 36-month fixed rate, 144-month variable rate with quarterly changes | 105% |
| Credit-builder loan | Deposited a small amount of money into a savings account to build or rebuild your credit and start an emergency fund. | $500 to $1,000 | 10% to 16.5% | Up to 1 year | 100% |
| "Life happens" loan | Fixed-term loan to pay for emergency expenses. | $1,000 to $2,500 | 16% | 1 year | None |
| Quick-cash loan | Small-dollar interest-free loans to pay for emergency expenses. No minimum score required, but you'll pay an application fee of $10 to $20, depending on how much you borrow. | $250 to $500 (no more than 20% of your paycheck) | 0% | Up to 4 months | None |
Bill consolidation loans
NYU Federal Credit Union also offers what it calls "bill consolidation loans" — essentially a debt consolidation loan — which it advertises as separate from its personal loans. Here, you can borrow up to $45,000 with rates ranging from 10% to 17.5% and terms from one to five years.
Eligibility requirements for bill consolidation loans are more strict than those for personal loans. To qualify, you need a credit score of at least 620 and a strong credit history. And for loans of $10,000 or more, you'll need a credit score of 740 or higher.
Pros
Rates max out relatively low
No interest on its quick-cash loan
Credit-building options
Poor credit OK
Helpful for emergency expenses
Cons
Personal loan comes with $25 application fee
Some loans require "pledge at funding" of at least 10%
Maximum loan amount capped at $10,000
Three- to five-day turnaround
No preapproval process
Limited customer service hours
Compare other personal loan providers
What do customers say about NYUFCU?
| | |
| --- | --- |
| BBB accredited | No |
| BBB rating | A+ |
| Customer reviews verified as of | 20 December 2019 |
Not much. Because NYUFCU is such a small institution, it doesn't have many reviews. The only complaint filed with the BBB concerns fraudulent checking account activity. And a handful of reviews on Yelp average 3 out of 5 stars. Customers report inconsistent experiences with the staff. Some say customer service is wonderful and they know NYUFCU employees by first name. Others claim the staff members they dealt with were incompetent and unprofessional — enough to end their NYUFCU membership.
How do I apply?
To apply for a personal loan through NYU Federal Credit Union, follow these steps:
1. Go to NYUFCU's website and click Apply for a Loan.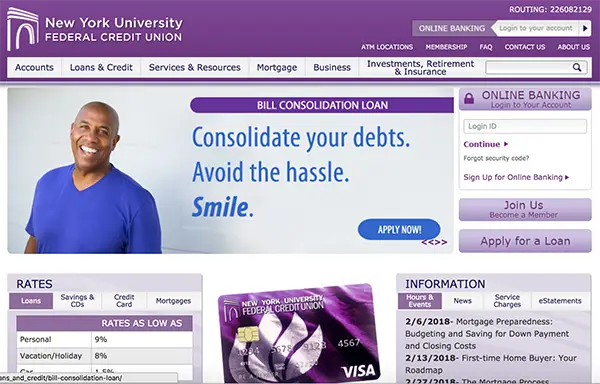 2. Enter your member number and your Audio Response PIN or the last four digits of your Social Security number. Click Submit.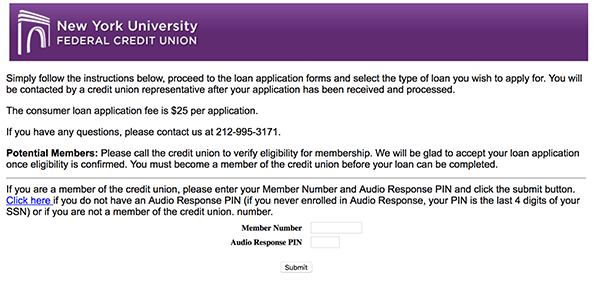 Complete and submit your online application.
What documents do I need to apply?
NYUFCU needs proof of income. You can provide one of two combinations:
Two of your most recent pay stubs and a W-2 form OR
Bank statements for the last six months, tax returns for the last two years and a completed reference form — available on its website
What happens after I apply?
NYUFCU will send you an email requesting documentation. You will need to upload your documents and pay a $25 application fee by check, in cash or a deduction from your account.
If approved, you will receive your loan agreement. Read it carefully, then sign and submit back to NYUFCU. You should be able to complete the process and receive your loan funds within three to five business days.
How do repayments work with NYUFCU?
NYUFCU allows you to repay your loan by check, mobile deposit, autopay from your account or automatic payroll deductions. Consider signing up for one of the automatic options. That way, you don't have to take time to manually make repayments each month.
If you notice something unusual, reach out to NYUFCU's customer service line or visit one of its branches.
Compare other lenders with our guide to personal loans or check out other New York credit union personal loan offers.
Frequently asked questions
Short-term loan ratings
★★★★★ — Excellent
★★★★★ — Good
★★★★★ — Average
★★★★★ — Subpar
★★★★★ — Poor
We analyze short-term loan providers and similar services to help you weed out predatory lenders and find a company you can trust. We rate providers on a scale of one to five stars. Our ratings are based on factors that are most important to you, which include: loan amount, application process, fees, customer reviews and borrower experience.
Read the full methodology of how we rate short-term loan providers and similar services.