New crypto token tied to Bored Ape Yacht Club launches, sinks immediately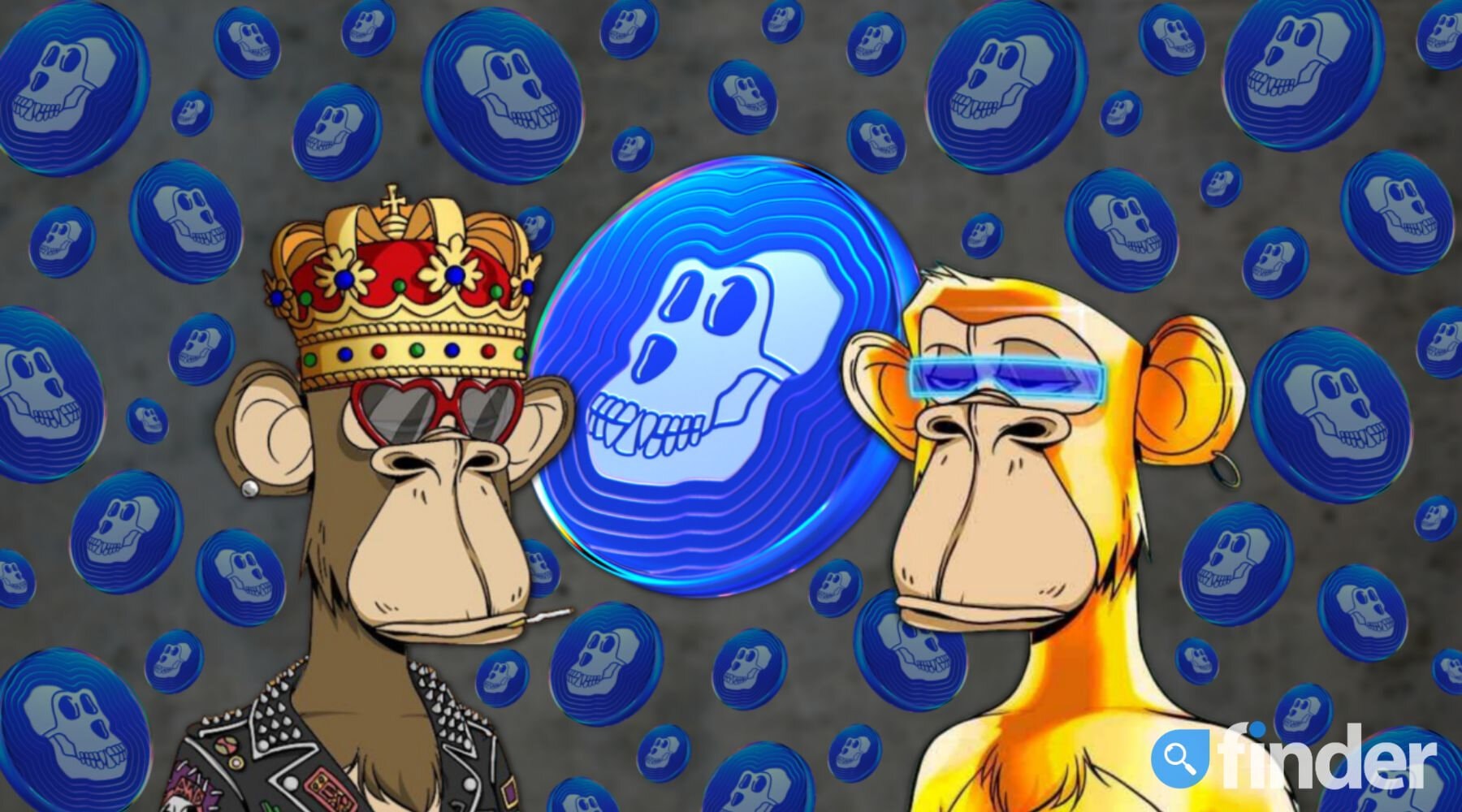 Disclaimer: This page is not financial advice or an endorsement of digital assets, providers or services. Digital assets are volatile and risky, and past performance is no guarantee of future results. Potential regulations or policies can affect their availability and services provided. Talk with a financial professional before making a decision. Finder or the author may own cryptocurrency discussed on this page.
Bored Ape NFT holders were airdropped 10,000 coins apiece and many were sold immediately, tanking the price from $39.40 to as low as $6.48.
ApeCoin (APE), a new digital token tied to the much-publicized Bored Ape Yacht Club (BAYC) nonfungible token (NFT) project, launched this morning and promptly fell in value by 84%.
The current value, around $8 but down from a high of $39.40, gives the coin a market value of $2.3 billion. The coin had a market cap of around $6 billion when it launched.
It's still among the top 50 largest cryptocurrencies by market cap — the 49th — but it's not clear it will stay there.
This may be a disappointment to fans of the Bored Ape NFTs, and those who bought in near the top on the fear of missing out on the initial release. Volatility is to be expected with the launch of a new asset, but ApeCoin is off to a rocky start.
For information on how to buy ApeCoin, see our guide.
What happened?
ApeCoin was airdropped to owners of Bored Ape NFTs Thursday morning after the project's official Twitter handle announced the drop late Wednesday.
According to the ApeCoin Twitter account, 62% of ApeCoin's total supply is allocated to the ApeCoin community, of which 15% of the total supply would be available to claim starting today, Thursday.
Owners of Bored Ape NFTs were airdropped 10,094 ApeCoins apiece. Mutant Ape holders were allocated 2,042 tokens, while Bored Ape and Kennel Club and Mutant Ape and Kennel Club holders were airdropped 10,950 and 2,898 tokens, respectively.
Of the remaining supply, 16% will be sent to ApeCoin's parent company Yuga Labs, 14% to launch contributors and 8% to BAYC founders.
The coin will be owned and operated by the ApeCoin decentralized autonomous organization (DAO), or community. Anyone holding ApeCoin is given membership.
But many holders sold immediately after the claim Thursday, sending the price of each token plummeting by as much as 84% to a low of $6.48, according to CoinMarketCap.
What is Bored Ape?
The Bored Ape Yacht Club, or simply Bored Ape, is a collection of over 10,000 NFTs of unique apes minted on the Ethereum blockchain. Buying one of these NFTs gets you access to the BAYC and special members-only benefits.
The BAYC was launched in 2021 under an entity called Yuga Labs. A BuzzFeed News report revealed the founders' identities — childhood friends Greg Solano and Wylie Aronow — just last month.
Yuga Labs, the parent company of the BAYC, is reportedly in talks with venture capital firm Andreessen Horowitz (a16z) for a funding round that would value it at up to $5 billion.
Thinking of buying ApeCoin?
Since its initial drop, the price of ApeCoin has been trading at around $8 for most of Thursday, but there's no telling whether this is the floor.
Crypto can be highly volatile, so it could drop even further or go back up.
At the time of publication, Matt Miczulski did not own any crypto mentioned in this story.
​​