New FICO score predicts how well you'll weather this downturn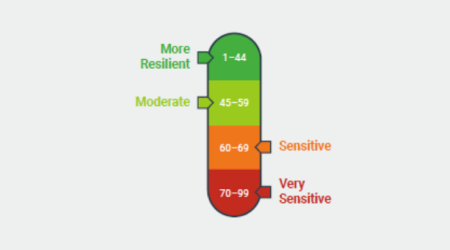 FICO Resilience Index is good news to responsible borrowers with lower credit scores.
A new measure of how well you're able to manage challenging economic conditions like the recent COVID-19 lockdowns may soon keep money flowing to you while banks continue tightening the standards required to get a loan.
It's good news for responsible borrowers who've proven themselves financially faithful in previous economic downturns like the Great Recession of 2008–2009 — even if those borrowers have lower credit scores.
"Most consumers, including those with lower FICO scores, paid their credit obligations and responsibly managed their financial affairs even under the challenging economic conditions of double-digit unemployment and low consumer confidence," the company stated in its announcement.
The just-released FICO Resilience Index, which is largely based on research from the Great Recession, pinpoints a few tendencies shared by highly resilient borrowers, including:
More experience managing credit
Lower total revolving balances
Fewer active accounts
Fewer credit inquiries in the last year
Since March, credit card companies have been halting balance transfer offers and banks have been raising the minimums needed to qualify for a loan, making it harder to make ends meet when consumers need it the most. That could change with the new score.
"With the FICO Resilience Index, FICO can, for the first time, identify those consumers better positioned to weather an economic downturn and demonstrate that millions of those resilient consumers can be found in lower FICO ranges that could otherwise have their credit access cut off, curtailed or priced higher during an economic downturn."
What FICO Resilience Index scores will look like
Rather than scores in the hundreds, like the standard FICO credit score, the Resilience Index will be plotted on a much simpler scale of 1 to 99, with 1 representing the most resilient borrower and 99 the least resilient.
Here's how FICO intends to categorize them:
More resilient = 1–44
Moderate = 45–59
Sensitive = 60–69
Very sensitive = 70–99
Can I see my Resilience Index score yet?
No, the Resilience Index is currently being tested by lenders and isn't available to consumers yet. Watch for more developments as use of the FICO Resilience Index spreads and more lenders rely on it to determine whether or not credit should be extended to a borrower.
While you can't check your score just yet, the same information used to create your resilience score is factored into your FICO credit score. You can check how accurate that information is by requesting a copy of your credit report — free reports are now available weekly. If you notice a mistake, take steps to dispute it and have it removed from your report. Not only could this have a positive effect on your FICO score, but your Resilience Index score could improve as well.