New digital bank for teens focuses on education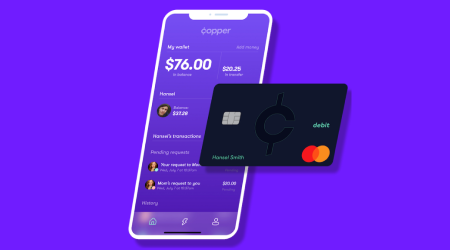 This forthcoming online bank account from Copper will reward your teen for developing good saving and spending habits.
Copper Banking is a digital checking account and debit card for teens. The company announced Tuesday that it secured $4.3 million in seed funding with the help of PSL Ventures. Here's what we know so far about this up and coming digital bank account for teens.
Copper Banking at a glance
Name: Copper Banking
Availability: You can join the waitlist, but there's no set release date at time of publishing.
Features: Mastercard debit card; Earn money for reaching savings goals, taking financial quizzes and paying back parents and friends on time; Send and request money in the app; Instant transfers between parent and teen accounts; Divide savings into different buckets.
Fees: No monthly fees; No ATM fees; Could pay up to $4.95 for depositing cash at Green Dot locations; Foreign transaction fees vary based on Mastercard's exchange rate at the time of withdrawal.
Other limitations: 0.001% interest rate.
Copper Banking's biggest draw is its focus on education. Teens learn how to make smart money decisions directly in the mobile app through automatic savings tools and interactive quizzes.
"We founded Copper to give teens a practical education in finance that will keep them out of debt, afford the things they want, and ultimately set them up for long-term financial success," said Eddie Behringer, CEO and cofounder of Copper Banking.
Parents can instantly send money to their kids through the mobile app, eliminating the frustration that often comes with having to run to an ATM first. Parents can also set up allowances and other recurring transfers.
Copper Banking comes with a Mastercard debit card that can be used online, in stores and in Apple Pay. The account is FDIC-insured up to $250,000. It also features 'round the clock fraud monitoring to help keep your teen's money safe from suspicious activity.
How does Copper Banking compare to other teen accounts?
Copper Banking has a mix of features you'd find in other teen checking accounts and prepaid cards. Here's a rundown of its unique features and drawbacks:
Pros
Instant transfers for parents. Parents can instantly transfer funds to their teen's account, which comes in handy if they're out and about and need money on the spot.
Automatic savings tools. Teens can divide their money into different savings buckets and have funds automatically deposited into those buckets when they get paid. They can also set up shared goals with friends and family.
Financial quizzes. Your teen develops good spending, saving and giving habits through interactive quizzes in the mobile app.
No fees. Unlike other teen accounts, this one has no fees for monthly maintenance or ATM usage. There's also no minimum balance to get started.
Cons
Low interest rate. This account earns a paltry 0.001% APY, which means you'll only earn $0.01 for every $1,000 you keep in the account.
Little info about rewards. Copper claims you get rewards for reaching savings goals and taking financial quizzes, but it doesn't give any information on what those rewards look like.
Currently waitlisted. This account is currently in beta. You can add yourself to the waitlist, but there's no set release date at the time of publishing.
How do I sign up for the Copper Banking waitlist?
To save your spot in line for the Copper digital bank account:
Download the official Copper Banking app for teens
Launch the app and click How Does It Work?
Click Let's Do This
Enter your phone number and click Next
Enter your security code
Select whether you're a teen or parent
Enter your name, birthdate, email address and zip code
Follow the steps to invite your teen or parent
Copper will notify you when it's time to open your account.
Photo: Copper Banking