Finder is committed to editorial independence. While we receive compensation when you click links to partners, they do not influence our content.
Netflix Party: How to keep watching with friends and family
This Chrome extension enables you to watch movies and series together, even practicing social distancing.
Social distancing has become the new normal, making it hard to physically connect. No more movie dates or nights chilling with Netflix with anyone outside your quarantine.
But Netflix Party offers a way to bring people together. This Chrome extension isn't new, but its popularity is surging thanks to social media.
It lets you host virtual watch parties with friends and family, so it's useful when everyone is stuck in their homes looking for unique ways to connect. The Chrome extension synchronizes video playback and adds group chat to your favorite Netflix content.
If you've ever tried to watch movies with friends over the phone, you know the difficulties of synchronized streams — pausing at the exact same time when you need a break. But Netflix Party does all the heavy lifting for you.
How to install Netflix Party
To enjoy the perks of Netflix Party, you need a Chrome web browser. Everyone you invite to join your watch party needs to have access to a Netflix account. Here's how to get started:
Step 1. Go to the extension's page in the Chrome store. You can also access NetflixParty.com and choose Install Netflix Party.
Step 2. Select Add to Chrome, then Add Extension in the pop-up window. The extension installs and you can see the Netflix Party icon in the toolbar.
Step 3. Find something to watch on Netflix and hit the Netflix Party icon in the toolbar.
Step 4. You'll receive a unique link to copy and send to everyone you want to join the party. This is also when you decide if you're the only one who wants control over the stream or if you're willing to enable everyone to pause or skip around.
Step 5. Once people join, you can all chat in a window that appears on the right side of the screen. Select the icon in the top right to set a nickname for yourself.
Step 6. Sit back and enjoy. Once you pause the video, it will pause for everyone. The same goes if you skip around. They'll see what you see.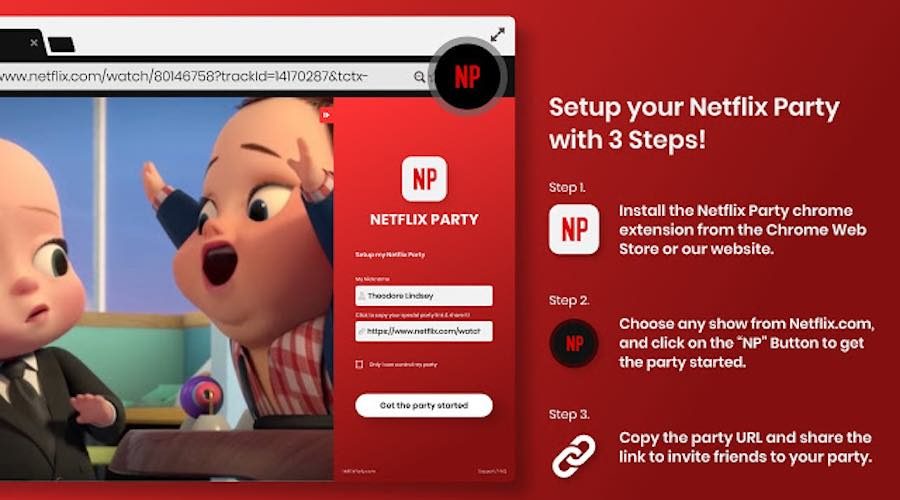 When should I use Netflix Party?
While Netflix Party is a tool for anyone self-isolating due to the coronavirus pandemic, it's useful any time. It's good for people in long-distance relationships or with loved ones who are far away. It helps you stay social even if you can't — or don't want to — leave the house.
The popularity of streaming services have changed the way we watch TV and movies. But it also prevents people watching in real time, enjoying the story together as it unfolds. And when you chat online about a new show, you have to check everyone's progress to avoid spoilers.
Netflix Party helps you socialize watching again. While it doesn't beat watching together, it's the next best thing and what we have right now.
What should I watch with Netflix Party?
We recommend you start with the best TV shows on Netflix or catch up with Netflix's original movies.
Subscriptions to Netflix in America start at $9.99 a month. The service offers a 30-day free trial too. Otherwise if you're looking for something else there's plenty of other streaming providers.
Image source: Netflix
More guides on Finder