Use your cryptocurrency wallet to pay for purchases with this Visa prepaid card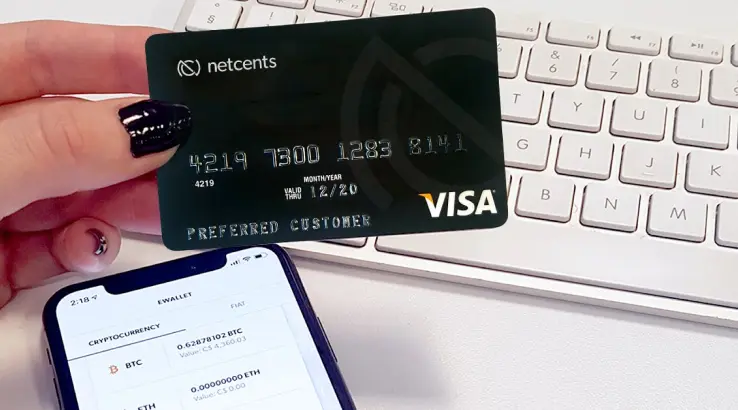 A first-of-its-kind card that lets you use cryptocurrency without having to cash it out first.
NetCents — a cryptocurrency payments technology company — announced this week that it's partnering with Visa to launch the NetCents Cryptocurrency Visa Card. Here's what we know so far:
Name: NetCents Visa Card
Features: Spend money in your cryptocurrency wallet without having to preload it onto the card; complete a single transaction using multiple cryptocurrencies including Bitcoin and Ethereum.
Fees: None disclosed yet.
Limitations: This is a brand new technology, so there could be kinks to work out in the beginning.
NetCents is joining Visa's Fintech Fast Track Program to roll the Cryptocurrency Visa Card out across the US and Canada. This partnership allows NetCents to "more easily leverage the reach, capabilities, and security that VisaNet, the company's global payment network, offers," according to an announcement.
"Having a direct relationship with Visa allows us to have the most streamlined and cost-effective system to blend the capabilities of cryptocurrency and the Visa platform," says Founder and CEO of NetCents Technology, Clayton Moore.
Unlike other prepaid cryptocurrency cards, NetCents Visa allows you to buy things without first having to convert your cryptocurrency to USD. The card connects to your NetCents cryptocurrency wallet and withdraws funds in real-time, minimizing any potential losses you might incur between cashing out the cryptocurrency and spending it on your card.
Another interesting twist is that NetCents is bringing this card from a business payments background instead of a banking background. Canadian residents can currently request their Visa card for personal use, but we don't yet know if this card will be available for business use.
The NetCents Visa Card comes with standard card features, such as a chip, magstripe, PIN and NFC functionality. You can also dispute transactions, report your card lost or stolen and change your PIN right in the NetCents mobile app.
How does the NetCent Visa Card compare to similar prepaid cryptocurrency cards?
Here's how the NetCents Visa Card stacks up against the competition:
Pros:
No card loading. The NetCents Visa Card ties directly into your NetCents wallet, allowing you to spend your cryptocurrency in real-time. There is currently no other card on the market that can do this.
Use multiple currencies at once. Select up to three cryptocurrencies to hold on your card at any given time. You can also use all three cryptocurrencies at once to pay for a single transaction.
Backed by Visa. Use this card at over 40 million merchants worldwide — wherever Visa is accepted.
Cons:
Not available yet. The NetCents Visa Card has launched in Canada, but it's not yet available to US residents at the time of publishing.
Only works with NetCents wallet. You'll have to store your cryptocurrencies in NetCents wallet to use them with this card, which could be less than ideal if you don't already use NetCents.
Can't be used with every cryptocurrency. Your NetCents wallet can hold these cryptocurrencies: Bitcoin, Bitcoin Cash ABC, Ethereum, XRP, Litecoin, Verge, Tron and Horizen. If you have any other cryptocurrencies, you won't be able to use them with your NetCents Visa card.
Photo: NetCents