Finder is committed to editorial independence. While we receive compensation when you click links to partners, they do not influence our content.
Nest Bedding mattresses review August 2021
Choose from seven options to find a dreamy new mattress that fits your budget and your sleeping style.
Nest Bedding is a family-owned, direct-to-consumer mattress company that offers seven different options made of a variety of materials and at a range of prices. From affordable foam mattresses to luxurious hybrids, Nest Bedding has plenty of styles to consider.
Although Nest primarily operates online, the company now has 15 physical locations in California, New York, Minnesota, Illinois, Colorado, Arizona and Washington.
Available through Affirm
Financing
Review by
gabrielle.pastorek@finder.com
---
Gabrielle Pastorek is the shopping and travel publisher at Finder, helping readers to round up the best deals, coupons, retailers, products and services to make sound financial decisions. She's contributed more than 800 articles to the site and is a quoted expert in Best Company and DealNews. She earned an MFA from the University of Pittsburgh, with essays and short stories published in The Collagist, Blue Monday Review, Blotterature and others. When she's not writing, Gabrielle can be found out in the barn with her horse, Lucy.
Expert review
If you need a new mattress or pillow and are looking for something specific, Nest Bedding is worth a look. This brand carries a wide range of options and currently has 15 showrooms across the country — so you can test out its products before placing an order.
Nest Bedding's Alexander Signature Series tops our list of the best mattresses for sex, thanks to its hybrid construction, excellent edge support and responsiveness. We've also awarded this bed a spot on our best mattresses for couples review, for many of the same qualities.
What does Nest carry?
Mattresses
Beyond mattresses
Pillows. Get a better sleep with a better pillow. Nest offers five different styles, plus a children's option.
Bedding. Your new mattress wouldn't be complete without a new set of fresh sheets or a luxurious duvet cover. You can also find mattress pads, toppers, blankets and comforters from Nest.
Foundations. Need a little extra support? Try one of Nest's solid wood, adjustable or metal foundations and bases.
Pet beds. The newest addition to Nest's line of comfort-focused products. Choose from bolstered or wool styles in sizes from small to large.
Pajamas and sleep accessories. Hit the hay in style in bamboo pjs, or treat yourself to a calming face mask.
Prices and payment
Nest mattresses range in price from $399 to $749 for the Love & Sleep to $1,499 to $2,699 for the Latex Mattress. The My Big Kid's Bed starts at $299 for a twin.
Nest Bedding's checkout page is secure, so you can safely enter your credit card information. For an added layer of security, you can also choose the Apple Pay, Google Pay or PayPal options at checkout.
Does Nest Bedding offer financing?
Yes, Nest offers two financing options — Affirm and Zibby. If you select the Affirm financing option, it'll do a soft credit pull and give you an instant approval decision. Depending on your credit, you could get anywhere from 0% to 30% APR over six, 12 or 18 months.
If you don't have a credit history, you can still make monthly payments on your new mattress through Zibby. This is essentially a rent-to-own option that doesn't require a credit check. You'll fill out a quick application and get an answer in seconds.
Features of a Nest mattress
What is it made of?
Nest mattresses are comprised of memory foam, pocketed spring coils and/or latex materials, depending on the model. Each mattress uses cooling technology to help regulate your body temperature while you sleep. The Hybrid Luxury Contour mattress also contains Copper Phase Change Gel memory foam for an even cooler sleeping experience.
Do you need a box spring?
Nest Bedding doesn't recommend using a box spring with its mattresses. The ideal base is a platform or foundation that uses ventilated slats spaced three to four inches apart. Using a Nest mattress on slats spaced greater than four inches apart could void your warranty.
How many years does a Nest mattress last?
Our research shows that memory foam mattresses tend to last anywhere from six to 10 years, while latex and latex hybrid mattresses may last longer. However, Nest Bedding mattresses come with a lifetime warranty, so if you notice any indentations or sagging greater than one-inch deep, you could be eligible for a new one.
Can I rotate or flip the Nest mattress?
Flipping your Nest Bedding mattress is not recommended since it's built with multiple layers arranged in a particular order. If you consistently sleep on one side, the company recommends rotating your mattress from head to toe every six months.
Nest Bedding sizing guide
Each of the three Casper mattress options come in slightly different thicknesses.
Love & Sleep:
Twin
Twin XL
Full
Queen
King
California King
Split King
Split California King
75″ x 39″ x 11″
80″ x 39″ x 11″
75″ x 54″ x 11″
80″ x 60″ x 11"
80″ x 76″ x 11″
84″ x 72″ x 11″
80" x 38
" x 11" (one side)
84" x 36" x 11" (one side)
Alexander Hybrid and Alexander Signature:
Twin
Twin XL
Full
Queen
King
California King
Split King
Split California King
75″ x 39″ x 13.5″
80″ x 39″ x 13.5″
75″ x 54″ x 13.5″
80″ x 60″ x 13.5"
80″ x 76″ x 13.5″
84″ x 72″ x 13.5″
80" x 39
" x 13.5" (one side)
84" x 36" x 13.5" (one side)
Hybrid Luxury Contour:
| Twin | Twin XL | Full | Queen | King | California King |
| --- | --- | --- | --- | --- | --- |
| 75″ x 39″ x 11.5″ | 80″ x 39″ x 11.5″ | 75″ x 54″ x 11.5″ | 80″ x 60″ x 11.5" | 80″ x 76″ x 11.5″ | 84″ x 72″ x 11.5″ |
Hybrid Latex:
| Twin | Twin XL | Full | Full XL | Queen | King | California King |
| --- | --- | --- | --- | --- | --- | --- |
| 75″ x 39″ x 13″ | 80″ x 39″ x 13″ | 75″ x 54″ x 13″ | 80″ x 54″ x 13″ | 80″ x 60″ x 13" | 80″ x 76″ x 13″ | 84″ x 72″ x 13″ |
Latex Mattress:
| Twin | Twin XL | Full | Queen | King | California King |
| --- | --- | --- | --- | --- | --- |
| 75″ x 39″ x 12″ | 80″ x 39″ x 12″ | 75″ x 54″ x 12″ | 80″ x 60″ x 12" | 80″ x 76″ x 12″ | 84″ x 72″ x 12″ |
My Big Kid's Bed:
| Twin | Twin XL | Full |
| --- | --- | --- |
| 75″ x 39″ x 7″ | 80″ x 39″ x 7″ | 75″ x 54″ x 7″ |
Bolstered Pet Bed:
| Small | Medium | Large |
| --- | --- | --- |
| 24" x 7" | 29" x 8" | 35" x 8" |
Wool Pet Bed:
| Small | Medium | Large |
| --- | --- | --- |
| 24" x 18" x 6" | 28" x 23" x 8" | 35" x 27" x 10" |
Shipping and delivery
Can I get free delivery?
Yes, Nest Bedding ships free to the continental US.
Mattresses usually take one to three days to be handmade after ordering, plus an additional one to five business days for transit.
Does Nest offer a trial period?
Yes. There's a 100-night, risk-free trial on all Nest mattresses, solid foundations, pillows and bedding. The company does ask that you try your new bed for at least 30 days before requesting a return.
What's Nest's return policy?
If you don't love your mattress at any point between the 30th and 100th day you've had it, you can request a return at no additional cost. Return requests made before day 30 may incur a restocking fee.
Note that adjustable bases are not eligible for returns or exchanges.
Are Nest Bedding returns free?
Yes, returns are free as long as you make a return request within 30 to 100 days after your purchase. Requests made before 30 days may incur a restocking fee.
How do I return items to Nest?
Contact Nest customer service at customerservice@nestbedding.com or fill out the return request form online by clicking Exchanges & returns under the Customer care section at the bottom of the page.
Once your request is processed, you should receive a return merchandise authorization form and instructions to complete your return, depending on the type of item you're sending back.
Shipping costs
Shipping to the continental US is free. It can cost up to $150 to ship to Alaska and Hawaii. Contact customer service for a quote if you live in either of these states.
International shipping is available for an additional fee, which varies by location.
How can I track my order?
You'll receive an email from Nest with your tracking information as soon as your order ships. The company suggests checking your spam folder, as these emails can get filtered out of your inbox from time to time.
What sets this brand apart?
Nest Bedding is one of the few online mattress brands that has a growing number of physical showrooms across the country. So if you're not sure about picking a mattress online, test it out in stores first. You'll also find seven very distinct mattress options from Nest, each with its own set of firmness options to choose from. Many other bed-in-a-box companies offer one or two mattress models with limited firmness choices.
Nest is also unique in that it offers a lifetime warranty on all of its mattresses, while most online mattress brands offer 10- or 20-year warranties.
Where are Nest Bedding showrooms?
Phoenix, Arizona
Scottsdale, Arizona
Surprise, Arizona
Tempe, Arizona
Albany, California
Costa Mesa, California
Minneapolis, Minnesota
New York, New York
Los Angeles, California
Palo Alto, California
San Francisco, California
Santa Monica, California
Denver, Colorado
Chicago, Illinois
Seattle, Washington
What do people really say about Nest Bedding?
The overwhelming majority of online reviews for Nest Bedding are positive. Most customers are elated that they can finally get a good night's sleep — free of pain, sagging, tossing and turning. The Nest Alexander Signature Hybrid even topped our charts for the best mattress for sex. Coupled with the brand's affordable prices, most customers feel like Nest mattresses are a great value.
Nest customer service gets rave reviews, too, even in the event of a return. A few customers did report a slower than expected returns process, and at least one reviewer said their initial delivery got delayed.
How can I contact customer support?
There are a few ways to get ahold of Nest Bedding customer support:
Call 888-992-2001 weekdays from 8 a.m. to 7 p.m. PT and weekends from 7 a.m. to 6 p.m. PT.
Fill out its secure online contact form.
Live chat during regular business hours.
Why should I shop at Nest Bedding?
Pros
Competitive pricing. Nest Bedding offers competitive pricing and a variety of mattress options to suit anyone's sleeping needs and comfort levels.
Multiple financing options. Pay for your new bed in monthly installments with as little as 0% APR through Affirm financing, or use Zibby's rent-to-own option if you have poor or no credit.
Lifetime warranty and comfort guarantee. Nest Bedding stands behind its products so strongly that it offers not only a lifetime warranty but also a lifetime comfort guarantee on mattresses and frames.
Eco-friendly materials. Nest Bedding prides itself on using organic, eco-friendly materials for many of its products.
Cons
Shipment can take longer than some competitors. Your Nest mattress could take up to three days to be handmade after you place your order, then an additional one to five days to be shipped.
Is Nest better than Casper?
Nest and Casper both offer several memory foam mattress options that range in price from economical to luxurious. Nest offers seven mattress models, including all-foam, all-latex and hybrid options. Casper has three mattresses, including two foam options and a hybrid. Both brands make dog beds, and Nest also offers a kids' mattress.
Most of Nest's mattresses come in two or three firmness levels, while Casper's come in one. If you're looking for a specific softness or firmness, Nest might be worth a look.
If you're still not sure which is right for you, read our Casper review to unlock more info to help you decide.
Frequently asked questions about Nest Bedding mattresses
---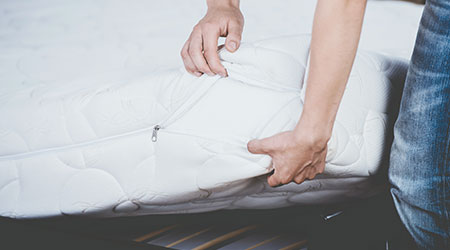 The complete guide to buying a mattress online
If you're not sure yet if Nest Bedding is right for you, jump over to our complete guide to buying a mattress online. We give you tips on how to choose the right mattress for you and compare online mattress brands side by side.