Finder is committed to editorial independence. While we receive compensation when you click links to partners, they do not influence our content.
Nectar Sleep: Mattress & pillow review
We review the Nectar Sleep mattress.
While Nectar stocks an adjustable bed frame, foundation and other sleep products, its flagship mattress is the crowning jewel. So what's the brand's most popular mattress really like to sleep on? We slept on it for more than 100 nights to answer that.
Nectar Sleep sent me a mattress for free so that I could try it out. I've slept on it before giving this review, and you can rest assured you're getting an honest, unbiased opinion.
Size reviewed: Queen
Cost: $699
Trial period:
Warranty: Lifetime
Free shipping: Yes
Shipping time: 5 days
Shop Nectar Sleep now
Mattress review
Unpacking the mattress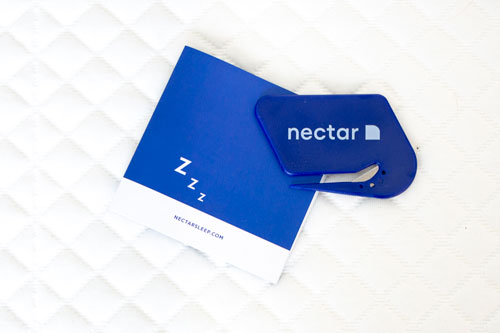 The mattress arrived as most online order mattresses do: in a box. Inside the box was a pamphlet with unpacking instructions, tips on cleaning and maintaining the mattress and a Nectar-branded safety blade to slice open the vacuum-sealed plastic.
Unpacking the mattress was hassle free. With one quick cut with the safety blade, the mattress began expanding. Nectar suggests waiting at least 24 hours before sleeping on the mattress, so consider timing before unpacking. If you don't need much space, a queen mattress lying flat for 48 hours can be a small inconvenience.
If you've also purchased Nectar pillows with your order — and we highly suggest you do — they're wrapped in the same vacuum-sealed package and unpack with the mattress.
Initial thoughts
The Nectar sleep is an all-foam bed made up of three distinct layers that stack up to 11 inches. Uniquely, the mattress has a larger than usual 4-inch topper which allows for a considerable amount of sinking. This can take getting used to, especially when coming from a much harder mattress, as I did.
One month in
When compared with my previous mattress — a memory foam base with a gel topper — the Nectar provided a huge amount of support across the full length of my body. In my first week of sleeping on it, I experienced a lot of discomfort and some terrible sleep. This isn't unusual: Nectar suggests it can take up to 30 days to break in the mattress, which is well within the brand's sleep trial.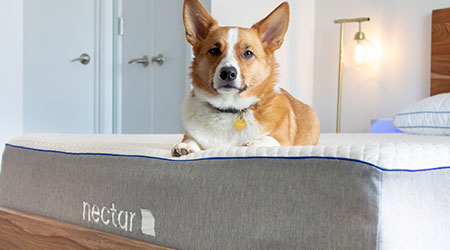 After this first week, both my sleep quality, time sleeping and general comfort on the bed increased greatly. In fact, I couldn't imagine going back to my old mattress now. After this adjustment period, my existing back pain decreased largely, as many other customers report.
A notable feature and selling point of the Nectar mattress is that it sleeps cool. This can sound gimmicky, but as someone who cranks up the A/C to get a good night's sleep, this feature seriously impressed me.
This cooling effect is from a Tencel cover that promotes both air circulation and heat wicking. The cover actually circulates fresh air throughout the mattress as you move in your sleep. It also acts as a preventative measure against bed bugs.
If you ever need a fresh cover — or experience bed bugs — call Nectar and they'll send you a new cover at no charge.
The Nectar pillow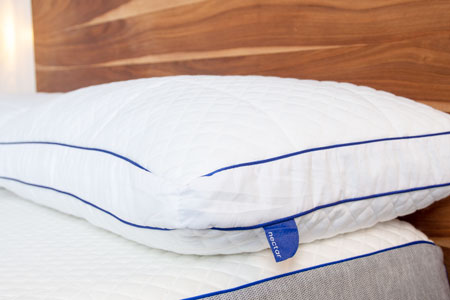 I also tested the Nectar Sleep pillows. It features a pillow-in-pillow design with a quilted memory foam outer shell. And it's covered in the same Tencel cooling fabric as the mattress, with the inner pillow filled with memory foam stuffing.
Nectar suggests waiting 24 to 48 hours for the pillows to properly inflate after unpacking. After waiting the suggested time, I noticed the two pillows varied slightly in size, one slightly overinflated more than the other.
Sleeping on the Nectar pillow with the Nectar mattress is a dream combination. The two complement each other and provide the right amount of support to keep your body in a comfortable position, no matter which way or orientation you sleep in.
This isn't to say that another pillow won't work with a Nectar mattress. My partner continues to use her existing pillow over the Nectar. However, using the Nectar pillow on another mattress was lackluster and left me with some neck pain.
Pros and cons
Pros
Great for back pain. This mattress can help those with bad backs get a good sleep.
Sleeps cool. By far my favorite feature, the cover actually works to keep you cool.
Great support. Many 100% foam mattresses suffer from being too soft and lacking support.
100-night trial. An industry-leading trial means that even after you break in the mattress, you can return it if you're not satisfied.
Cons
Long adjustment period. 30 days is a long time to break in a new mattress.
Lengthy setup. Many bed-in-a-box mattresses expand in as little as four hours, allowing you to sleep on them the same night you unpack them.
Shop Nectar Sleep now
Nectar Mattress vs. competitors
Not only is this a great mattress to sleep on, but it also comes with a great price tag. Compare the Nectar to the closest competitors below.
Bottom line
The Nectar mattress is one of the most comfortable mattresses I've slept on. It has increased my sleep quality and improved my back pain while keeping me cool all night long. I highly recommend the mattress-and-pillow combination and taking full advantage of Nectar's white glove delivery.
For more information on Nectar, read our brand review that breaks down each of its products and provides all you need to know about shipping, returns, sleep trials and more.
Would you recommend this mattress to a friend?
Absolutely. In fact, I already have. This is the first mattress I've noticed make a difference to my everyday aches and pains and it goes above and beyond being just a place to sleep.
More guides on Finder