As national coin shortage comes for small business cash registers, here's how to convert to digital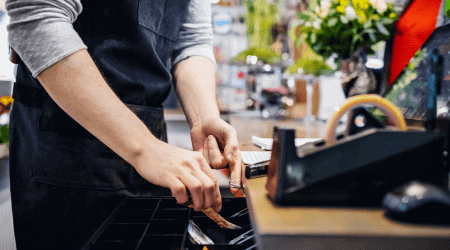 COVID-19 disruptions and hoarding have led to new limits on accessing rolls of change.
The Federal Reserve, banks and businesses across the country are beginning to report shortages of pennies, nickels, dimes and quarters. This is partly because the coronavirus pandemic shut down the US Mint and partly because people have no place to turn in their coins with banks and businesses shuttered en masse in recent months.
That has led the Federal Reserve to limit how many coins it can deliver to banks that request them, effective June 15th, according to a statement by the central bank.
For small businesses, the ongoing problem means requiring customers to provide exact change, round up or pay digitally with a debit card, credit card or cardless payment app if they can't keep enough spare change in their cash registers.
Fortunately, today's point-of-sale technology can get small and medium-sized businesses up and running for digital payments in a single day or within a few days, depending on what capabilities they need and what they already have.
The options range from all-in-one point-of-sale (POS) systems to card readers that only process credit and debit cards to hybrid online and in-store systems. Full-blown software that manages more than just your cash register is also an option. Which payment processing solution is best for your business will depend on your existing setup and needs.
Digital systems to consider
If you process less than $10,000 monthly, a flat-rate provider like Square can help you get up and running quickly. For larger businesses, it may be worth a few extra days of setup time to go with a processor that offers dedicated merchant accounts, like Fattmerchant or Chase.
Square: No monthly fee, pay per transaction, set up in minutes through the app on any smartphone (enter card numbers by hand) or use the card reader once it arrives by mail.
Shopkeep: Pay monthly, set up in a few days after a consultation with a rep, use on an iPad or with an existing POS system.
Chase: Big bank support, no contracts, competitive pricing and next-business-day deposits when using a Chase checking account.
Fattmerchant: Best for high-volume sellers that process more than $10,000 in payments each month.
FinSync: Payment processing plus payroll, cash flow, accounting and more, all in one platform.
Photo: Getty Images