Finder is committed to editorial independence. While we receive compensation when you click links to partners, they do not influence our opinions or reviews. Learn how we make money.
MyDivorcePapers.com online divorce filing service review
If you and your spouse agree on all terms of your divorce, MyDivorcePapers is an ideal option to save money.
Divorce is a difficult life decision that can drain you emotionally and financially. But it doesn't have to be a long, expensive process.
MyDivorcePapers provides you with the expertise and guidance you need to expertly file for divorce without exhausting your savings — or your sanity.
What types of separation can I pursue with MyDivorcePapers.com?
MyDivorcePapers.com offers assistance with three legal categories of divorce:
Annulment. A legal procedure that essentially cancels a marriage based on various accepted grounds.
Legal separation. For spouses who wish to legally separate for a time without ending the marriage.
Uncontested divorce. For spouses who agree on the terms for a legal divorce.
Product information
Company name. MyDivorcePapers.com
Cost. $159
Turnaround time. Under an hour on average, though timing varies depending on the complexity of involved divisions and paperwork required.
Standard services
Free registration and qualification
Direct contact with a dedicated caseworker
Online forms and detailed filing instructions to walk you through the process
Free name change assistance
Unlimited live chat and phone support
Unlimited edits and document updates
Detailed serving instructions to service your spouse yourself
Help with parenting plans, as well as child support and alimony calculators
Video library on the divorce process
Assistance with life post-divorce
100% court approval money-back guarantee
Optional services
Filing of forms at the courthouse
Serving of papers to your spouse
Attempts to obtain fee waivers for court costs
Revocation of power of attorney or existing healthcare directives
Pet custody agreements
Quitclaim deeds for real estate needs
Expedited and overnight shipping
Pros and Cons
Pros:
Recommend and endorsed by attorneys
Fifteen years' worth of experience
Overwhelming positive customer reviews
Unlimited customer support online or by phone
Free glossary of terms
Full refund guarantee
Cons:
Doesn't offer contesting services
Papers must be filled out online
Doesn't cover court processing fees
What to watch out for
Online reviews reveal overwhelming satisfaction for MyDivorcePapers. However, you'll want to read its disclaimer online before handing over your money.
Keep in mind:
MyDivorcePapers can't help with a contested divorce. (In fairness, all contested divorces require time in court.)
It doesn't cover your court fees.
It is not a law firm and cannot provide legal advice, counsel or representation in court.
Who will benefit from this service?
With MyDivorcePapers, both you and your spouse benefit from lower costs when compared to other options. If you and your spouse agree on the terms of your divorce (meaning you have an uncontested divorce), MyDivorcePapers can help you draft the necessary paperwork for your state and send them to the appropriate court or county. And if you're not satisfied, MyDivorcePapers will refund 100% of your money.
How MyDivorcePapers works
Step 1. Go to the MyDivorcePapers website. Confirm that you know where your spouse is and that you and your spouse agree on divorce terms. Enter your contact information.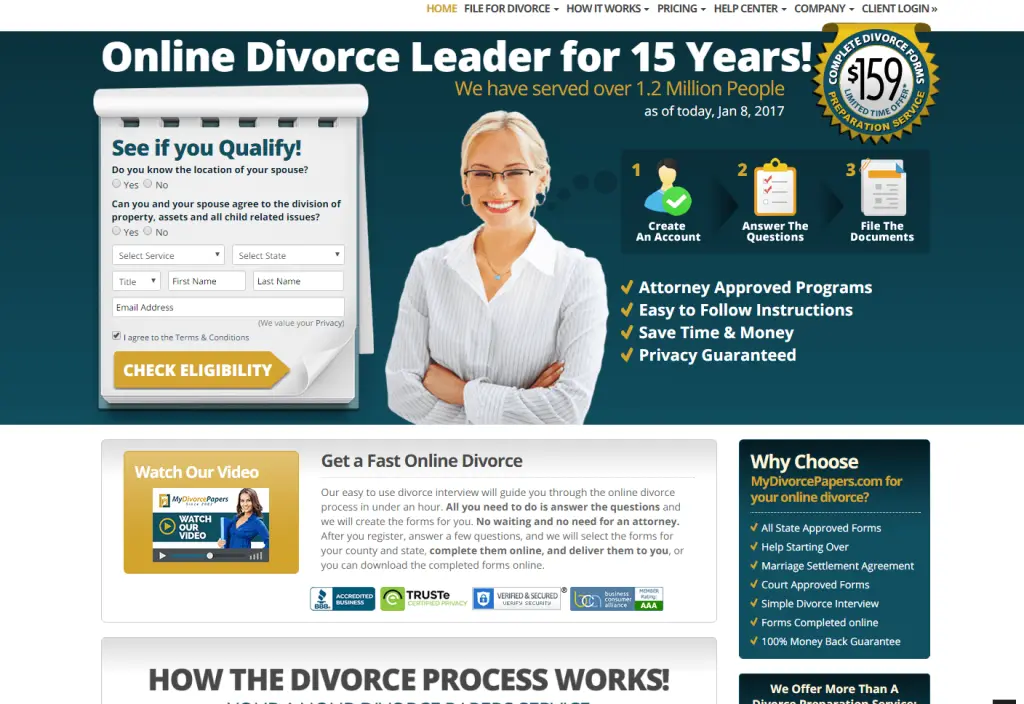 Step 2. Complete your state of residence and other information and click "Qualify Now."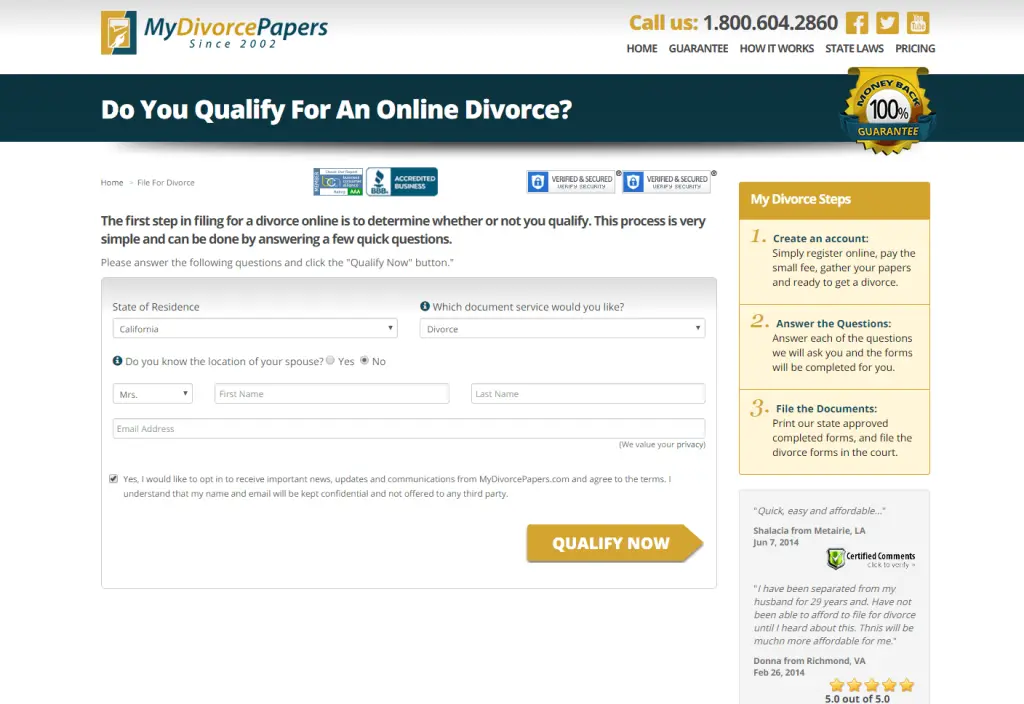 Step 3. Complete MyDivorcePapers' questionnaire, and then enter your payment details on the Checkout page.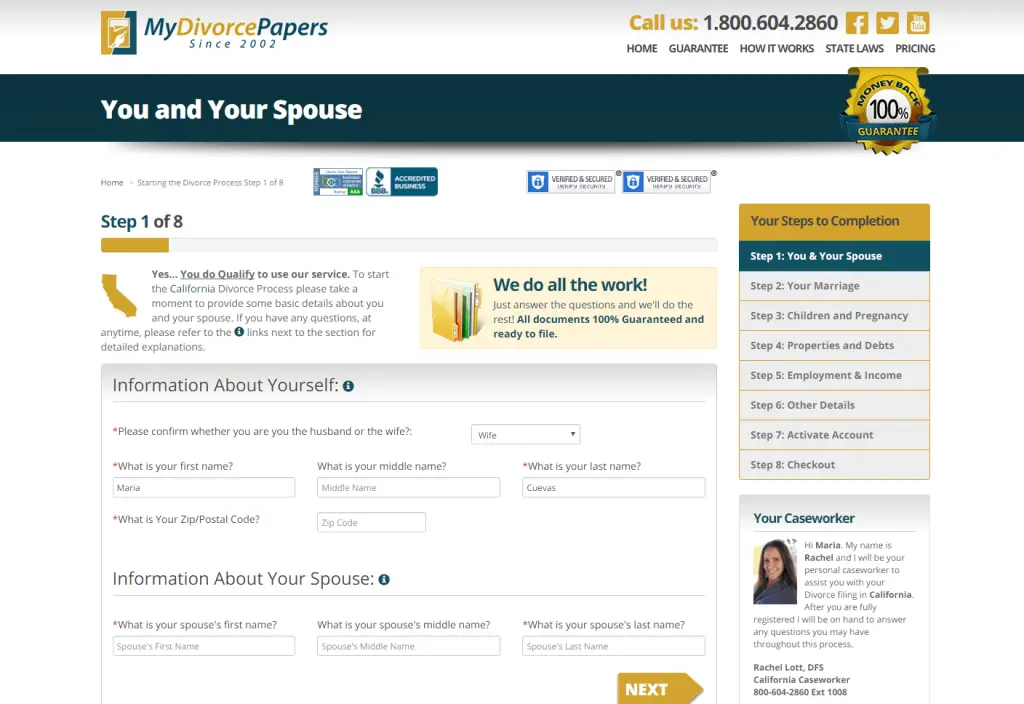 Step 4. If you've signed up for the online divorce service, the site will give you access to the forms you need to complete for your state and county. You will be walked through the process of filing the paperwork at your pace, with detailed instructions and unlimited chat and phone support.
For amicable divorces, MyDivorcePapers.com offers a quick, efficient way to separate or dissolve your marriage.
Compare legal services