Finder is committed to editorial independence. While we receive compensation when you click links to partners, they do not influence our opinions or reviews. Learn how we make money.
myAutoloan.com car loans review
If your credit score is at least 550, streamline your search with this online car loan marketplace.
finder.com's rating: 3.8 / 5.0
★★★★★
Chances are you've gotten a loan to purchase a car before. But what if you totaled your car and quickly needed another to get to work? Or if you want to get a better loan now at more competitive rates? It certainly wouldn't leave you much time to make an informed comparison.
Rather than spend weeks looking for, comparing and deciding on a car loan, you could cut the whole process down to a couple of days with an online marketplace like myAutoloan.com.
We take a closer look at myAutoloan.com's wide-ranging options to see who the service is best for and potential drawbacks.
$100,000
Max. Loan Amount
Details
| | |
| --- | --- |
| Product Name | myAutoloan.com Car Loans |
| Min. Loan Amount | $8,000 |
| Max. Loan Amount | $100,000 |
| APR | 1.79% to 27% |
| Interest Rate Type | Variable |
| Requirements | 550+ credit score, no open bankruptcies, $24,000+ annual income, US citizen or permanent resident, 18+ years old |
Car loan APR ranges change daily. Your actual APR offers may be different depending on your credit qualifications.
Best for: Comparing multiple offers with less-than-stellar credit
First, do I qualify?
To get a car loan with myAutoloan.com, you must:
Be at least 18 years old or apply jointly with someone over 18.
Make at least $2,000 a month or $24,000 a year.
Have no open bankruptcies.
Have a valid Social Security number.
Live in any of the 48 US states except Alaska or Hawaii.
Have not applied for the same type of loan with myAutoloan.com in the past 31 days.
Applicants with a credit score of 550 or greater have a better chance of qualifying.
What makes myAutoloan.com unique?
MyAutoloan.com isn't a direct lender. Rather it's an online marketplace that connects people looking for high-amount car loan with lenders that fit your criteria. It's designed to guide you through a car loan search by helping you find, compare and eventually choose a lender.
MyAutoloan.com offers options to those with fair credit or better. You're better positioned for a loan with favorable terms if you have a credit score above 550. Like with most other car loan providers, any preapproved offer is good for up to 30 days.
What types of car loans does myAutoloan.com offer?
You can get almost any standard type of car financing with myAutoloan.com — except leases. These include:
New car loans. Find a standard fixed-term loan for a new car directly from the dealership through myAutoloan.com
Used car loans. Pay less when looking for a used car. Not too used, though — myAutoloan.com offers used-car financing through dealerships only and on lower-mileage cars of 125,000 miles or less.
Car loan refinancing. Save money by replacing your current loan with a new one offering lower rates.
Lease buyouts. Leasing a car you'd like to buy? With myAutoloan.com, you can take out a loan to cover the cost.
Private-party car loans. Get financing to buy a car from an individual with a private-party — or person-to-person — loan. MyAutoloan.com offers financing for cars of up to 100,000 miles.
What are the benefits of getting a car loan from myAutoloan.com?
Many loan options. You'll find a loan for nearly every borrowing need, with the exception of auto leases.
No fees. MyAutoloan.com makes its money from lenders in its network, making services free for borrowers.
Easy application. It takes only a few minutes to fill out the online application.
Quick turnaround. You could start getting loan offers seconds after you submit your info.
What to watch out for
Although myAutoloan.com doesn't charge you a fee for its connection service, it makes its money through lender partnerships — a common practice for these types of sites. It charges dealerships and financial institutions a fee for every potential customer it sends their way, limiting your best offer to those from its networked lenders only.
Other drawbacks of borrowing through myAutoloan.com include:
High minimum loans. You must take out at least $8,000 to get a loan through myAutoloan.com. If you're looking to purchase a used car, for example, that costs less than $8,000 you'll have to look elsewhere.
Hard credit checks possible. Hard pulls on your credit can temporarily lower your credit score, affecting unrelated loan applications in the near future.
Limited customer service. If you need support, you'll have to email your questions and wait for a reply.
Marketing after applying. Users complain about offers and ads from auto lenders, sometimes long after they've taken out a loan. You can opt out, but it's not always obvious how.
Compare more car loan options
Is it safe to use myAutoloan.com?
Yes, myAutoloan.com uses trusted technology to encrypt your personal and financial information when you apply online. Communication between myAutoloan.com and its lenders are also encrypted.
But be aware that financing marketplaces work in part by giving your information to lenders. You may want to consider a different type of financing service if this doesn't sit well with you to have your information shared for marketing purposes.
How's its online reputation?
It's accredited by the Better Business Bureau with an A+ rating. With 400 user reviews on Trustpilot, 74% rate the service "Excellent." The average company rating is 8.8 out of 10.
Many reviewers complimented myAutoloan.com's customer service, though some were unhappy with the lenders they were ultimately connected to. myAutoloan.com makes an effort to respond to customer reviews, a sign that they might be more receptive to helping out customers when something goes wrong. Other reviewers were very satisfied with the rates they received and the seamlessness of the whole process.
How do I apply?
It's quick and simple to be fit with a loan through myAutoloan.com. Here's what you have to do:
Click the Go to site button on this page and select the offer you're interested in. Indicate whether you're applying alone or jointly with another person, and then click Continue.


Complete the Loan/Finance Form with your personal contact and employment details.

Carefully read and indicate that you understand the electronic records, prequalification and state-specific disclosures, among other policies and disclosures. If you agree with myAutoloan.com's terms, click Submit.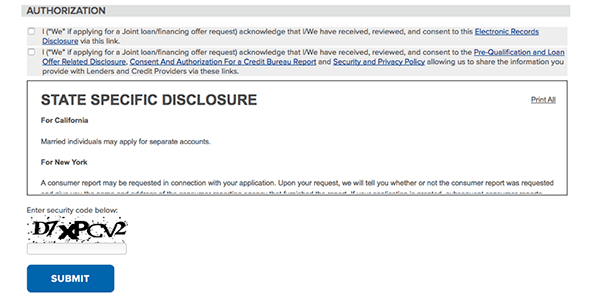 You could be connected with up to four lenders after you apply. Compare your offers and choose the best one for your needs. There's a chance your lender will ask you to submit additional documentation and information before giving you a final decision. The whole process typically takes about a day or two.
What documents do I need to apply?
You won't need to provide documents to initially apply with myAutoloan.com. But the lender you're ultimately connected with will generally ask for:
A copy of your driver's license. Make sure it's up to date and lists your current address.
Proof of car insurance. Lenders might want to see your auto insurance card.
Personal references. You might be asked to provide the contact information for a friend, relative or acquaintance willing to give you a referral.
Your pay stubs. Lenders use this to verify how much you earn annually.
I got a car loan through myAutoloan.com. Now what?
Time to start making repayments. See if you can set up autopay with your lender to make sure you don't miss any payments — some also offer slight discounts for customers with autopay.
Be sure you set it up with an account that will have enough money to make the payment is due. Otherwise, you could be slapped with a nonsufficient funds fee.
I didn't find a dealer. What can I do?
You have a couple of options: You can continue to look by applying with other online marketplaces or you can conduct the search on your own.
It's helpful to figure out why your attempt to find a car loan through myAutoloan.com was unsuccessful. Were you unable to find a dealer that was willing to give you good rates? Did you have a specific car in mind but couldn't find financing for it? Use this information to guide you through the next phase of your search.
What other features and services does myAutoloan.com offer?
In addition to connecting borrowers to car loan providers, myAutoloan.com also offers the following features services:
Calculators. Use its rate estimator, loan amount calculator and payment amount calculator to help get an idea of what type of car loan you might be eligible for.
Vehicle information. Estimate the value of used and new cars, check for manufacturer recall notices and get a VIN history on a used vehicle.
Insurance quotes. Figure out how much your car insurance might cost you each month.
Credit checking. Check your credit score with all three credit bureaus for free before you apply.
Bottom line
If you need car financing fast, myAutoloan.com could help. It cuts down on looking for, comparing and choosing a lender — but your options are limited to only those in its network.
Although it appears to offer loans even for people with bad credit, applicants with credit scores above 550 have a better chance of approval. Having an even higher credit score might get you the best loan rates and terms.
Before deciding on a lender or connection service, make sure to compare your car loan options to find the best one for you.
Frequently asked questions
Loan ratings
★★★★★ — Excellent
★★★★★ — Good
★★★★★ — Average
★★★★★ — Subpar
★★★★★ — Poor
We analyze top loan providers and rate them one to five stars based on factors that are most important to you. These factors include: rates and fees, customer reviews, loan amounts, loan processing and borrower experience.