Finder is committed to editorial independence. While we receive compensation when you click links to partners, they do not influence our content.
The GoBear Ultimate Guide to LHDN Personal Income Tax E-Filing
Benjamin Franklin once famously quoted that nothing in this world is certain, except death and taxes.
The earliest known tax records are about 8,000 years old and as long as society exists, so too will taxes. With tax season bearing down upon us, it's time to learn or get a refresher on everything you need to know to file your taxes online for 2019.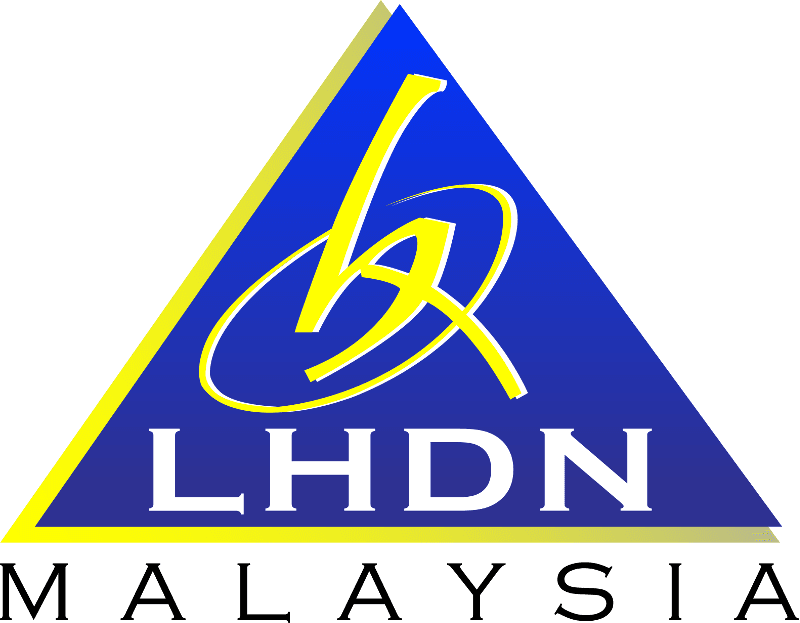 Income tax filing schedule for 2019
If you are a salaried employee without business income, the two dates you need to know are 30 April for manual filing, and 15 May for e-filing.
If you do have business income, then you have more leeway — 30 June for manual filing and 15 July for e-filing.
Since this guide is about e-filing, your important dates are:
Wednesday, 15 May 2019
and
Monday, 15 July 2019
However, please resist the urge to wait till the last minute to file your taxes! In Malaysia, you can start filing your taxes as early as 1 March.
Who needs to file income tax?
Perhaps you're a fresh grad or a student doing part-time work. Do you need to file income tax? Is the necessity of filing based upon some income threshold?
The answer is yes. Since 2015, once you hit a minimum annual income of RM34,000 (after EPF deduction) you must register a tax file. Of course, this threshold is always subject to change, but you can always refer to this official page.
This is my first time, so how do I register a tax file?
If you already have a tax file registered, go ahead and skip this section.
But if you've only just hit the required income threshold, then congratulations! Here's how to go about registering your tax file, step-by-step.
Note that the steps below will only cover doing this online, you always have the option of heading down to your nearest LHDN branch for them to do it for you.
Start by checking your registration status
Do you even know whether you have registered a tax file or not?
If you're not sure, head over to this page to check your registration status first. You can opt to use your MyKad or passport, or even your email and mobile phone number.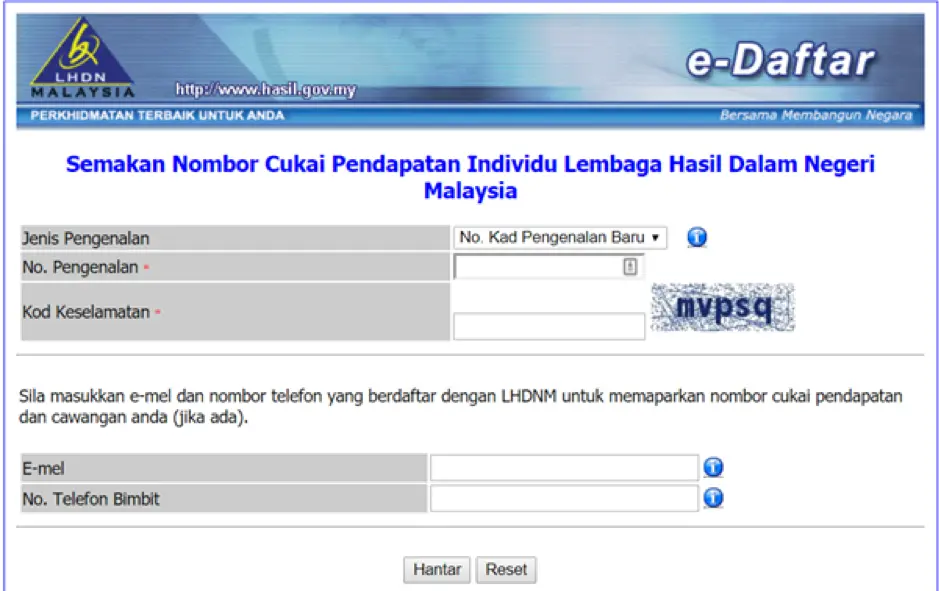 Step 1: Fill out the registration form
Go to this page and fill out the required details.
You can also access it from the main e-Daftar webpage. Other than the usual name, address, and contact information, you'll also have to provide either your employer's or your business' information.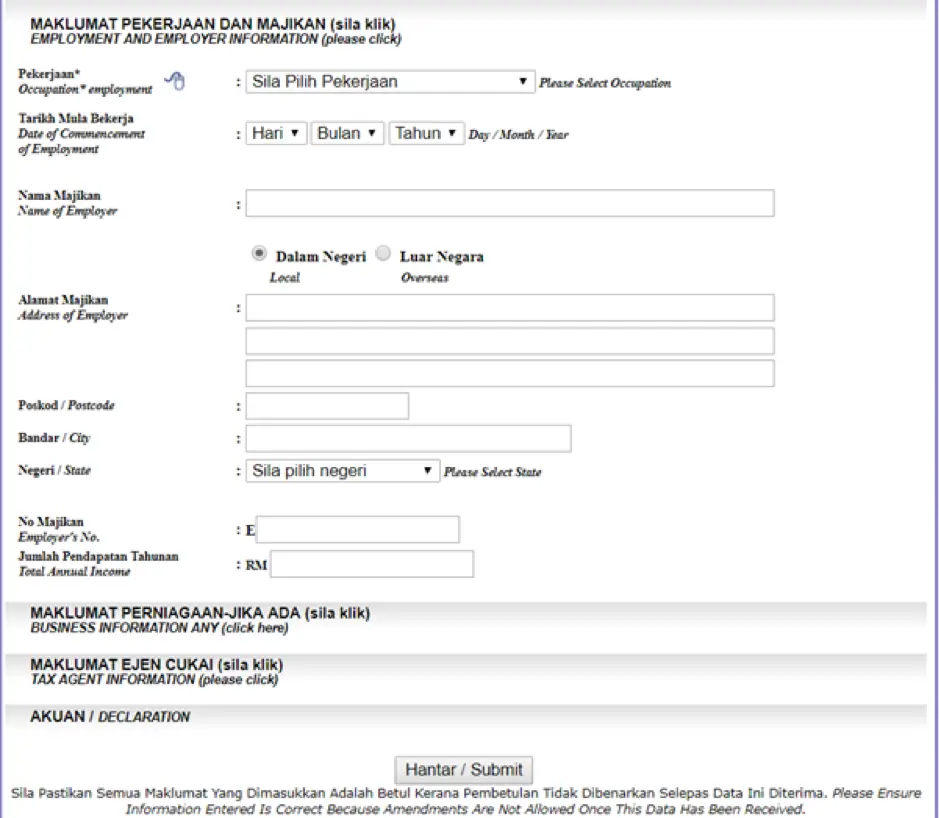 Once you've filled out the requisite info, hit 'Submit' and you should receive your application number.

Step 2: Upload a copy of your identity card
On the page where you receive your application number, scroll down and you will see a section titled Muat Naik Disini where you must now upload a copy of your identity card. You don't have to do it right away—as long as it's done within 14 days. The file must also meet the following requirements:
In .gif format
Between 40k and 60k in size
Alphanumeric file name (no special symbols like – or @)
Step 3: Sit back and wait (and check your status if you're impatient)
Now just chill out and wait about a week and you should receive an email from LHDN containing your PIN number. Use this number to create an e-Filing account (more on that below). You can also keep track of your application status here.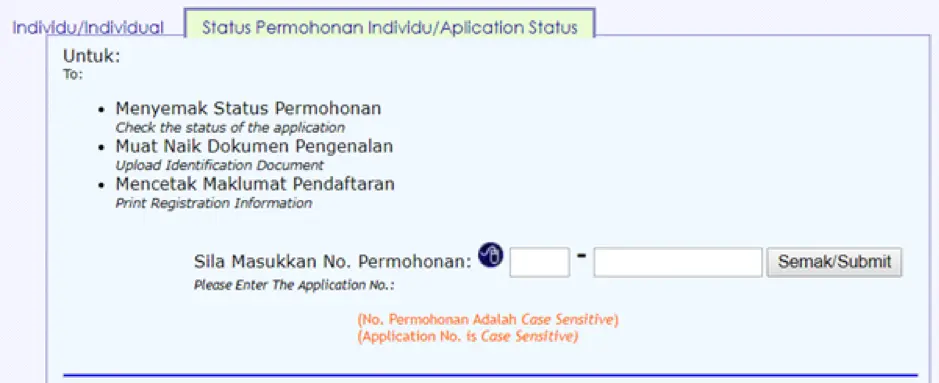 Fileyour taxes online: Step-by-step from beginning to end
Once you have an account with e-Daftar, it's time to get down to the meat of the whole thing—filing your taxes.
While it may seem daunting at first, it's actually pretty simple, especially if you're a standard salaried employee. Let's begin.
Step 1: Logging in
Head to the EZ Hasil webpage and input your IC or passport number and password.
If you've only just registered for a tax file, click on the 'First Time Login' button at the bottom.
You'll have to enter the PIN number you just got plus your identity information. From there, you'll be able to create your account password and security phrase. Make sure you write it down somewhere.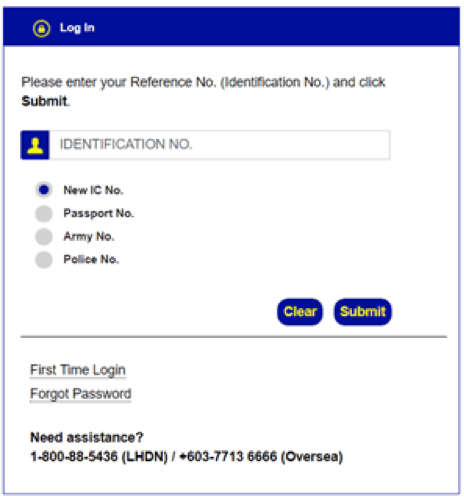 Oh no! I've lost my password!
What happens if you've registered an account but forgotten your password?
Since you only file taxes once a year, this is likely a common occurrence. Usually, recovering your password is easy — you just need to input the email address or mobile phone number you used to create your account in the first place.
However, if you no longer have access to the email you registered with — say if it was a company email, and you've left the company. In such a scenario the only option you have left is to physically head to a LHDN branch where they will reset your account and give you a new password.
And you don't have to be (that) embarrassed if that happens to you. There are plenty of other Malaysians who faced a similar situation.
Step 2: Choosing the correct form
Once you've logged in, you'll be brought to this page, where you'll need to click the 'Services' dropdown arrow from the menu bar.

While there are many functions accessible from this dropdown box, for filing purposes, you'll only need to concern yourself with the e-Filing option at the bottom left of this box.
Note that the 'e-Filing CKHT /WHT' option at the top of the middle column is for real property gains taxes and withholding taxes, which you'll have to fill out separately if applicable to you.
Other than that, you may also want to check on your personal and tax info via e-Lejar or update your personal information via e-Kemaskini.

Click on e-Form and you'll be brought to this page.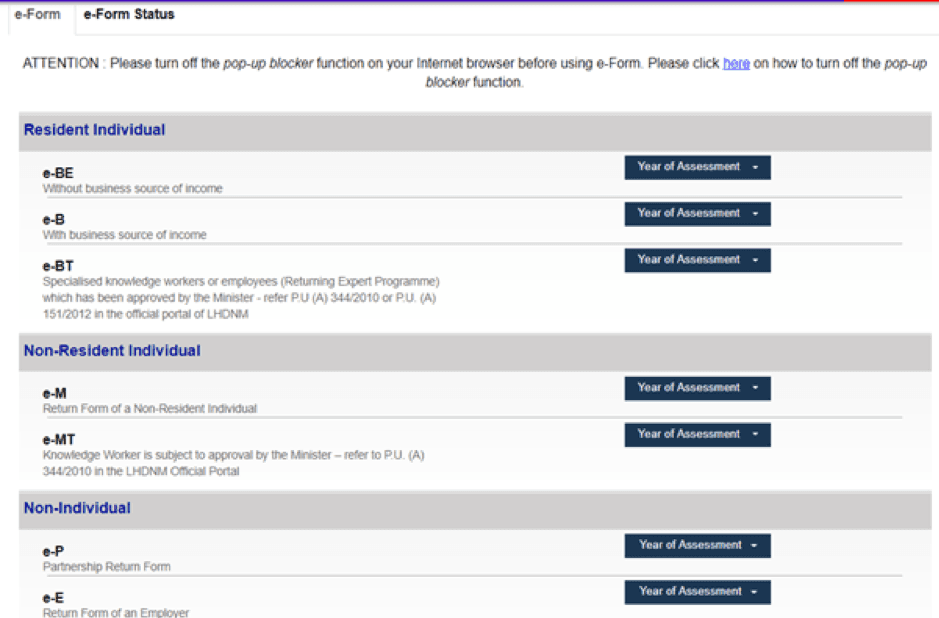 From here, you'll have to choose the relevant form and select the assessment year. If you're reading this guide, you'll most likely fall under e-BE or e-B.
If you have an employer, you need to fill out the e-BE form, which is covered in this guide.
Note that even if you have some extra side income (such as freelance jobs), there is a section for this in the e-BE form. Form e-B is only applicable if you have a registered business (freelance or otherwise).
Step 3: Filling out your income details
One you select the form, you'll be brought to a three-part form, with the first part for you to check and fill out basic details as below (you can also modify this via e-Kemaskini).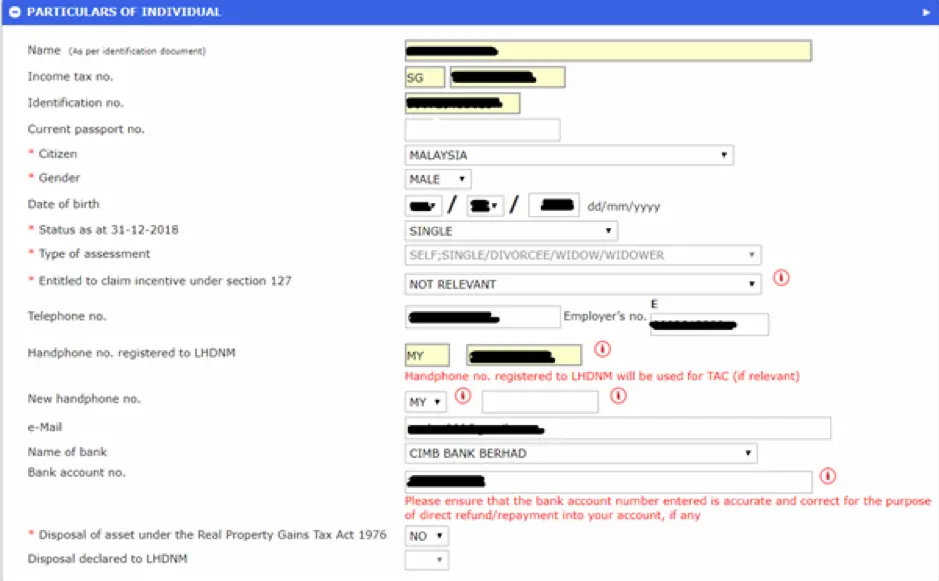 If you're curious about the 'Entitled to claim incentive under section 127', the dropdown list allows you to claim under paragraph 3(a) or 3(b) which is listed below. So unless a minister has statutorily exempted you from certain taxes, it's probably not relevant to you.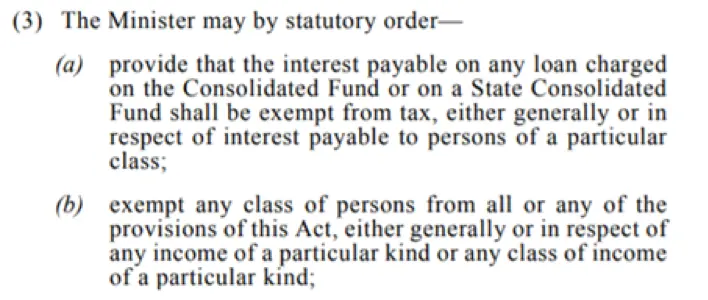 The second part of the form is for your statutory income, including from employment, rents, and others (you can put in your side gig income here).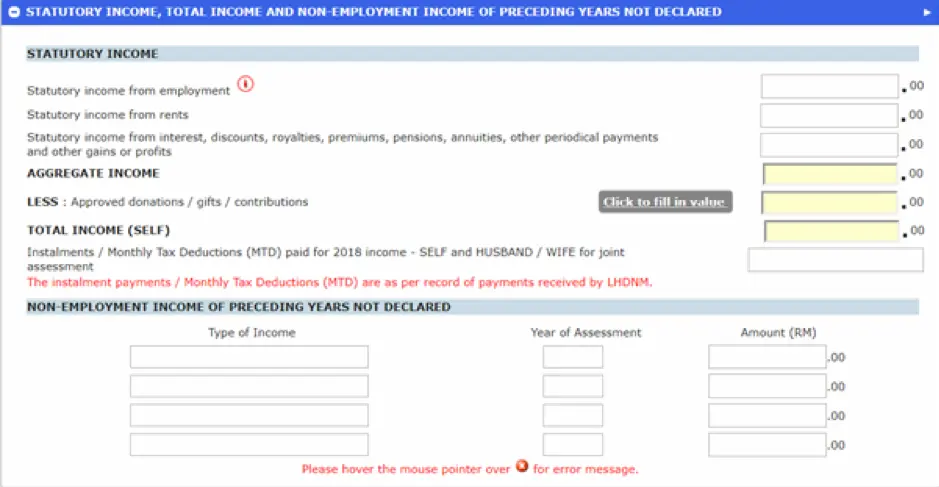 In most cases, the statutory income from employment and the monthly tax deductions will already have been filled out by your employer. But if it hasn't, you'll have to do it yourself.
Step 4: Fill out your tax reliefs and exemptions
Now comes everybody's favourite part—filling out the tax rebates and deductions!
Did you know that there are many items for which you can claim tax relief – and it's seen as part of your lifestyle expenditure? Under the lifestyle category, you can get a maximum of RM2,500 for items such as books (including magazine subscriptions), sports equipment (did you buy a new badminton racquet?), and even a smartphone!
Furthermore, you could even be getting precious cash back for taking care of your own health via online medical cards that you subscribe for. For instance, if you are an AXA eMedic online medical cardholder, the premiums paid for their plan may qualify you for income tax relief subject to the provisions of the Income Tax Act and Inland Revenue Board.
Even if you're totally unsure what items qualify you, fear not because the form is structured in a very easy and helpful manner.
Mousing over the little red information icons will give you more than enough information on that particular category.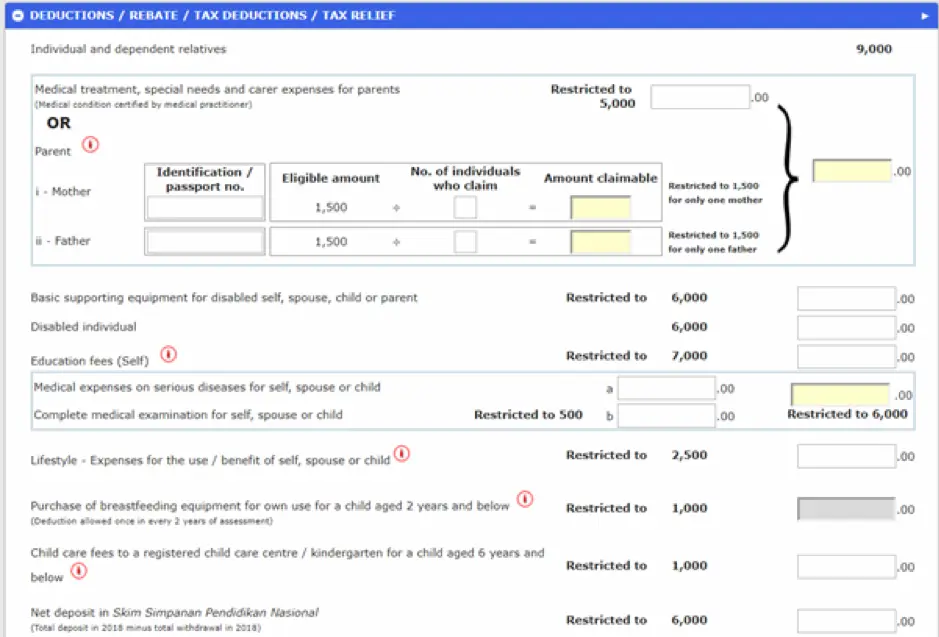 Note: Deductions from donations and gifts are under the previous statutory income section.
The last section may be a bit confusing but know that contributions made for zakat and fitrah are tax-deductible. As for the other two boxes, section 132 and 133 concern double taxation (again you probably don't have to worry about this) while section 110 relates to set-offs from dividend income.
As of 2014, the dividend system has changed and this section is largely no longer applicable (more details here).
Step 5: Double checking and signing off
Once you've filled out all three sections, the fourth section will be a summary showing your total income, deductions, and tax payable for the year. If you're lucky, you may even be entitled to a deduction (due to deductions exceeding the monthly tax deductions)!
Click Continue and the final part will be a declaration section, asking you to sign and submit. We recommend that you double check to make sure everything is in order before you do, because it is final.
Yay! You've successfully filed your taxes – How do you pay for them?
If you've filed your taxes and find yourself due for a tax return—congratulations! Just sit back and relax and LHDN will wire the funds into your stated bank account (details in the first section of the above form) within a couple months.
For those who aren't due a refund, LHDN gives you a wide range of options for paying your taxes due. We've broken them down into a few distinct categories.
Paying online from a local bank account
You have two options here: FPX, or credit card. You can access both options via the LHDN payment site.
FPX stands for Financial Process Express and it's a payment gateway where you can make online payments directly from your bank account (and if you need a new savings account, you can easily compare them all here).
As per their FAQ, the maximum transaction amount is RM30,000. If your tax bill exceeds that amount, you can instead opt to pay directly through your bank's online banking portal (e.g. Maybank2U or CIMB Clicks). It takes a few extra steps, but it's still very fast.
Credit cards are another convenient option. But if you opt for this, please remember to pay it off by the end of the month, if possible. The last thing you want to do is to incur credit card interest rates on your tax bill!
Paying taxes if you're overseas
If you owe Malaysian taxes but are living overseas and no longer have a Malaysian bank account, you'll have to pay the taxes due either via bank draft or telegraphic transfer.
For the bank draft, the payee will be the Director General of Inland Revenue and the draft should be posted to:
Inland Revenue Board Malaysia, Payment Counter,
Ground Floor, Block 8A, Government Offices Complex,
Jalan Tunku Abdul Halim, 50600 Kuala Lumpur
For telegraphic transfer, which includes Electronic Fund Transfer ("EFT") and Interbank Giro ("IBG"), you'll have to make a payment to LHDN's CIMB account. The details are:
Account number: 8000766957
Bank name: CIMB Bank Berhad
Bank address: Cawangan Jalan Tunku Abdul Halim Tingkat Bawah, Blok 8, Kompleks Pejabat Kerajaan, 50480 Jalan Tunku Abdul Halim, Kuala Lumpur, Malaysia
SWIFT Code: CIBBMYKL
Other payment options
On the manual side, you can always go to an LHDN branch to make payment. However, there are also a few more manual options provided by a few local banks. They are:
ATM: Available only from CIMB Bank, Maybank, and Public Bank
Cash Deposit Machine: CIMB Bank only
Cheque Deposit Machine: Public Bank only
Via Phone: Maybank only
Offences and penalties under the Income Tax Act
Income taxes contribute over 50% of the country's revenue, so it's no surprise the authorities take taxation seriously — SUPER seriously.
In recent years, our Inland Revenue Board (IRB or Lembaga Hasil Dalam Negeri, LHDN) has been stepping up their tax collection efforts, going after celebrities and residents who may have undisclosed foreign income (more on the Special Voluntary Disclosure Programme related to this right after this).
Here's the official list of offences and penalties under the Income Tax Act of 1967. They're more than just (very steep) fines, you can even be imprisoned. Note that for some of the main offences below, in lieu of prosecution, you can be charged 100% to 300% of taxes owed.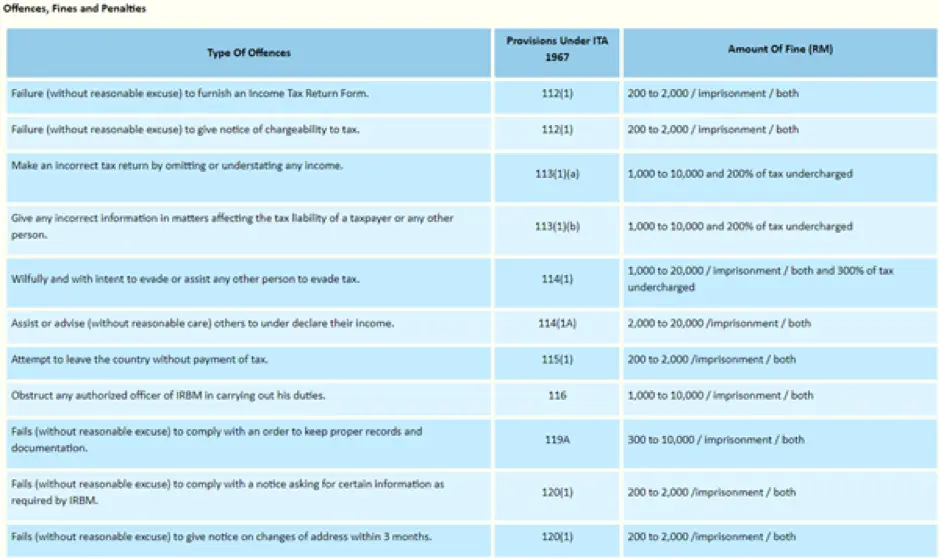 Other considerations – the Special Voluntary Disclosure Programme
If you've registered your email with the LHDN, you've probably already received an email titled "MAKLUMAN PROGRAM KHAS PENGAKUAN SUKARELA". If you're wondering what this is all about, read on.

First, the English translation for the above programme is the Special Voluntary Disclosure Programme ("SVDP"). The SVDP was announced in November 2018 in line with the 2019 budget and its purpose is to give taxpayers a chance to 'come clean' in good faith about any previously undeclared or underreported income and pay much reduced penalty rates of 10% to 15%.
Why only now?
Malaysia is now a participant in the Organisation for Economic Development's ("OECD") Common Reporting Standard. This means Malaysia automatically exchanges information about foreign accounts held by Malaysian residents (and vice versa).
The LHDN should have already received the first batch of this information, hence the one-off opportunity to come clean.
What's the deadline?
If you report your income by 31 March 2019, you will get a reduced penalty rate of 10%. If you report it from 1 April to 30 June 2019, your penalty rate will be 15%. Anything past that date and standard penalty rates will apply.
What does 'in good faith' mean?
Disclosures made under the SVDP are considered to be 'in good faith', meaning that the LHDN will assume your disclosures are accurate and will not conduct any further audits unless new third-party information comes to light.
What types of income are covered under this programme?
You can make three types of disclosures under this programme. They are:
Income not previously declared, expenses over claimed, expenses not allowed and reliefs, deductions, or rebates over claimed
Reporting of gains on disposal of assets (real property and shares in a real property company)
Stamping of unstamped instruments
How do I disclose unreported income under this programme?
There is no separate form for disclosures made under this programme. Simply login to e-Daftar and go through the usual route for reporting income or property gains (refer to our detailed step-by-step above). Note in the above guide, under the 'Statutory Income' part of the form, there is a section for 'Non-employment income of preceding years not declared'.
I need more information / I'm not sure if I need to make disclosures
If you need more information, visit the LHDN's official page on this programme. You can also head to your nearest LHDN branch for further queries or send an email to pengakuansukarela@hasil.gov.my or call the HASiL Care Line at 1-800-88-5436 or 603-7713 6666 (Overseas).
5 Tips for More Efficient Tax Filing for 2020
So, you've now successfully filed and paid your income tax for this year. Did you find it tedious? Since filling out the details is actually quite simple, finding it tedious probably means you weren't quite sure on the specifics of the details.
This comes down to one thing—lack of proper organisation. For an easier and more efficient time when you file next year's taxes, follow these tips:
1. Create a 'tax hub'
Designate a secure place where you will store all tax-related documents.
2. Use an accordion folder
Accordion folders are a fantastic tool for keeping tax documents organised because you can easily sort them by year.
3. Keep both physical and electronic copies
Not having proper tax records carries serious penalties if uncovered during an audit. By law, you must keep them for a minimum of seven years. As such, it's wise to keep electronic backups.
4. Document on the go
Store receipts as you get them; don't put it off. It might seem more tedious at the time, but it'll save you many headaches come tax season. Your smartphone paired with a simple scanning app like Microsoft Office Lens or GeniusScan allows you to save your receipts as pdfs.
5. Create a tracking spreadsheet
Finally, use a spreadsheet like Excel to fill in the amounts from all relevant receipts. Come filing time, you can easily refer to this spreadsheet instead of manually adding them up.
If you plan things out properly, filing and paying your taxes will only take a short while. And once you've done it a few times, it becomes pretty routine.
If you're new to this, we hope you found this guide helpful. If you're not new to this, then we hope this was a good refresher.
#FollowTheBear
More guides on Finder