Finder is committed to editorial independence. While we receive compensation when you click links to partners, they do not influence our content.
ManuSecure: How to Save for the Future and Protect Against Unexpected Events
Disciplined savings can go a long way towards planning your finances and making your dreams come true; whether you're aiming for a comfortable retirement, or simply to give your children (or grandchildren) a better education in the future.
In your pursuit of ever-changing life goals, did you stop to think about staying protected and ensuring that your family members are equipped to deal with the future – in your absence?
Enter ManuSecure Series by Manulife.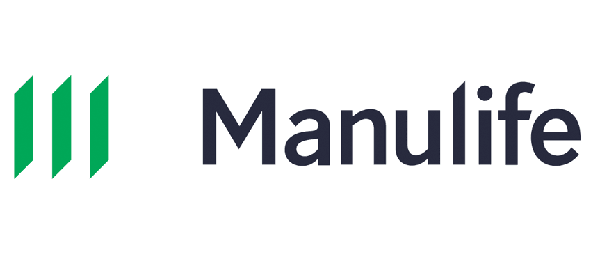 The ManuSecure Series is a series of universal life endowment plans that pays you – the policy owner – a guaranteed stream of income from the end of the first policy year onwards and provides valuable insurance coverage at the same time.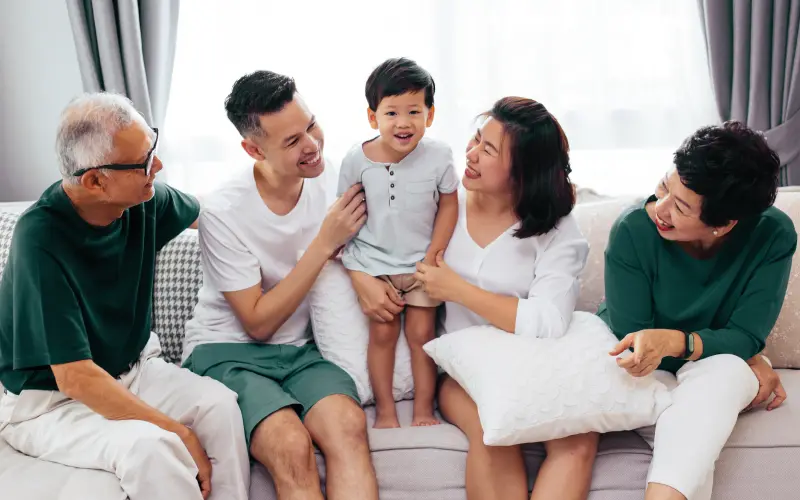 Let the Bear explain to you in detail what this is all about.
But first, do you know what a universal life endowment plan is?
A universal life endowment plan is essentially a solution that can provide protection for you and your loved ones through an insurance policy that combines insurance, savings, and investment with a variety of premium payment periods.
The amount accumulated upon maturity can then be used to take care of various financial needs such as funding retirement, or even providing support for your child's future.
When there is a death to the wager-earner of the family, a sum of around RM723,000 is needed for a family to sustain their existing lifestyle and continue their daily consumption – for at least five years.
How does the plan work?
The ManuSecure Series by Manulife is designed to pay you a guaranteed stream of income from the end of your first policy year onwards, giving you regular income annually.
With this stream of income – also known as the Guaranteed Cash Payment (GCP) – you have the flexibility of either withdrawing the GCP to be used as you wish, or keep it with Manulife Insurance Berhad (MIB) so that it can keep accumulating.
If you choose to park your GCP with MIB, it will be invested into a universal life fund where a Crediting Rate will be declared at the end of every policy month. The good news? Even though the Crediting rate is subject to investment income tax and Crediting Spread, the net Crediting Rate will never be negative.
Keep in mind that throughout your policy term, you will be protected against death, accidental death and Total and Permanent Disability.
There are three plans to the ManuSecure Series, each with a different premium payment term and coverage term: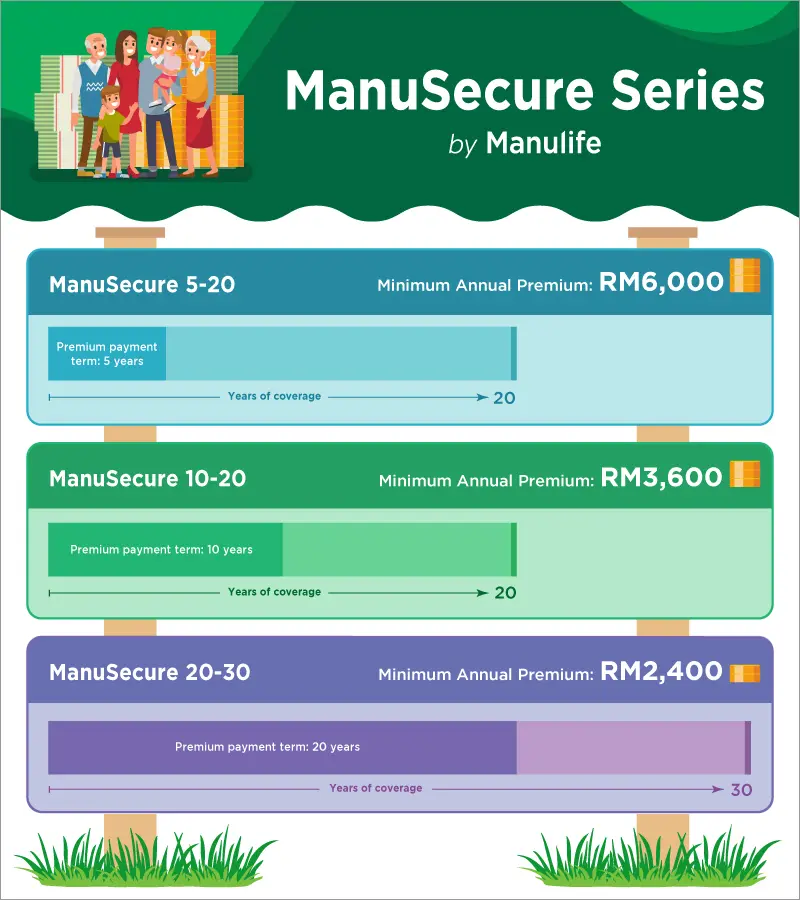 5 reasons why ManuSecure is the right product for you
---

1. Flexibility in payment
Not only is the ManuSecure series available with in a choice of policy premium payment terms of 5, 10 or 20 years, you can also choose to make your payments on a monthly, quarterly, semi-annually, or even annual basis.
As an example, if you subscribed for the ManuSecure 10-20 plan and opted to pay the minimum annual premium of RM3,600, your choices of payment are as follows:

You can stay limber with your finances and plan ahead knowing that your other commitments stay unaffected.
---

2. How does a guaranteed stream of income sound to you?
Enjoy regular income from the end of your first policy year just by fulfilling your minimum annual premium!
When you sign up for any of the ManuSecure plans, GCP will be payable from the end of your first policy year right until the end of the policy term.
Here's a quick example:
If you purchased ManuSecure 5-20, you will receive payments equal to 11% of your basic plan's standard annualised premium for the first ten policy years. With an annual premium of RM10,000, this GCP payment will amount to RM1,100 per year.
This then increases to 20% – which amounts to RM2,000 a year – for the remaining ten years of the policy.
---

3. Easy and fuss-free application with no health check-ups
Medical underwriting refers to the use of any medical or health information to evaluate an individual for insurance coverage. During the underwriting process, the information gathered is normally used to determine whether an individual is eligible to be covered, as well as the premium rate to be set for the person in question.
With ManuSecure Series, there is NO medical underwriting involved for Face Amount of up to RM200,000. With guaranteed issuance of policy, there will be less hassle to getting the protection you deserve.

---

4. Enjoy protection as you save
A comprehensive universal life endowment plan such as ManuSecure Series provides you with coverage against death and Total and Permanent Disability (commonly known as TPD) up to age 65 next birthday.
This means that your family will be taken care of financially if you should pass away or suffer from disabilities such as the loss of your eyesight, in accordance to the terms set out in the Death, Accidental Death and TPD benefits table by Manulife.
There is more however; your beneficiaries will also receive an additional lump sum payment of ten times the basic plan's standard annualised premium if you pass away due to accident.
---
5. Income tax relief
Exemption from the taxman? Sign us up right now. You may also qualify for income tax relief subject to the requirements of the Inland Revenue Board.
Is ManuSecure the right choice for me?
Regardless of which plan you choose, the ManuSecure Series is open to anyone from as young as 30 days old! After all, you're never too young – or old – to save and stay protected.
A ManuSecure Series plan can help your loved ones pay for their education expenses, saving for future or next generations, and even help cover retirement income gaps. On top of this, you'll also have the opportunity to build cash value and use it however which way you like.
Here are a few scenarios where ManuSecure will appeal to your different life stages:
---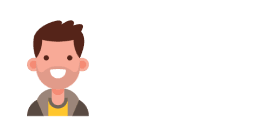 Anthony, 20 years old, unmarried PMEB
Needs:
– Fulfilling financial goals
– Securing life-long protection
---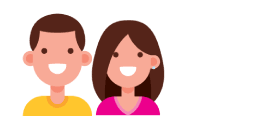 Yun Fang, 30 years old, newly married
Needs:
– Planning for child-raising expenses and education fees
– Saving for retirement
---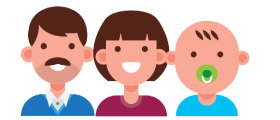 Matthew, 55 years old, grandparent and approaching retirement
Needs:
– Ensuring dependents are taken care of
– Saving for emergency medical expenses
#FinalBearWord
If anyone relies on you financially, then you need life insurance. Whether you're a spouse, a parent, a life partner, or even a child of dependent parents, you want to give them the peace of mind and opportunity to lead a worry-free life, financially at least.
Also, you can consider using life insurance as a strategic financial tool if you are financially independent.
Remember, ManuSecure can help ordinary Malaysians like yourself achieve three important things:

Protect and ensure your loved ones financially

Target goal-based savings

Divest portfolio with a risk-free assured investment over a long period
Fulfil your needs for a life cover and savings under one single plan today. For more details, please refer to the ManuSecure Series terms and conditions here.
This message on wealth-building for a financially secure future
was brought to you in partnership with