Both coins are very similar, but it's the differences that count.
Bitcoin Cash is the result of a bitcoin fork. It is extremely similar in many ways to bitcoin, but Bitcoin Cash has a few technical differences that make a big impact.
One difference, which has many significant follow-on effects, is the difference in block size. Bitcoin has a 1MB block size, while Bitcoin Cash has an 8MB block size.
Disclaimer: This information should not be interpreted as an endorsement of cryptocurrency or any specific provider, service or offering. It is not a recommendation to trade. Cryptocurrencies are speculative, complex and involve significant risks – they are highly volatile and sensitive to secondary activity. Performance is unpredictable and past performance is no guarantee of future performance. Consider your own circumstances, and obtain your own advice, before relying on this information. You should also verify the nature of any product or service (including its legal status and relevant regulatory requirements) and consult the relevant Regulators' websites before making any decision. Finder, or the author, may have holdings in the cryptocurrencies discussed.
What does block size mean?
Blockchain transactions, such as those done with bitcoin and Bitcoin Cash, are conducted on the blockchain.
You can think of each block as a vehicle that carries transactions to their destination. A transaction is concluded once a block arrives and parks itself in the chain.
If each transaction is a passenger, then bitcoin's 1MB block size is more like a car, while BCH's 8MB block size is more like a bus.
Larger blocks can hold more transactions, which helps process them faster.
The pros and cons of a larger block size
A larger block size is good news in that it helps process transactions a lot faster, but it also means a full node takes up a lot more data storage space.
A full node is required to mine on the blockchain. It includes a copy of the entire transaction history for the whole blockchain. So as you can imagine, a larger block size comes with higher hardware and data storage costs.
One of the main arguments against a larger block size is that it leads to increased centralisation of a coin, and that the higher hardware costs mean only large mining groups will be able to profitably work on the blockchain.
What a larger block size looks like
It can help to visualise what a larger block size looks like. Here are two snapshots of a few hours in the mempools of bitcoin and Bitcoin Cash. The mempool is where pending transactions are stored while they wait for a miner to hook them up to a block and make the transaction happen.
Specifically, these are what the two mempools were doing between about 8am to midday, Sydney time, on 21 December 2017.
The bitcoin mempool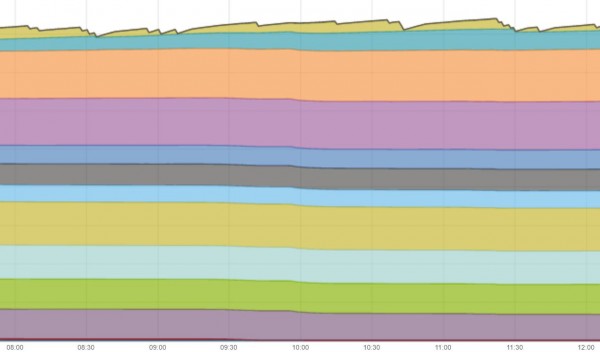 ---
The Bitcoin Cash mempool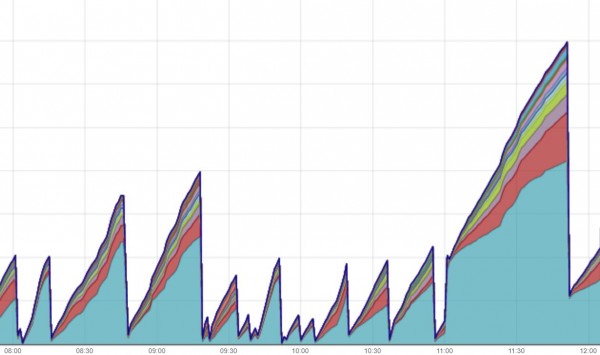 Source: Johoe's Mempool Size Statistics
---
What am I looking at?
Each dip and spike on the top of the mempool shows a block being processed. In bitcoin, the 1MB block size just takes small bites out of the waiting transaction, starting with the ones with the highest fees. But the 8MB block size of Bitcoin Cash takes big chunks out of the mempool.
This is particularly important when there are "larger" transactions going through.
In this case, larger refers to the actual size of each transaction in bytes rather than the value of it. Certain additions like extra encryption will increase the size of transactions, while others like SegWit will decrease the size of each transaction.
---
Bitcoin vs Bitcoin Cash
Other differences are in the mining algorithm. At its inception, Bitcoin Cash had an easier mining algorithm.
What's mining difficulty?
Mining difficulty refers to how quickly a block can be discovered and attached to the blockchain. To solve a block, the miner needs to spend processing power on solving a complex maths problem.
By making the problem easier, blocks can be mined faster. By making it harder, blocks are mined slower.
On the bitcoin and Bitcoin Cash blockchains, fast and easy blocks are good for transaction times, but not necessarily good for the currency in the long run.
This is because miners are rewarded with newly minted coins for solving these problems and finding new blocks. If it's too easy, the currency faces too-high inflation rates and gets devalued.
Both BTC and BCH will get considerably more difficult to mine as they get closer to their 21 million coin limit.
An easier mining algorithm was deemed to be necessary for BCH to keep a competitive edge against the more-valuable bitcoin and to attract the miners needed to run the network.
Soon this had the unintended side-effect of miners dipping in and out of BCH based on whether it was profitable at the time, leading to extremely unpredictable block times. Sometimes blocks would be hours apart (for very slow transactions), and sometimes they would come along within a few seconds of each other (for very fast transactions, but rapid inflation).
In response, BCH introduced a dynamic mining algorithm which would get easier or more difficult as needed. This helped introduce some more consistency to the BCH blockchain and keep more miners working on it.
Which is best?
Each is good at a different thing.
What bitcoin's good at
The high fees and slow transaction times of the original bitcoin are a deliberate, but somewhat unfortunate, design choice.
It's intended to keep the coin rare, challenging and valuable. The bitcoin community and developers are banking on bitcoin being a "store of value" for cryptocurrency as a whole, just like gold underpins the US dollar and other fiat currencies. No one actually uses gold as a currency, but it still offers liquidity and value.
The idea is that bitcoin could be digital gold.
Read our simple guide to bitcoin to find out more.
What Bitcoin Cash is good at
Bitcoin Cash was deliberately split away from bitcoin by a team who thought high fees and slow transactions would eventually destroy bitcoin. It was deliberately designed to essentially be bitcoin, except easy to send, receive and transact with.
Hence the "cash" part of its name. It was designed to be the spending money next to bitcoin's gold.
Get to know Bitcoin Cash better with this easy-to-understand overview.
---
Where can I buy bitcoin and Bitcoin Cash?
Will Bitcoin Cash overtake bitcoin?
No one can say for sure, but you'll find a lot of strong opinions in both directions. However, bitcoin's transaction functionality seems to be the main issue.
For example, the first major Bitcoin Cash growth spurt came at the start of November 2017, following the news that the bitcoin B2X hard fork was cancelled. This hard fork was intended to solve some of bitcoin's transaction problems. When it was called off, people argued that the growth came from users trading their BTC for BCH.
The second major growth spurt came around the end of December 2017, when the bitcoin mempool had been clogged up (as above) for the better part of a month, and there was growing dissatisfaction with bitcoin's yet-to-be-released lightning network.
You will need to decide whether bitcoin's transaction functionality will continue to affect Bitcoin Cash's growth as well as consider what will happen if bitcoin ever solves these problems.
---