Descubre todo lo que necesitas saber acerca de la red Stellar y su criptomoneda nativa, Stellar Lumen (XLM).
Stellar es una red de pagos distribuidos enfocada en la ejecución de transacciones transfronterizas rápidas y asequibles. También es una plataforma para llevar a cabo ICOs (Ofertas Iniciales de Monedas).
La red Stellar, fundada en 2014, también tiene su propia unidad monetaria digital: el Lumen (XLM). Esta moneda es esencial para realizar pagos internacionales y transacciones rápidas entre monedas distintas.
Si deseas saber cómo funciona la red Stellar, los beneficios que ofrece a sus usuarios y por qué los Lumens han llegado a convertirse en una de las 10 criptomonedas más grandes del mundo por capitalización de mercado; esta guía te ayudará a descubrirlo.
Aprende más Compra Lumens (XLM)
Disclaimer: This information should not be interpreted as an endorsement of cryptocurrency or any specific provider, service or offering. It is not a recommendation to trade. Cryptocurrencies are speculative, complex and involve significant risks – they are highly volatile and sensitive to secondary activity. Performance is unpredictable and past performance is no guarantee of future performance. Consider your own circumstances, and obtain your own advice, before relying on this information. You should also verify the nature of any product or service (including its legal status and relevant regulatory requirements) and consult the relevant Regulators' websites before making any decision. Finder, or the author, may have holdings in the cryptocurrencies discussed.
¿Qué es Stellar (la red)?
Stellar es una plataforma descentralizada diseñada para que los usuarios puedan transferir activos de forma rápida, fácil y asequible en todo el mundo. Diseñado para conectar bancos, sistemas de pago y personas, Stellar te permite "mover dinero a través de las fronteras de manera rápida, confiable y por fracciones de un centavo". En resumen, quiere hacer los pagos transfronterizos más rápidos, más baratos y más seguros que los que llevan a cabo los sistemas bancarios y de remesas actuales.
Asimismo, la red Stellar también funciona como una plataforma para llevar a cabo ICOs. Mobius Network, Smartlands y SureRemit son algunos de los proyectos que han llevado a cabo ICOs (o planean hacerlo) en Stellar.
Dónde comprar Stellar Lumens (XLM)
Precio de Stellar Lumens (XLM)
¿Qué son los Stellar Lumens?
Los Lumens son la moneda nativa de la red Stellar. Cuando la red fue lanzada en 2014, 100 billones de lumens (originalmente llamados "stellars") fueron creados, con una tasa de inflación anual del 1%.
Los Lumens sirven para dos cosas:
Prevenir el spam. Lumens son utilizadas para cubrir las tarifas de transacción en la red Stellar, y también para garantizar que se mantengan los saldos de cuenta mínimos. Está diseñado para prevenir que la red se sobre sature. Cada transacción implica una tarifa de 0.00001 Lumens.
Facilitar transacciones multi divisa. Los Lumens también funcionan como un "puente" entre las monedas, facilitando los intercambios entre dos monedas cuando no hay un mercado directo lo suficientemente grande entre ellas.
¿Qué es lo que hace único a Stellar?
Stellar ofrece una amplia gama de servicios que normalmente ofrecen los bancos, pero con algunas diferencias. Las transacciones se llevan a cabo en una red descentralizada, con tarifas mucho más bajas y tiempos de procesamiento más rápidos que los que suele ofrecer un banco tradicional. Los pagos pueden procesarse en 2-5 segundos, intercambiar una moneda por otra es bastante sencillo, y las tarifas de la red son bastante pequeñas: una fracción de 600,000 de un centavo por transacción.
Y todos estos servicios se ofrecen con un enfoque diferente en comparación con otros proyectos de criptomoneda. Mientras que muchos proyectos populares se centran en asociaciones corporativas y ganancias, Stellar tiene el noble objetivo de lograr una economía digital más inclusiva. Al conectar personas de todo el mundo a servicios financieros de bajo costo, Stellar dice que planea "luchar contra la pobreza y maximizar el potencial individual".
Distribución de Lumens
Stellar Development Foundation, también conocida como stellar.org, es una corporación sin fines de lucro cuya misión es promover el acceso financiero, la alfabetización y la inclusión a nivel mundial al expandir el acceso mundial a servicios financieros de bajo costo.
Para lograr su ambiciosa misión, stellar.org se encarga de garantizar que el 95% de todos los Lumens se distribuyan a todo el mundo. Las operaciones de la fundación están financiadas en parte por el 5% de los Lumens que fueron creados inicialmente, y que se subastan periódicamente en varios exchanges. El 95% restante se distribuirá de la siguiente manera:
50% regalado a individuos. Varias tokens XLM se regalaron originalmente a personas específicas que se registraron en Stellar a través de un enlace de invitación. Desafortunadamente, este programa fue puesto en pausa, con un nuevo programa para regalar tokens establecido para reemplazarlo en el futuro.
25% regalado a los socios. Los socios son empresas, gobiernos, instituciones u organizaciones sin fines de lucro que contribuyen al crecimiento y la adopción del ecosistema Stellar.
20% regalado a quienes poseían Bitcoin (BTC) y Ripple (XRP). Stellar.org distribuyó Lumens a quienes poseían BTC y XRP (19% para quienes poseían BTC y 1% para quienes poseían XRP) durante dos rondas de distribución en octubre de 2016 y agosto de 2017.
Hasta mayo de 2018, más de 8.1 billones de Lumens habían sido distribuidos.
Stellar vs Ripple
Cualquier análisis que se haga de Stellar, inevitablemente involucrará comparaciones con Ripple, la tercera criptomoneda más grande por capitalización de mercado que además es una red de pagos. Es ampliamente considerada como el mayor competidor de Stellar. Jeb McCaleb fundó los dos proyectos, y ambos comparten ciertas características.
Sin embargo, también hay algunas diferencias clave entre las dos plataformas. Desde un punto de vista filosófico, mientras que Ripple se ha enfocado principalmente en asegurar alianzas con los principales bancos e instituciones financieras, Stellar se ha enfocado en la alfabetización y la inclusión financiera global.
Desde un punto de vista técnico, aunque los dos proyectos originalmente compartían una cantidad considerable de sus códigos, ese ya no es el caso. El protocolo de pago de Stellar, Stellar Core, utiliza el algoritmo Stellar Consensus Protocol, que se basa en un modelo de consenso llamado Federated Byzantine Agreement. Por otro lado, el protocolo de Ripple usa un mecanismo de consenso de prueba de corrección que, según su documento técnico, "se aplica cada pocos segundos por todos los nodos, a fin de mantener la exactitud y el acuerdo de la red".
Para más detalles sobre cómo difieren ambos proyectos, puedes revisar la tabla a continuación o nuestra comparación de Ripple vs Stellar.
Stellar
Ripple
Fecha de lanzamiento
30 de julio de 2014
1 de enero de 2012
Suministro total
100 billones de XLM iniciales

(aprox. 103.9 billones de XLM hasta mayo de 2018 debido a la inflación)

100 billones de XRP
¿Es propensa a la inflación?
Sí, incrementa a una tasa de 1% al año
No, disminuye con base en una tasa de eliminación variable
Mecanismo de consenso
Protocolo de Consenso Stellar (SCP)
Prueba de Exactitud (PoC)
Tiempo de transacción
2-5 segundos
4 segundos
Lenguaje de programación
C/C++, JavaScript, GO
C/C++, JavaScript, Java, GO
Mercado meta
Individuos
Instituciones financieras
Compara Ripple y Stellar lado a lado.
La tecnología detrás de Stellar
La red distribuida de Stellar comprende servidores ejecutando el software Stellar Core, cada uno mantenido por personas y organizaciones distintas. Stellar Core mantiene una copia local del libro contable de la red y se comunica y sincroniza con otros servidores de Stellar Core en la red.
Mientras algunas monedas como Bitcoin consisten en sistemas de minería, Stellar se basa en un algoritmo de consenso conocido como el Protocolo de Consenso Stellar (SCP). Este protocolo proporciona una forma de llegar a un consenso sin tener que confiar en un sistema cerrado para registrar con precisión las transacciones financieras. Según Stellar, es el "primer mecanismo de consenso probablemente seguro que goza simultáneamente de cuatro propiedades clave: control descentralizado, baja latencia, confianza flexible y seguridad asintótica".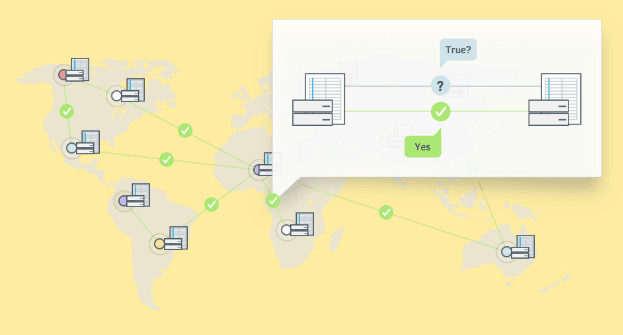 Cómo funciona Stellar
Antes de que puedas interactuar con la red Stellar, primero deberás crear una cuenta. Cada cuenta tiene una clave pública y una semilla secreta, y la criptografía de clave pública se utiliza para garantizar la seguridad de las transacciones.
El siguiente paso es cargar fondos a un ancla en la red Stellar. Un ancla es una entidad en la que debes confiar para almacenar tu depósito y emitir crédito virtual en tu cuenta en la red Stellar. Estas anclas actúan como un puente entre las monedas existentes y la red, y la mayoría de ellas son entidades como bancos, instituciones de ahorro y compañías de envío de remesas.
Una vez que hayas cargado tus fondos a un ancla, puedes enviar la transferencia casi instantánea en la red.
La siguiente imagen demuestra cómo una solicitud para una moneda "A" en un ancla se facilita a través de la red de anclas, a pesar de que cada una de ellas opera en una moneda diferente, y se liquida en pocos segundos.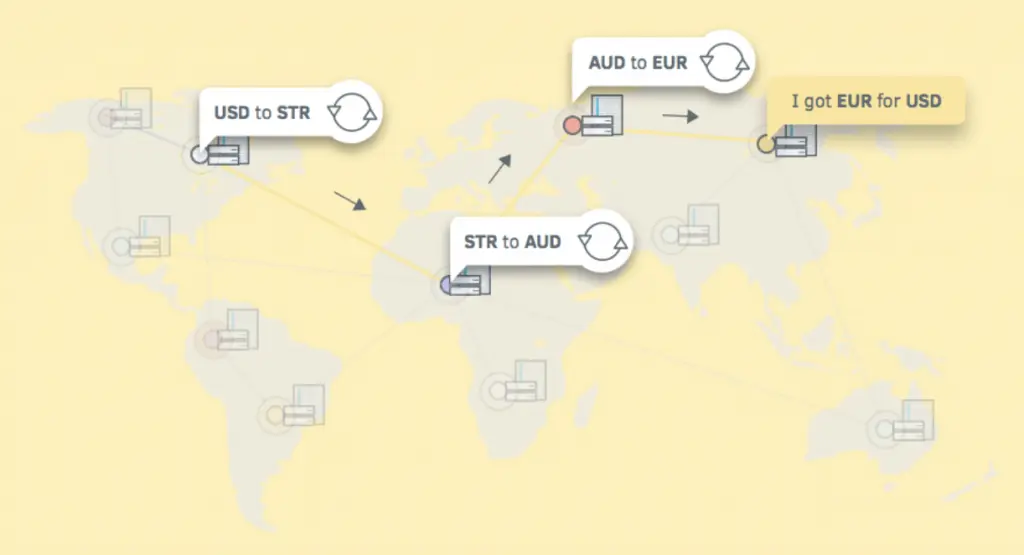 Equipo de Stellar y su historia
Jed McCaleb y Joyce Kim fundaron Stellar en 2014. McCaleb es un programador al que se le atribuye la creación del exchange de bitcoin Mt Gox y la red de intercambio de archivos eDonkey. También fue uno de los cofundadores de Ripple. Sin embargo, debido a una diferencia de opinión y filosofía con el resto del equipo de Ripple, McCaleb dejó Ripple para crear Stellar.
Otros miembros clave del equipo de Stellar son el científico en jefe David Mazières, profesor de informática en la Universidad de Stanford, y el CTO Nicolas Barry.
Principales asociaciones
Establecer asociaciones estratégicas es una forma clave en la que las plataformas como Stellar pueden fomentar la adopción y el crecimiento generalizados. Las siguientes son algunas de las alianzas principales de Stellar:
IBM. La alianza de Stellar con IBM, anunciada en octubre de 2017, visualiza a Stellar ayudando al gigante tecnológico a mejorar las transacciones transfronterizas. Esta alianza es una gran noticia y ya ha dado resultados en el mundo real, como lo menciona el presidente de la cadena de bloques de IBM, Jesse Lund. Este acuerdo también incluye una red de bancos que utilizará Stellar para mover dinero a través de las fronteras. Hasta enero de 2018, IBM estaba ejecutando 8 nodos Stellar y también había establecido 12 corredores de divisas en Australia y Oceanía.
Tempo. El proveedor de transferencias de dinero establecido en Francia ahora funciona como un ancla de euros en la red Stellar.
En un artículo de blog de enero de 2018 que contemplaba lo ocurrido en 2017, Stellar incluyó la siguiente tabla destacando las asociaciones que había creado en los 12 meses previos:
| Región | Número de nuevas asociaciones | Principales asociaciones |
| --- | --- | --- |
| África | 6 | SureRemit, Flutterwave |
| Asia Pacífico | 8 | KlickEx, Novatti |
| Europa | 3 | TEMPO, SatoshiPay, EXCH.one |
| Golfo pérsico | 5 | Bahrain Finance Company (BFC) |
| Américas | 4 | B&T Corredora, Remitr |
Próximos pasos de Stellar
El mapa de ruta 2018 de Stellar enlista dos objetivos principales:
El Exchange Descentralizado de Stellar (SDEX). A fines de 2017, Stellar reclutó un equipo para crear su exchange descentralizado. Esto habilitará intercambios a nivel de protocolo y en cadena para cualquier token Stellar, y el equipo de Stellar también indicó que generaría liquidez para minimizar los márgenes y maximizar la selección de activos. Los puntos destacados de SDEX incluirán lo siguiente:

Intercambio en el día uno de cualquier token Stellar de la ICO
Rutas atómicas para descubrir las tasas más baratas entre dos activos
Tarifas de transacción bajas
El usuario controla sus claves secretas

Red Lightning en Stellar. En respuesta a la demanda de transacciones privadas del mercado, Stellar planea implementar la Red Lightning en 2018. Esto debería aportar beneficios en la escalabilidad y la seguridad de la plataforma.
Factores a tener en cuenta
Aunque le esperan muchas oportunidades a Stellar en los próximos meses y años, también tendrá que superar algunos desafíos clave. Entre ellos, la competencia con Ripple; que tiene una larga lista de socios de renombre y un importante respaldo financiero. Aunque los dos proyectos se basan en ideologías diferentes, se desempeñan en el mismo campo.
Siendo una plataforma para ICOs, Stellar se opondrá a Ethereum, que cuenta con la segunda criptomoneda más grande del mundo, Ether (ETH); y ha alojado una gran cantidad de ICOs. Está por verse si Stellar puede competir con sus mayores rivales y lograr la adopción del público general.
Otro tema a tener en cuenta es el simple hecho de que Stellar se basa en una ideología altruista. Con el objetivo de promover la inclusión financiera y respaldado por una fundación sin fines de lucro, Stellar no tiene el mismo enfoque en la generación de ganancias máximas que otros proyectos. Por esta razón, es posible que sus precios no aumenten de la misma manera que los de algunas otras monedas y tokens.
Obtén más información sobre lo que podría deparar el futuro a XLM en nuestra predicción de precios.
En resumen
Stellar es un proyecto interesante que está llamando la atención en el mundo de las criptomonedas. Si bien enfrenta a grandes competidores, se puede utilizar de varias maneras y ofrece diferentes características impresionantes. Particularmente por su relación con IBM y su lista en aumento de socios a nivel mundial, podría estar encaminado a un futuro brillante.
Sin embargo, es importante llevar a cabo tu propia investigación y que evalúes por ti mismo lo que podría deparar el futuro para Stellar antes de decidir si deberías o no comprar tokens XLM.
Preguntas frecuentes acerca de Stellar Lumens
---
Imágenes: Shutterstock
Declaración: Al momento de redactar este artículo, el autor posee IOTA y XLM.