Qué esperar del precio de Tether este año.
Tether es una "moneda estable" diseñada para actuar como un puente entre las monedas digitales y las monedas fiduciarias. Su valor está vinculado al dólar estadounidense. Está diseñada para ofrecer protección contra la volatilidad de otras criptomonedas, y se considera como un "refugio" cuando el resto del mercado experimenta una recesión.
Sin embargo, ha habido una creciente controversia en torno a Tether en los últimos meses; así que echemos un vistazo a todo el alboroto y a lo que esto podría significar para la estabilidad de Tether en el futuro.
Aprende más Dónde comprar Tether (USDT)
Disclaimer: This information should not be interpreted as an endorsement of cryptocurrency or any specific provider, service or offering. It is not a recommendation to trade.
Datos rápidos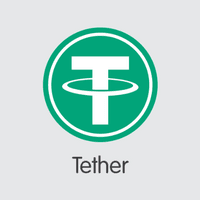 | | |
| --- | --- |
| Nombre de la moneda | Tether |
| Símbolo | USDT |
| Tipo de algoritmo | SHA-256 |
| ¿Se puede minar? | No |
| Fecha de lanzamiento | 2014 |
Cómo funciona Tether
Tether está vinculado al valor de sus reservas de moneda fiduciaria a una tasa de 1:1. Está diseñado para mantener el mismo valor en relación con esa moneda fiduciaria subyacente, sin importar lo que esté sucediendo con el valor de otras criptomonedas. Entonces, si te preguntas cuál será el precio de USDT en relación con el dólar estadounidense en el futuro, ten en cuenta que está diseñado para mantener su valor lo más cercano posible a $1 USD.
Se supone que cada token Tether está respaldado por reservas de monedas fiduciarias que están bajo el control de Tether Limited, la entidad que maneja a Tether. Los tokens de Tether están más comúnmente vinculados al dólar estadounidense (USDT), pero también hay tokens vinculados al euro (EURT); y los Tethers vinculados al yen japonés están en proceso.
Tether está diseñado para ofrecer protección contra la volatilidad comúnmente asociada con los mercados de criptomonedas. Al mismo tiempo, permite que las monedas fiduciarias gocen de la facilidad de transferencia y la capacidad de mantener registros que tienen las criptomonedas.
Predicción de precio de Tether
Los tokens de Tether están diseñados para coincidir con el valor de la moneda a la que están vinculados. Dicho esto, existe una amplia gama de factores a considerar cuando quieres decidir si comprar (o no) tokens de Tether.
¿Qué podría impulsar el crecimiento de Tether?
Disponibilidad. Tether está disponible en varios pares de divisas en la mayoría de los exchanges más populares. Esto significa que es fácil acceder a esta criptomoneda, y también ayuda a aumentar la credibilidad de la misma ante los ojos de los principales inversores.
Enlace a criptomonedas. Muchos exchanges de criptomonedas no admiten monedas fiduciarias. Ya que está vinculado a estas últimas, Tether actúa como un enlace entre las monedas tradicionales y el mundo de las criptomonedas.
Otras criptomonedas son más volátiles. Cuando las criptomonedas pasan por periodos de volatilidad, las llamadas "monedas estables" como Tether, son vistas como un "refugio" para quienes poseen criptomonedas. Al intercambiar algunos o incluso todos sus fondos a los tokens de Tether, pueden conservar los beneficios que ya han obtenido y además, evitar las caídas de precios.
Inversores evitando caídas de precios. En enero de 2018, en contraparte a las caídas de precios del resto de las criptomonedas, el valor de USDT se elevó a $1.03 USD. Debido a que su valor sigue siendo prácticamente el mismo, incluso cuando los precios de todo lo demás disminuyen; el USDT sigue siendo una opción para las personas que buscan "superar" las condiciones desfavorables del mercado.
Volatilidad de Bitcoin. En particular, los aumentos en el volumen de operaciones de USDT se han relacionado con la volatilidad de Bitcoin. La investigación publicada por el banco de inversión estadounidense Morgan Stanley en marzo de 2018 reveló que los intercambios entre USDT y Bitcoin se han vuelto algo común, con un estimado del 14.2% de intercambios de BTC/ USDT; frente a menos del 1% en octubre de 2017.
Suministro. Al momento de escribir, CoinMarketCap enumeró el suministro circulante de USDT en 2,217'140,814; y el suministro total en 2,580'109,970 USDT. En marzo de 2018, Tether emitió otros 300 millones de tokens USDT, después de la publicación en febrero de 86 millones de EURT y 61.1 millones de USDT. A medida que la circulación de los tokens Tether crece, y cada vez se ingresa más dinero en las cuentas de reserva de Tether; los tokens podrían llegar a ser vistos como un reemplazo del USD y otras monedas fiduciarias como una reserva de valor.
¿Qué podría retener a Tether?
Bitfinex y Tether. Tether es manejado por una compañía conocida como Tether Limited, que es propiedad del CEO del exchange de criptomonedas Bitfinex. A menudo, Bitfinex es referido como el propietario de Tether. De cualquier forma, algunos analistas han sugerido que USDT probablemente esté apuntalando artificialmente el valor de Bitcoin. Un reporte descubrió que aproximadamente el 50% del aumento total del precio de Bitcoin durante un periodo de tiempo determinado se produjo dentro de las dos horas posteriores a la nueva entrega de tokens de Tether a Bitfinex. Este informe y otros han concluido que es mucho más probable que Tether se utilice para manipular el precio de Bitcoin.
Falta de reservas. Tether afirma que todos los USDT emitidos están respaldados 1:1 por dólares estadounidenses que se mantienen en sus reservas. Sin embargo, a finales de 2017 y principios de 2018, Tether se vio sacudido por las críticas de que podría no tener reservas fijas suficientes para respaldar los 2.3 billones de tokens Tether que ha emitido. En otras palabras, que no tiene los $2.3 billones de USD que dice tener. Asimismo, cabe señalar que existe un análisis estadístico que sostiene las declaraciones de Tether de tener reservas suficientes (aunque podría necesitar actualizar sus procedimientos KYC/ AML para evitar que se vea obligado a cerrar), así como un análisis que sugiere que no tiene suficientes reservas de efectivo. Bitfinex también ha prometido tomar medidas legales en contra de uno de sus principales críticos.
¿Auditoría o no auditoría? En respuesta a estas declaraciones, Bitfinex y Tether hablaron con la prensa y prometieron una auditoría independiente. Sin embargo, posteriormente Tether se separó del auditor Friedman LLP en enero de 2018, y la auditoría fue cancelada. "Teniendo en cuenta los procedimientos insoportablemente detallados que Friedman estaba llevando a cabo para el balance relativamente simple de Tether, quedó claro que una auditoría sería inalcanzable en un plazo razonable", dijo Tether en un comunicado.
Temor a un colapso del mercado. Una combinación de los problemas previamente mencionados ha llevado al surgimiento de preocupaciones respecto a un colapso de Tether en el mercado. Considerando los cercanos vínculos de Tether con el precio de Bitcoin, sin mencionar la importancia de Bitcoin para el rendimiento de los mercados de criptomonedas en general, esto podría tener consecuencias severas para el ecosistema de las criptomonedas. El hecho de que Bitfinex ay Tether fueran citados por la Comisión de Intercambio de Futuros de Productos Básicos de los Estados Unidos, sugiere que USDT podría esperar más problemas y obstáculos en el futuro cercano.
Hackeos. En noviembre de 2017, Tether reportó que $30'950,010.00 USD en tokens de Tether fueron robados de su cartera de tesorería tras un hackeo. Si bien no se robaron fondos de los clientes durante esta violación de seguridad, esto aún podría tener un impacto en la credibilidad de Tether entre el público en general.
Dónde comprar Tether
Competencia de Tether
Tether no es la única moneda estable en el mercado, y dada la incertidumbre y las dudas que rodean a USDT, los amantes de las criptomonedas podrían recurrir a uno de esos competidores si es que los consideran opciones más seguras. Algunos de estos competidores son:
TrueUSD (TUSD). Esta moneda estable respaldada con USD permite a los usuarios intercambiar USD directamente con una cuenta de depósito en garantía, con contratos inteligentes utilizados para asegurar un valor de 1:1 entre TrueUSD y USD en las cuentas.
Dai (DAI). Una criptomoneda cuyo valor está establecido frente al del dólar estadounidense. Dai fue creada por el Sistema de Monedas Estables Dai ejecutado en Ethereum.
kUSD (KUSD). KUSD de Kowala es una moneda estable vinculada al USD, y presenta algoritmos de estabilidad que ajustan el suministro de la moneda en función de su precio en relación con el USD.
DigixDAO (DGD). Esta plataforma ofrece Digix Gold Tokens (DGX), que están respaldados por lingotes de oro, en la plataforma Ethereum.
Después de 2020: ¿Qué depara el futuro para Tether?
Las monedas estables están diseñadas para proveer consistencia y seguridad, ofreciendo protección frente a la notoria volatilidad de las criptomonedas. Son vistas como una parte crucial del crecimiento futuro del ecosistema de las criptomonedas – al final del día, ofrecer préstamos o realizar transacciones con una moneda que podría fluctuar en un 25% y en un solo día no es algo muy práctico – pero, hasta el momento, no se ha desarrollado una moneda estable universalmente aceptada y de confianza.
En el pasado, Tether ha sido considerada como un "refugio" seguro para los compradores que intentan evitar pérdidas en los mercados más volátiles, y su amplia disponibilidad y fácil acceso la convierten en un enlace importante entre las monedas fiduciarias y las digitales. En los exchanges exclusivos de criptomonedas, se considera que Tether es el equivalente al USD.
Sin embargo, si el objetivo es tener un futuro viable como una moneda estable, las recientes preocupaciones y críticas contra Tether no pueden ser ignoradas. Con preguntas pendientes sobre el nivel de reservas que tiene Tether, por no mencionar el temor que ha surgido ante la cancelación de una auditoría independiente; su futuro parece estar lleno de obstáculos.
Las preocupaciones están bastante bien resumidas por Juan M. Villaverde de Weiss Cryptocurrency Ratings. Después de hacer referencia a la falla de Tether para proporcionar evidencia de tener suficientes reservas de capital, describe algunos hechos clave:
"Tether es la única criptomoneda con un volumen de negociación que regularmente excede el de su capitalización de mercado".
"Esto significa que todo el suministro de Tether cambia de manos regularmente, a veces más de una vez al día"
Por lo tanto, Tether es una de las principales fuentes de liquidez en los mercados de criptomonedas. La liquidez es esencial para mantener los precios estables y permitir el comercio sin interrupciones.
Si esta fuente de liquidez se evapora repentinamente, las consecuencias podrían ser grandes.
"No quiero especular sobre cuál sería la secuencia exacta de eventos si hubiera una carrera en la compañía Tether — si los inversores se apresuraran en canjear su Tether por dólares estadounidenses," escribe él.
"Basta con decir que, si la manta de liquidez se saca de debajo del mercado, las consecuencias no serán buenas."
En resumen
Haz tu propia investigación. No hay escasez de información sobre las fortalezas y debilidades percibidas de Tether, por lo que es tu turno de indagar y revisar todos los detalles que puedas encontrar. Sin embargo, existen ciertas preocupaciones innegables en torno a USDT; así que asegúrate de haber considerado todos los detalles antes de decidir si deseas poner tu dinero en juego.
---
Imágenes: Shutterstock
Disclaimer: Cryptocurrencies are speculative, complex and involve significant risks – they are highly volatile and sensitive to secondary activity. Performance is unpredictable and past performance is no guarantee of future performance. Consider your own circumstances, and obtain your own advice, before relying on this information. You should also verify the nature of any product or service (including its legal status and relevant regulatory requirements) and consult the relevant Regulators' websites before making any decision. Finder, or the author, may have holdings in the cryptocurrencies discussed.
Al momento de escribir, el autos posee IOTA y XLM.