Finder is committed to editorial independence. While we receive compensation when you click links to partners, they do not influence our content.
¿Qué es NEO? La guía esencial
Anteriormente conocida como Antshares, Neo es la primera cadena de bloques de código abierto de China. ¿Pero es aún muy joven?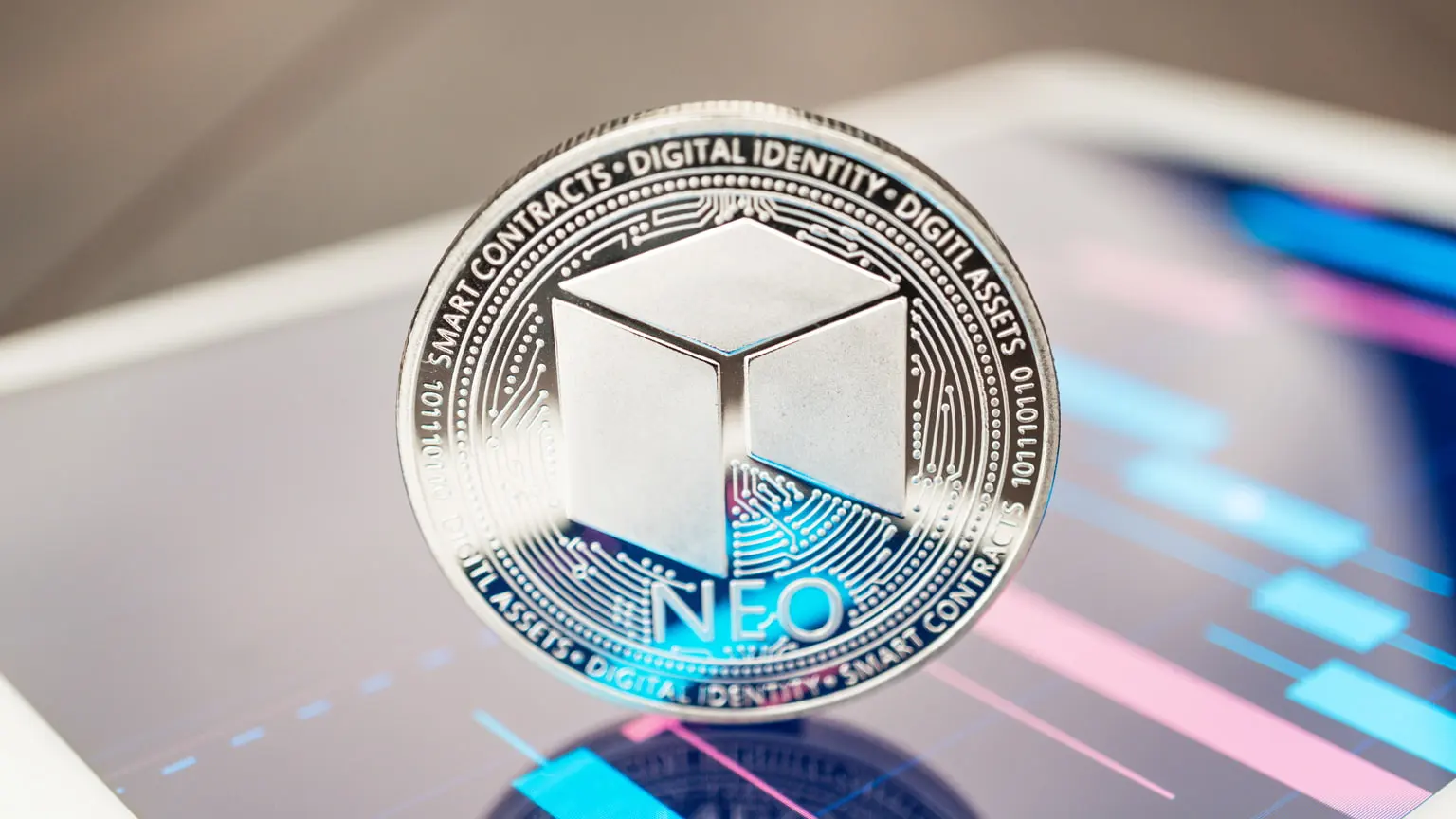 Neo, anteriormente conocida como Antshares, es una criptomoneda relativamente nueva, pero no dejes que eso te disuada de considerar su valor potencial. No es sólo la respuesta de China a Ethereum, pues su objetivo es ser algo más que otra moneda. La visión de Neo es crear una economía más inteligente y facilitar la transferencia de activos digitales y tradicionales.
Aviso legal: Esta información no debe interpretarse como una recomendación de criptomonedas o de ningún proveedor, servicio u oferta en específico. No es una recomendación para hacer transacciones. Las criptomonedas son especulativas, complejas e implican riesgos significativos: son altamente volátiles y sensibles a la actividad de terceros. Su rendimiento es impredecible, y el rendimiento pasado no garantiza el rendimiento futuro. Considera tus propias circunstancias y pide un consejo personal antes de confiar en esta información. También deberías verificar la naturaleza de cualquier producto o servicio (incluidos su estatus legal y los requisitos reglamentarios pertinentes) y consultar a los reguladores sitio web pertinentes antes de tomar cualquier decisión. Finder, o el autor, pueden tener participaciones en las criptomonedas discutidas.
¿Qué es Neo?
Neo es un sistema de cadena de bloques y monedas para crear una forma más inteligente de transferir moneda entre los usuarios. Se divide en dos tokens diferentes (similares a Ethereum): el primero es Neo (o Antshares, código: ANS), y el segundo es Gas (o Antcoins, código: ANC), y ambos tienen usos extremadamente específicos en la plataforma Neo como veremos en esta guía.
| Ícono | Símbolo | Fecha de lanzamiento | Tipo de algoritmo | Suministro máx. |
| --- | --- | --- | --- | --- |
| | ANS | Agosto 2014 | N/A | 100 millones ANS |
| | ANC | Agosto 2014 | N/A | 100 millones ANC |
El objetivo principal de Neo es convertirse en un representante digital, descentralizado y distribuido de activos no digitales, a través del uso de contratos inteligentes (ver más abajo para una vista más detallada de los contratos inteligentes). Esto significa que su objetivo es convertirse en una alternativa digital para las transferencias de activos que actualmente no son digitales (por ejemplo, pagar el alquiler utilizando un contrato inteligente que se activa automáticamente una vez al mes, en lugar de escribir y enviar un cheque mensual).
¿En qué se diferencia Neo de Bitcoin?
Neo, con su sistema de ANS (Neo, anteriormente Antshares) y ANC (Gas, anteriormente Antcoins), es drásticamente diferente de Bitcoin. Aquí hay tres de las diferencias más importantes:
Las ANS son indivisibles
La unidad más pequeña de ANS siempre será 1 acción, y esto no se puede dividir de la misma manera que otras monedas como Bitcoin. La razón principal de esto es que, al igual que las acciones en una empresa o servicio, ANS no se puede dividir en fracciones. Esto podría convertirse en un problema en el futuro si el valor de Neo continúa aumentando, pero las plataformas de exchange ya están manejando su propio método de dividir la moneda.
Fracciones de monedas en las plataformas de exchange. ¿Cómo lo hicieron?
Actualmente, las plataformas de exchange están tratando de encontrar una forma de evitar el problema de que ANS sea indivisible. La respuesta que tienen puede no ser la mejor, pero es la mejor que tenemos ahora: te venderán fracciones de ANS siempre y cuando las mantengas dentro de tu cartera del exchange. Si los transfiere a tu cartera Neo, esas fracciones se perderán.
Por ejemplo, técnicamente no se te permite tener 5.32 ANS. Podrías tener 5 ANS o 6. Pero las plataformas de exchange te permitirán intercambiar BTC por 5.32 ANS sin problema. Si mantienes esos 5.32 ANS en tu cartera de exchange, no tendrás problemas para volver a cambiarlos a BTC una vez que el valor aumente, por ejemplo. Pero, si transfieres 5.32 ANS a tu cartera Neo, terminarás con 5 ANS, y se perderán 0.32 ANS.
2. Generar ANC
La mayor característica diferenciadora es el sistema de dos niveles de ANS y ANC. Actualmente (enero 2018), es imposible comercializar y comprar ANC, excepto en mercados específicos de China. En cambio, los usuarios deben comprar ANS que, en esencia, es su participación en el futuro de la plataforma (de ahí el nombre antes del cambio de nombre de Neo: "Antshares"). La belleza del sistema de dos niveles entra en juego en el momento en que transfieres ANS a su billetera Neo.
Mientras guardas ANS, comienzas a generar ANC (o Gas) automáticamente a medida que se descubren y registran más bloques. Esto es similar a Ethereum, pero muy diferente de la minería en Bitcoin en cuanto a que el valor de ANC está desacoplado del valor de ANS. Esto está en contraste con Bitcoin, donde el valor de un bitcoin extraído es el mismo que el valor de un bitcoin comprado.
ANC se usará como tarifa de transacción cuando las personas comiencen a hacer pagos usando la red Neo.
3. Contratos inteligentes
Otro factor importante que distingue a Neo de Bitcoin es el uso de contratos inteligentes, que se explica mejor usando un escenario del mundo real:
¿Cómo funcionan los contratos inteligentes?
Los contratos inteligentes son el equivalente digital de mantener el dinero en custodia con un tercero, con la intención de liberar los fondos en algún momento en el futuro. Supongamos que tengo que pagarte 0.002 BTC en tres meses. Se crea un contrato y se ingresa en la cadena de bloques que se activa dentro de tres meses, siempre que haya depositado los 0.002 BTC requeridos. Una vez que se ejecuta el contrato, el dinero se transfiere de mi cartera a la tuya, y los reguladores de la cadena de bloques lo atestiguan y verifican automáticamente.
¿Dónde puedo utilizar Neo?
Hasta el momento (enero 2018), ni Neo ni su token de moneda, Gas, son utilizables en situaciones del mundo real. El futuro y la dirección de Neo aún son, hasta cierto punto, inciertos.
Cómo ganar dinero invirtiendo en Neo
Invertir en Neo actualmente implica guardar Neo para generar Gas. Esto es esencialmente lo mismo que tener una participación o acciones en una startup (empresa en sus inicios) que crees que generará dinero en el futuro, y que se te paguen dividendos. Gas se usará para pagar tarifas de transacción en el futuro y, posiblemente, también será negociable en las plataformas de exchange.
Para obtener una cartera y comenzar a generar Gas, sigue estos simples pasos:
Compra Bitcoin. Debido a que Neo sólo se puede comprar con Bitcoin, primero deberás comprar Bitcoin en una operación a parte.
Regístrate en Bittrex<style="font-weight: 400;">. Ésta es la plataforma de exchange oficial de Neo, el lugar donde puedes comprar Neo con Bitcoin.
Transfiere Bitcoin a una cartera de Bittrex. El exchange desde el que compraste Bitcoin habrá almacenado tu Bitcoin comprado en una cartera en línea. Ahora es el momento de transferir esos Bitcoins a la cartera proporcionada por Bittrex.
Compra Neo en Bittrex. Así como compraste Bitcoin con tu moneda fiduciaria de tu elección, ahora puedes comprar Neo con Bitcoin.
Ahora tienes algunas acciones de Neo en una cartera en línea creada para ti por Bittrex. Esto no es ideal ya que sólo puedes generar Gas cuando Neo está en una cartera que tienes. Por lo tanto, tan pronto como sea posible, debes instalar una cartera Neo-compatible con tu computadora, y transferir la ANS de tu cartera Bittrex en línea a la real. Esto comenzará a generar Gas para ti.
¿CUÁL ES LA DIFERENCIA ENTRE UNA CARTERA DE EXCHANGE Y UNA LOCAL?
La mayoría, si no es que todas las plataformas de exchange de criptomonedas te permiten guardar tus monedas en una cartera en línea. Esta cartera se ve y funciona igual que una cartera instalada en tu computadora, pero la diferencia principal está en la estructura subyacente de cómo funciona. Pero más importante aún, tu cartera de intercambio no tiene una dirección, técnicamente. La plataforma de exchange tiene su propia cartera, una parte de la cual se reserva para ti. Pero la cartera nunca es realmente tuya; siempre pertenece a la plataforma. Por lo tanto, en situaciones como Neo, donde guardar una moneda en una cartera te da algún tipo de bonificación, es la plataforma quien recibirá ese Gas, no tú.
Por lo tanto, siempre es beneficioso mover tu moneda de la cartera proporcionada por el la plataforma de exchange a tu cuenta personal.
Utilizar Neo para transferir dinero
La transferencia de dinero a través de la red Neo dependerá completamente de cómo los desarrolladores de criptomonedas decidan integrarse con la red en el futuro, pero, por ahora, sólo puede comprar ANS para generar ANC.
Precauciones a tomar en cuenta
Neo es aún relativamente joven, incluso en comparación con otras nuevas criptomonedas. Como concepto, es nuevo y complejo para la mayoría de los usuarios y esto hace que la plataforma sea más difícil de adoptar. Aún así, hay más problemas en juego que la dificultad de uso.
La única queja más importante sobre el sistema actual es que los ANS son indivisibles, lo que hace que el valor sea un problema. Las monedas como Bitcoin evitan este problema haciendo que sus monedas sean divisibles por hasta 8 lugares decimales (el llamado "satoshi"). Esto significa que incluso a medida que Bitcoin gana valor, los usuarios aún pueden comprar monedas que están dentro de su presupuesto (es decir, aunque 1 BTC podría costar $4,000 dólares, uno podría comprar 10 μBTC por $0,04 dólares). Esto no es algo que puedas hacer con ANS. Si 1 ANS cuesta $1,000 dólares, tendrás que desembolsar un mínimo de esta cantidad para ingresar.
Lento para sincronizar en comparación con otras monedas
La segunda queja más grande que tienen los usuarios sobre la plataforma es que la cadena de bloques es extremadamente lenta para sincronizar las actualizaciones, por ejemplo, al transferir ANS de una plataforma de exchange a tu cartera. Esto podría solucionarse en el futuro, pero, tal como está ahora, sería casi imposible pagar transacciones de gran valor que requieran que esperes la confirmación.
¿Cuál es el siguiente paso para Neo?
Un concepto tan interesante como Neo es, que sólo hay una certeza en el futuro de Neo: nadie sabe exactamente hacia dónde se dirige. Muchos especulaban, a finales de 2017, que alcanzaría valores de $100 USD/ANS en 2018. En enero de 2018, su valor es de $149.33 USD/ANS.
Lo más importante para Neo es que el gobierno chino ha adoptado la plataforma, al mismo tiempo que se ha distanciado de otras criptomonedas como Ethereum y Bitcoin. Esto legitima la plataforma Neo y la enajena del mundo occidental.
El plan a futuro de Neo todavía está en proceso de construcción, y aún queda mucho por ver.
Preguntas frecuentes
Fuentes de las imágenes: Neo
More guides on Finder