Finder is committed to editorial independence. While we receive compensation when you click links to partners, they do not influence our content.
Lisk (LSK) price prediction 2022
What to expect from the price of Lisk in the coming weeks and months.
Lisk is a blockchain platform that allows developers to create their own dapps on top of sidechains. Written in JavaScript, the network is designed to be easily accessible and make it easy for users to create custom applications.
The Lisk token (LSK) is used to pay fees and fund transactions within dapps built on the Lisk framework. It's one of the top 30 cryptocurrencies by market cap at the time of writing, and has attracted plenty of attention in the crypto world, but does Lisk have what it takes to be a serious competitor in a crowded market? Let's take a closer look.
Learn more Where to buy Lisk (LSK)
Disclaimer: This information should not be interpreted as an endorsement of cryptocurrency or any specific provider, service or offering. It is not a recommendation to trade.
Quick facts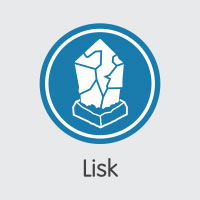 | | |
| --- | --- |
| Coin name | Lisk token |
| Symbol | LSK |
| Algorithm type | Delegated Proof-of-Stake (DPoS) |
| Mineable | No |
| Launch date | 24 May 2016 |
Lisk price prediction
Volatile and complicated, cryptocurrencies are famous for their price fluctuations. There are myriad factors that can affect the value of any cryptocurrency, so working out the best time to buy – or even whether you should steer clear altogether – is a tricky proposition.
So if you're thinking of buying any LSK, make sure you consider all the issues that could potentially have a positive or negative impact on the value of the token. Some of those factors are outlined in the table below.
What could drive Lisk's growth?
JavaScript based. While Bitcoin core is written primarily in C++ and Ethereum is written in Solidity, Lisk runs on JavaScript. The advantage of this is that JavaScript has widespread popularity and is used all around the world, thereby opening the platform up to a huge pool of programmers.
Developed with mass adoption in mind. As LSK are used to perform tasks on the Lisk network, the widespread adoption of the platform should increase demand for the token. Lisk has been designed to maximise the chances of widespread adoption, and is designed to be user-friendly and highly accessible to developers.
Control for developers. Lisk's network is designed in such a way to allow developers and companies to create apps that can be deployed on their own sidechain. While this is designed to integrate with the Lisk infrastructure, it's also designed to give developers maximum control over their projects.
Supply and demand. According to CoinMarketCap, at the time of writing (15/03/2018) the circulating token supply was 102,828,998 LSK, out of a total supply of 119,045,644 LSK. If the platform can become a popular choice for programmers looking to create dapps, this could increase demand for the token.
Rebranding and new desktop and web apps. In February 2018, Lisk underwent an official relaunch at an event in Berlin. As well as a new website and logo, it also saw the introduction of Lisk Academy (a project that aims to educate the public about the potential of blockchain technology) and Lisk Hub (a desktop app and browser interface that allows users to manage their Lisk ID, access and send LSK tokens, and vote for delegates).
Full release of SDK. The alpha release of Lisk's Sidechain Development Kit (SDK) will feature all the modules a developer will need for programming a blockchain application customised to their needs. The alpha release is scheduled for April 2018.
What could hold Lisk back?
Inability to achieve widespread adoption. The value of the Lisk token is closely linked to the level of use the platform receives. If it doesn't break into the mainstream and become a popular blockchain choice for businesses, this could impact upon the LSK price.
Competitors. Blockchain platforms for the creation of dapps are far from a rare species. The biggest player in this space is currently Ethereum, which is also the world's second largest cryptocurrency at the time of writing, but Lisk will also face competition from platforms such as NEO, EOS and Cardano.
Still being developed. Lisk's sidechain development kit is still, at the time of writing (16/03/2018), a work in progress. Until it has been fully released and we can get a better idea of how well it functions, there will continue to be uncertainty surrounding what the future holds for the price of LSK.
Delays. The release of Lisk's SDK and the project's rebranding project have been hit by delays during their development, which has led to complaints from some developers and LSK holders.
Where to buy LSK
What's coming up in Lisk's roadmap
Tech upgrades and developments can have a big impact on the price of a coin. To find out what's in store for Lisk in coming times, check out the project's roadmap. Key milestones for 2018 include:
Lisk JS and Lisky. Expected by the end of April, these are two core components of the Lisk SDK. JS will add modularisation and encryption, while Lisky is a Command Line Interface wrapper designed to help developers with automation and scripting.
Decentralised exchange. Scheduled for completion in October 2018, this exchange aims to allow the transfer of tokens between sidechains via the Lisk mainchain.
Custom tokens. By the end of June 2018, developers should be able to create custom tokens on the Lisk platform.
Dapp registration. Scheduled for the end of June 2018 and will allow users to register custom-built dapps on the Lisk platform.
Sidechain withdraw/deposit. The ability to withdraw and deposit sidechain tokens on the Lisk platform is scheduled for October 2018.
Lisk's competition
Lisk will face stiff competition from a long list of other platforms developed for the creation and deployment of dapps. How Lisk fares against those competitors could potentially have a positive or negative effect on its price. Other projects to watch include:
Ethereum (ETH). The current king of dapps and the second largest cryptocurrency by market cap, Ethereum has the big advantage over its competitors of being the early mover. However, its efforts to overcome scaling issues will be crucial to future success.
NEO (NEO). The so-called "Ethereum of China" has received plenty of hype since its launch in 2014. Its aim is to use "blockchain technology and digital identity to digitise assets, to automate the management of digital assets using smart contracts, and to realise a 'smart economy' with a distributed network".
Qtum (QTUM). A blockchain platform for business, Qtum combines bitcoin's blockchain and Ethereum's smart contracts. Its main focus is on the business applications of smart contracts, and the project is backed by the Singapore-based Qtum Foundation.
Cardano (ADA). Launched in 2017, Cardano is a smart contract platform that aims to offer increased scalability and security through the use of unique layered architecture.
EOS (EOS). Built with the aim of being a more user-friendly and scalable version of Ethereum, EOS is designed to support commercial-scale dapps.
Waves (WAVES). Launched in June 2016, Waves is a platform that allows users to create their own cryptocurrencies and build dapps.
Stratis (STRAT). Launched in August 2016, Stratis aims to provide an end-to-end platform to allow businesses to adopt blockchain technology.
Beyond 2022: What does the future hold for Lisk?
The biggest question facing Lisk in coming times is the same one facing a wide range of other crypto platforms: will it be able to achieve widespread adoption? The answer to this $64 million-dollar question is anyone's guess, but Lisk does have some key advantages working in its favour.
The most obvious benefit is the fact that Lisk has been built with the aim of being as user-friendly and accessible as possible. By using JavaScript instead of creating a new proprietary language, Lisk opens itself up to millions of programmers around the world.
However, there are also a few challenges and obstacles ahead. Decentralised applications are a hugely competitive area, and Lisk will need to battle for public attention not only with Ethereum but also a host of other projects.
Perhaps the key development in coming months will be the full release of the Lisk SDK. If this is released when scheduled and provides the features, functionality and user-friendliness many are hoping for, it could have a big impact on the success and future growth of the platform.
Bottom line
Lisk is a promising project in an area full of promising projects. Its use of JavaScript and focus on user-friendliness are big advantages, but it will need to overcome stiff competition from Ethereum, NEO and a host of other ambitious projects if it's to achieve widespread adoption.
Before deciding whether or not you should buy LSK, do your own research and stay up to date with the latest news and developments from the project and other smart contract platforms. This will help you form a clearer idea of where you expect the LSK price to head in the coming weeks and months.
Disclaimer: Cryptocurrencies are speculative, complex and involve significant risks – they are highly volatile and sensitive to secondary activity. Performance is unpredictable and past performance is no guarantee of future performance. Consider your own circumstances, and obtain your own advice, before relying on this information. You should also verify the nature of any product or service (including its legal status and relevant regulatory requirements) and consult the relevant Regulators' websites before making any decision. Finder, or the author, may have holdings in the cryptocurrencies discussed.
---
Images: Shutterstock
At the time of writing, the author holds IOTA and XLM.