Cómo funciona la membresía SALT y dónde comprar sus tokens.
SALT (Secure Automated Lending Technology) es un nuevo e ingenioso sistema de financiación diseñado para permitir a los usuarios tomar prestado los activos de la cadena de bloques como garantía.
Los tokens SALT son tokens de membresía. Estos se utilizan para comprar acceso a los servicios de la plataforma. Con más tokens, se puede acceder a niveles de membresía más altos. Mientras más alto sea el nivel de membresía, mejores y más flexibles serán tus opciones de financiamiento.
Si deseas tener más dinero en criptomonedas sin renunciar a tu poder adquisitivo, o crees que muchas otras personas lo desean, SALT podría ser una compra inteligente.
Disclaimer: This information should not be interpreted as an endorsement of cryptocurrency or any specific provider, service or offering. It is not a recommendation to trade.
Dónde comprar SALT
Los tokens de SALT también pueden comprarse o intercambiarse en Bittrex, ShapeShift y CoinSwitch.
¿Cuáles son los beneficios únicos de SALT?
SALT es relativamente simple, pero sólo porque la tecnología que lo hace funcionar es muy compleja.
Sus características podrían revolucionar la financiación tanto para individuos como para instituciones. Esto es lo que la plataforma puede hacer por ti:
Usar activos de la cadena de bloques como garantía de seguridad. Esta es la característica principal. Puedes usar tus activos de criptomoneda, como Bitcoin, como garantía para un préstamo. Esto te permite invertir simultáneamente en criptomonedas mientras aseguras flujo de caja.
Gestión automática de préstamos. Una vez que están configurados, los contratos SALT se administran esencialmente solos. Los prestamistas, en general, no necesitan hacer nada más que poner el dinero.
Configura tus propios términos de préstamo. Puedes establecer tus propios términos de préstamo, dentro de ciertos parámetros que dependen de la cantidad de criptomoneda que puedes colocar como garantía y cuál es tu nivel de membresía SALT, y obtener un prestamista disponible que pueda ofrecer esos términos.
El procesamiento extremadamente rápido en la cadena de bloques facilita términos que no son factibles en otros lugares, tales como términos de préstamo medidos en horas en lugar de semanas, préstamos multidivisas y condiciones especiales asociadas a los préstamos.
En muchos casos, SALT también podrá ofrecer una mejor relación calidad-precio que los préstamos tradicionales. Esto se debe a que el sistema automatizado permite a los prestamistas participar casi sin gastos generales y con un riesgo casi nulo de no obtener el valor de su dinero. Esto permite a los prestamistas ofrecer tarifas mucho más competitivas en SALT que en cualquier otro lugar.
También proporcionará un mercado extremadamente competitivo, con prestamistas de todo el mundo compitiendo por concretar negocios.
Para los prestatarios con mal crédito en particular, es una opción increíblemente rentable. SALT no considera el puntaje de crédito o historial del prestatario en absoluto. En cambio, simplemente considera cuánta garantía de seguridad tiene.
¿Cómo funciona SALT?
SALT es una plataforma de emparejamiento para juntar prestatarios y prestamistas adecuados. Maneja todo el trabajo de riesgo y luego gestiona automáticamente el préstamo.
Los prestatarios deberán comprar una membresía SALT para comenzar a usar la plataforma. Para eso son los tokens SALT. Cuanto más tengas, mayor será el nivel de membresía al que puedes acceder.
Membresía: 1 SALT al año permite el acceso a servicios básicos.
Membresía Premier: 30 SALT al año permiten acceso a un rango mucho más amplio de beneficios.
Membresía Empresarial: La fijación de precios personalizada permite soluciones de financiación a escala para empresas excepcionalmente flexibles y rentables, con activos de la cadena de bloques como garantía de seguridad.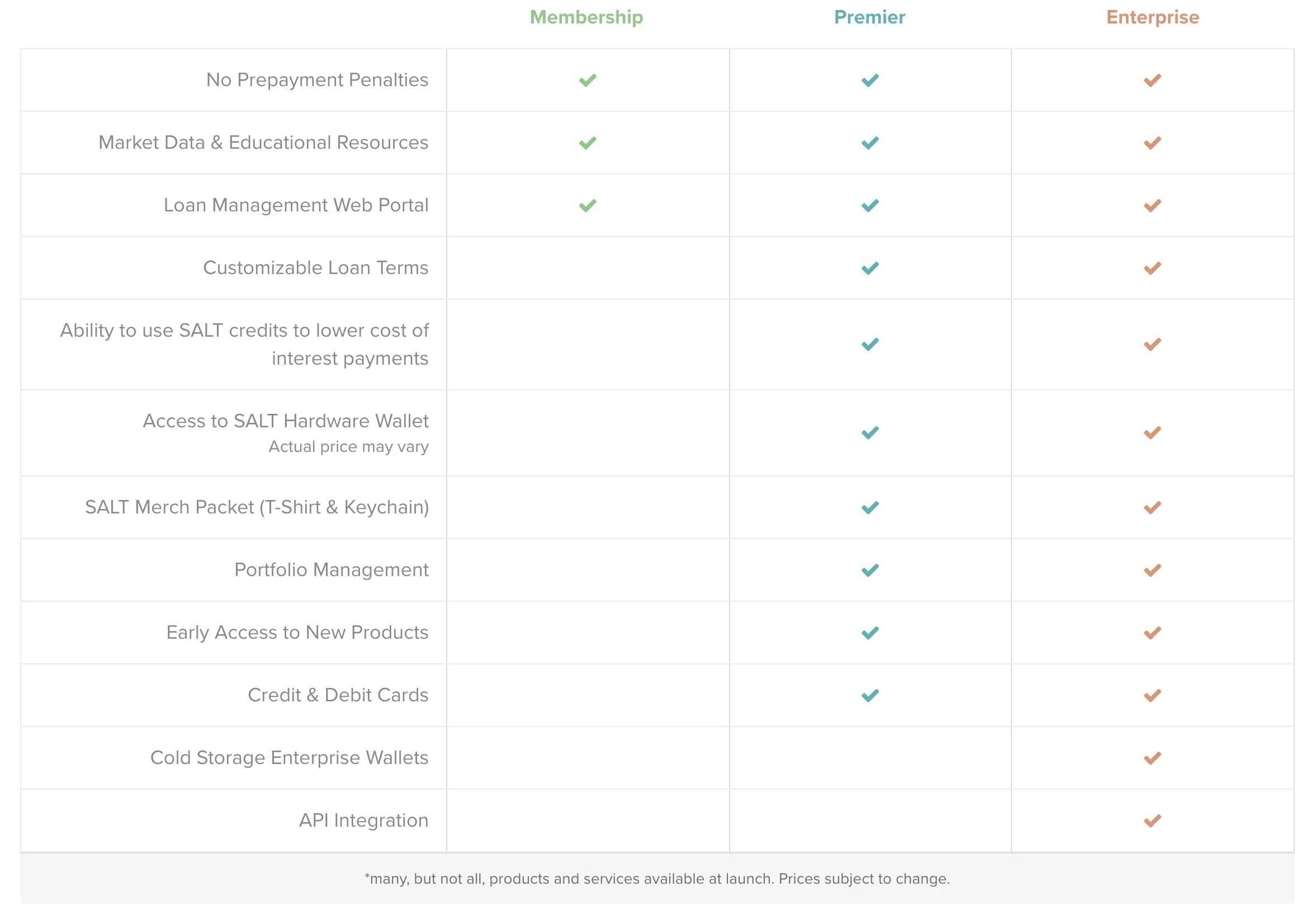 Niveles de membresía SALT y sus característicaswww.saltlending.com
¿Cómo cuenta SALT la volatilidad en la garantía de seguridad?
La relación préstamo-valor (LVR) se calcula dinámicamente en función del valor actual de los activos que se mantienen como garantía de seguridad, y generalmente SALT apunta a mantener un 80% de LVR (la garantía vale el 80% del monto prestado).
El Oracle de SALT (Oráculo de SALT) verifica regularmente el valor actual de la garantía de seguridad con respecto al monto del préstamo. Si el valor de la garantía cae y conduce a un LVR que es demasiado bajo, el Oracle de SALT contactará automáticamente al prestatario y lo invitará a recargar sus garantías y / o realizar reembolsos de préstamos adicionales hasta que el LVR regrese a un nivel aceptable.
No hay multas por amortización anticipada, por lo que los prestatarios pueden gestionar sus reembolsos según surjan las necesidades. Y si el valor de la garantía aumenta, el prestatario puede optar por pedir prestado aún más o simplemente no hacer nada.
En caso de incumplimiento del prestatario, o si no devuelven el LVR a un nivel aceptable cuando su valor de garantía cae (después de ser contactado), Oracle puede iniciar automáticamente la liquidación parcial de la garantía.
El uso de Oracle significa que el sistema de administración de préstamos está automatizado casi por completo, mientras que el sistema LVR dinámico de SALT reduce drásticamente el riesgo para los prestamistas.
Les ofrece una propuesta muy tentadora, más aún porque SALT puede actuar como intermediario entre prestamistas y prestatarios, y moneda fiduciaria y crypto. Esto permite que los bancos, agentes de bolsa y otros prestamistas tradicionales participen directamente, en conformidad con los requisitos reglamentarios.
¿Cómo se realiza la garantía de seguridad?
Puedes depositar automáticamente la garantía de seguridad en las carteras de almacenamiento en frío de SALT para su custodia, así pueden seguir apreciando su valor. En muchos casos, la garantía probablemente terminará apreciando mucho más allá del costo de los intereses pagados por un préstamo.
Los prestatarios también podrán aprovechar las características planificadas, tales como:
Refinanciación. Al momento de escribir este artículo, los prestatarios sólo pueden refinanciar cancelando el préstamo actual (sin costo adicional) y sacando uno nuevo. Pero SALT planea ofrecer opciones de refinanciación en el futuro, lo que introducirá una competencia aún más activa entre los prestamistas.
Protección. Los prestatarios podrán reducir su riesgo protegiéndose contra las caídas del mercado que podrían afectar el valor de sus garantías.
¿Debería comprar SALT? ¿El token se apreciará?
Es imposible decir qué sucederá en el futuro, y los tokens de membresía SALT en particular podrían no seguir una ruta de criptomoneda típica. Sin embargo, es importante señalar que SALT ofrece una propuesta extremadamente tentadora tanto para los prestatarios como para los prestamistas, por todos los motivos mencionados anteriormente.
Las circunstancias también pueden pesar mucho a favor de SALT, y a favor de aumentar los valores del token en el futuro.
Las Ofertas Iniciales de Moneda (ICO's) están proliferando y definitivamente se pueden beneficiar de SALT. Probablemente sea una de las mejores maneras de convertir las reservas de criptomonedas en un flujo de efectivo utilizable.
SALT actualmente sólo está disponible en Estados Unidos, y los tokens SALT son principalmente pases de membresía. A medida que se mueva a nuevos mercados, habrá mucha más demanda de tokens.
Hay un límite máximo de 120 millones de tokens SALT y no se acuñará más. A medida que crece la demanda de SALT como negocio, el valor del token puede crecer con ella.
El plan de negocios excepcionalmente sólido de SALT puede hacer que el futuro del token se vea bien, pero aún quedan algunas preguntas por considerar. Lo que es más importante, SALT recibirá constantemente su propio suministro de tokens de las cuotas de membresía y de las compras.
Es seguro asumir que la propia organización también va a vender tokens en el mercado. Hay un número finito de tokens, pero probablemente vuelvan a circular al mercado. Además, a SALT le interesa asegurarse de que cualquier nuevo cliente pueda obtener sus tokens de membresía a precios razonables.
El futuro de SALT puede parecer extremadamente brillante, pero los compradores quizás no deberían esperar un crecimiento astronómico.
Disclaimer: Cryptocurrencies are speculative, complex and involve significant risks – they are highly volatile and sensitive to secondary activity. Performance is unpredictable and past performance is no guarantee of future performance. Consider your own circumstances, and obtain your own advice, before relying on this information. You should also verify the nature of any product or service (including its legal status and relevant regulatory requirements) and consult the relevant Regulators' websites before making any decision. Finder, or the author, may have holdings in the cryptocurrencies discussed.