Reseña de Wall of Coins – plataforma de exchange de Bitcoin
Wall of Coins es una plataforma persona a persona de compra y venta de Bitcoin. Generalmente, cuenta con las tarifas más bajas y los estándares de privacidad más altos del mercado.
En toda la comunidad de criptomonedas, hay pocas plataformas que brinden una forma de comprar y vender Bitcoin tan sencilla como Wall of Coins; donde los bitcoin se negocian entre personas (una que vende y la otra que compra). Por esta razón, el exchange le da prioridad a la protección de los vendedores, tanto así que limita los métodos de pago a sólo depósitos en efectivo.
Asimismo, las personas que deseen se benefician de lo fácil que es acceder a uno de los mercados de criptodivisas más grandes del mundo.
Details
| | |
| --- | --- |
| Product Name | Wall of Coins |
| Fiat Currencies | USD, AUD, GPB, CAD |
| Cryptocurrencies | BTC, DASH |
| Deposit Methods | Cash |
| Trading Fee | Fees vary |
| Deposit Fees | Fees vary |
| Withdrawal Fees | Fees vary |
Pros
Some of the lowest rates in the industry
Strong privacy standards
Cash deposits accepted
Cons
Limited uptake in Australia may make buyers/sellers hard to find
Difficult to buy large quantities of bitcoin
Fees are not displayed publicly
Aviso legal: Esta información no debe interpretarse como una recomendación de criptomonedas o de ningún proveedor, servicio u oferta en específico. No es una recomendación para hacer transacciones. Las criptomonedas son especulativas, complejas e implican riesgos significativos: son altamente volátiles y sensibles a la actividad de terceros. Su rendimiento es impredecible, y el rendimiento pasado no garantiza el rendimiento futuro. Considera tus propias circunstancias y pide un consejo personal antes de confiar en esta información. También deberías verificar la naturaleza de cualquier producto o servicio (incluidos su estatus legal y los requisitos reglamentarios pertinentes) y consultar a los reguladores sitio web pertinentes antes de tomar cualquier decisión. Finder, o el autor, pueden tener participaciones en las criptomonedas discutidas.
¿Qué es Wall of Coins?
Wall of Coins es un exchange persona a persona donde se puede comprar y vender Bitcoin, fundado en Florida. Operado por Genitrust, Inc., esta plataforma tiene como objetivo simplificar el proceso de compraventa de Bitcoin al conectar compradores y vendedores mediante un modelo de negocio transparente.
Si bien puede que sea un aspecto negativo el hecho de que sólo acepte pagos en efectivo, Wall of Coins actualmente funciona en más 120,000 ubicaciones en los Estados Unidos, incluyendo centros de remesas tales como Western Union y MoneyGram.
¿Cuáles criptomonedas se pueden comprar/vender?
Wall of Coins maneja sólo dos divisas digitales:
Países disponibles
Las personas en los siguientes países pueden operar con Wall of Coins:
Australia
Estados Unidos
Reino Unido
Argentina
Brasil
Canadá
Alemania
Letonia
México
Polonia
Filipinas
Rumania
¿Qué métodos de pago se aceptan?
Por varios motivos, en México sólo se aceptan dos métodos de pago para comprar Bitcoin, los cuales son:
Depósitos en efectivo en varios bancos
Depósitos a través de Western Union
Los vendedores podrán elegir el método que prefieran.
Comisiones y cobros
A pesar de que en el sitio web de Wall of Coins no están publicadas las comisiones, el usuario generalmente paga entre 1% y 2% por transacción. No obstante, también puede que esté sujeto a las comisiones del banco cuando hace depósitos en efectivo.
¿Qué tan rápido se hacen efectivos los fondos?
En el mejor de los casos, los fondos se harán efectivos en un periodo de 15 minutos. Sin embargo, esto está sujeto a varias condiciones.
Después de llevar a cabo el depósito en el cajero, el usuario tiene que responder al mensaje de texto que enviará Wall of Coins a su número de teléfono, usando el código para hacer la verificación. Posteriormente, el exchange esperará a que el vendedor confirme el depósito (un aspecto positivo acercad e esto es que a los vendedores se les califica por su tiempo de respuesta); y una vez que lo haga, es cuando se enviará Bitcoin a la dirección de cartera que el usuario haya proporcionado.
¿Hay límites en las transferencias?
Wall of Coins establece un mínimo para las transacciones de $5 USD, es decir, que eso es lo mínimo que el usuario comprar en Bitcoin en este exchange.
Por otro lado, en esta plataforma el monto máximo lo determinan los vendedores.
¿Wall of Coins es seguro?
Uno de los grandes aspectos de Wall of Coins es la capacidad de negociar Bitcoins sin tener que registrarse ni proporcionar información personal. La plataforma sólo pide el número de teléfono y el código postal al usuario, éste último con el fin de ubicar los bancos más cercanos.
Asimismo, Wall of Coins protege a los vendedores almacenando su Bitcoin en "monederos fríos", es decir, aquellos que no se conectan a Internet, lo que sugiere que la plataforma es un lugar seguro para realizar transacciones.
Adicionalmente, la plataforma cuenta con una tecnología de inteligencia artificial mediante la cual se detectan y bloquean las transacciones fraudulentas, siendo así una plataforma sólida para los vendedores.
Atención al cliente
El servicio de asistencia de Wall of Coins se puede contactar marcando la lada sin costo, por correo electrónico o a través del chat de la página. Asimismo, el sitio cuenta con una página de preguntas frecuentes en la que se pueden encontrar respuestas a consultas relacionadas con la compra, venta o la API.
Ventajas y desventajas
Ventajas
Las tarifas se encuentran entre las más bajas de la industria
Cuenta con fuertes estándares de privacidad
Se aceptan depósitos en efectivo
Desventajas
La plataforma no es muy usada en México, por lo que probablemente sea difícil encontrar compradores/vendedores
Puede ser difícil comprar Bitcoin en grandes cantidades
No se muestran las comisiones
Próximos pasos
Las personas que deseen usar Wall of Coins sólo tendrán que ingresar al sitio y dar clic en la opción de "Compra". Posteriormente, pasarán a una página en la cual deberán ubicar un banco cerca que acepte depósitos en efectivo.
Para vender, es necesario dar clic en la opción de "Vender" e ingresar la información de contacto (número telefónico, correo electrónico y contraseña). Posteriormente, el usuario podrá acceder a la página de venta.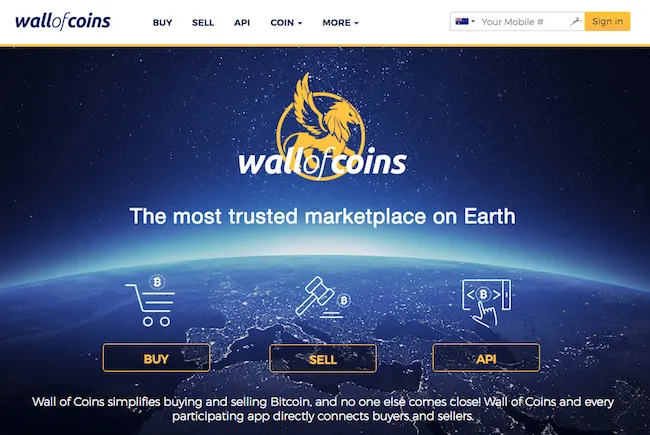 Preguntas frecuentes
Esta reseña de Wall of Coins no se deberá interpretar como una recomendación de inversión. Como grupo, las criptomonedas son productos especulativos que se ven afectados por la volatilidad, hackeos y pérdida de capital, entre otros factores, lo que genera un alto riesgo de inversión. Si desea invertir, asesórese primero y decida si el retorno potencial es mayor a los riesgos.
Fuente de las imágenes: Wall of Coins