Reseña de ShapeShift – exchange de criptomonedas
ShapeShift es un exchange de criptomonedas privado, que maneja los tokens más reconocidos del mundo, tales como Bitcoin, Ethereum, Monero y otros.
Uno de los exchanges con mayor crecimiento en el mercado de las criptomonedas es ShapeShift. Fundado en 2013 en Suiza, esta plataforma la han financiado grandes inversionistas, siendo Bitfinex uno de ellos.
Está disponible en todas partes del mundo, y se pueden hacer operaciones con una gran variedad de tokens; tanto en su aplicación para dispositivos móviles como en su sitio web.
No supported
Fiat currencies
Details
| | |
| --- | --- |
| Product Name | ShapeShift Cryptocurrency Exchange |
| Fiat Currencies | - |
| Cryptocurrencies | BTC, BCH, BTG, ETH, ETC, FUN, 1ST, ANT, BAT, BNT, BLK, CVC, CLAM, DASH, DCR, DGB, DNT, GAME & 29+ more |
| Deposit Methods | Cryptocurrency |
| Trading Fee | Fees vary |
| Deposit Fees | None |
| Withdrawal Fees | None |
Pros
High privacy standards
Large selection of altcoins
Quick and easy transactions
Cons
Lack of clarity around deposit limits and transaction speeds
Users cannot trade fiat currency for cryptocurrency
Aviso legal: Esta información no debe interpretarse como una recomendación de criptomonedas o de ningún proveedor, servicio u oferta en específico. No es una recomendación para hacer transacciones. Las criptomonedas son especulativas, complejas e implican riesgos significativos: son altamente volátiles y sensibles a la actividad de terceros. Su rendimiento es impredecible, y el rendimiento pasado no garantiza el rendimiento futuro. Considera tus propias circunstancias y pide un consejo personal antes de confiar en esta información. También deberías verificar la naturaleza de cualquier producto o servicio (incluidos su estatus legal y los requisitos reglamentarios pertinentes) y consultar a los reguladores sitio web pertinentes antes de tomar cualquier decisión. Finder, o el autor, pueden tener participaciones en las criptomonedas discutidas.
¿Qué es ShapeShift?
ShapeShift es un exchange de criptomonedas en el que se pueden hacer operaciones con muchas criptodivisas y que tiene como prioridad hacer que la compra y venta de dichos activos sea rápida y rentable.
ShapeShift comúnmente se describe como un exchange de criptomonedas "instantáneo". En esta plataforma, los usuarios tienen acceso a los tokens más populares del mundo sin tener que registrar un correo electrónico o contraseña, es más, ShapeShift es uno de los pocos exchanges en el mundo en los que se puede operar sin necesidad de crear una cuenta.
Recientemente, la compañía adquirió KeepKey, el popular monedero físico que les provee más seguridad a los usuarios. Esto significa que siempre y cuando se use la plataforma, el usuario no tendrá problemas de seguridad y privacidad.
¿Con cuáles criptomonedas se puede operar?
Actualmente, ShapeShift maneja tres tipos de transacciones:
Bitcoin > altcoin
Altcoin > Bitcoin
Altcoin > altcoin
Esto quiere decir que sólo maneja operaciones entre criptomonedas, entre las que se incluyen:
¿Está disponible en México?
ShapeShift está disponible en todo el mundo, incluyendo México.
¿Qué métodos se aceptan?
Como se dijo anteriormente en esta reseña, ShapeShift sólo maneja operaciones entre criptomonedas, lo que quiere decir que el usuario solamente podrá intercambiar un token por otro.
¿Cuánto cuesta usar ShapeShift?
ShapeShift no cobra comisiones por el uso de su servicio. Los ingresos de la compañía provienen de los tipos de cambio de las criptomonedas (o en otras palabras, los spreads de las operaciones entre criptomonedas).
A pesar de no cobrar comisiones, todas las transacciones sí están sujetas a la comisión de los mineros, la cual la fija la red de la cadena de bloques.
¿Qué tan rápido se procesan las transacciones?
En su sitio web, ShapeShift menciona que las transacciones son "instantáneas", aunque en verdad pueden pasar varias horas para que se lleven a cabo. La razón es que ShapeShift debe procesar la transacción después que la red de la cadena de bloques reciba y verifique la orden.
Límites en las transferencias
Cada transacción está sujeta a un límite de depósito impuesto por ShapeShift y no se realizará si el usuario envía más del límite (ShapeShift no aclara cuál es el monto límite).
No obstante, se puede aumentar el límite siguiendo los pasos que se indican en el blog de ShapeShift.
¿Es ShapeShift seguro?
La comunidad de las criptomonedas considera a ShapeShift uno de los exchanges más seguros del mercado, en gran parte por el hecho de no necesitar una cuenta para operar. Todo lo que el usuario tiene que hacer es escribir su dirección de cartera para intercambiar tokens.
Hasta la fecha, la plataforma no ha reportado ningún hackeo o ataque, lo que quiere decir que es segura. Adicionalmente, para darle más seguridad al usuario, la compañía está integrada con el monedero físico KeepKey dándoles así a los usuarios la capacidad de guardar sus monedas en un dispositivo que no se conecte a Internet (claro está, tendrá que adquirir el monedero desde el sitio web de KeepKey.)
Atención al cliente
ShapeShift cuenta con un gran equipo de atención al cliente y una sección de preguntas frecuentes completa, con la que los usuarios pueden solucionar algunos de sus problemas. En caso de que quiera ponerse en contacto con el servicio de asistencia, sólo tendrá que dar clic a la pestaña "Asistencia", y posteriormente "Enviar un ticket".
Debido al hecho de que nuevos usuarios se registran constantemente, los tiempos de respuesta son lentos. En este sentido, el equipo de atención al cliente de ShapeShift busca normalmente responder todas las solicitudes entre 48 y 72 horas, pero es común que el usuario deba esperar más.
Ventajas y desventajas
Ventajas
Buenos estándares de privacidad
Gran variedad de

altcoins
Las transacciones son rápidas y fáciles de hacer
Desventajas
No están bien aclarados los límites de los depósitos y las velocidades de transacción
No se pueden hacer intercambios entre criptomonedas y moneda fiduciaria
Próximos pasos
Comenzar a usar ShapeShift es sumamente sencillo; el usuario sólo debería ingresar al sitio web, elegir los tokens que le gustaría intercambiar y colocar su dirección de cartera. No se necesitará una cuenta y la transacción se procesará de inmediato.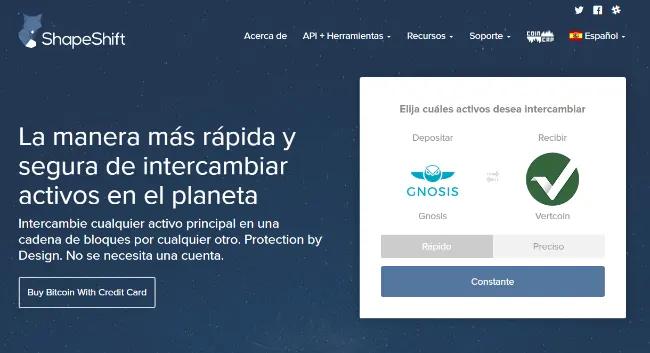 Preguntas frecuentes
Esta reseña de ShapeShift no se deberá interpretar como una recomendación de inversión. Como grupo, las criptodivisas son productos especulativos que se ven afectados por la volatilidad, hackeos y pérdida de capital, entre otros factores, lo que genera un alto riesgo de inversión. Si desea invertir, asesórese primero y decida si el retorno potencial es mayor a los riesgos.