Finder is committed to editorial independence. While we receive compensation when you click links to partners, they do not influence our opinions or reviews. Learn how we make money.
Reseña de Kucoin – exchange de criptomonedas
Las altcoins más nuevas y poco comunes se encuentran en Kucoin.
Kucoin es un exchange de criptomonedas, caracterizado por ofrecer una amplia variedad de ellas y un programa de recompensas bastante completo.
Details
Product Name
KuCoin Cryptocurrency Exchange
Fiat Currencies
USD, EUR, GBP, RUB, CNY, AUD, KRW, JPY, TRY, VND & 40+ more
Cryptocurrencies
BTC, XMR, DAG, ETH, XRP, EOS, LTC, TRX, NEO, ONT & 200+ more
Deposit Methods
Credit card
Cryptocurrency
Debit card

Trading Fee
0.1%
Deposit Fees
None
Withdrawal Fees
Fees vary
Pros
Offers an exceptionally wide range of currencies.
Is an early adopter of promising new coins.
No verification required.
Additional features and benefits offered by KCS.
Cons
KuCoin sometimes experiences difficulties during high traffic periods.
It's based in Hong Kong, so it may be difficult to find English-language support if needed.
Aviso legal: Esta información no debe interpretarse como una recomendación de criptomonedas o de ningún proveedor, servicio u oferta en específico. No es una recomendación para hacer transacciones. Las criptomonedas son especulativas, complejas e implican riesgos significativos: son altamente volátiles y sensibles a la actividad de terceros. Su rendimiento es impredecible, y el rendimiento pasado no garantiza el rendimiento futuro. Considera tus propias circunstancias y pide un consejo personal antes de confiar en esta información. También deberías verificar la naturaleza de cualquier producto o servicio (incluidos su estatus legal y los requisitos reglamentarios pertinentes) y consultar a los reguladores sitio web pertinentes antes de tomar cualquier decisión. Finder, o el autor, pueden tener participaciones en las criptomonedas discutidas.
¿Qué es Kucoin?
Kucoin es un exchange de criptomonedas de Hong Kong que además de tener su propia divisa – los Kucoin Shares (KCS) – cuenta con una gran variedad de criptomonedas a disposición del usuario.
Asimismo, esta plataforma se ha ganado la reputación en la industria de las criptomonedas como uno de los exchanges que incorporan las más nuevas, lo que es ideal para los compradores que buscan adquirir criptomonedas cuando su precio sea muy bajo. Además de esto, Kucoin pone a disposición de los inversionistas más experimentados una gran herramienta para trazar gráficas, proporcionada por el sistema TradingView.
Adicionalmente, sus comisiones son bastante razonables, mucho menores a las de otros exchanges.
Sin embargo, uno de los puntos negativos de Kucoin es que no maneja moneda fiduciaria. Para poder operar con toda la lista de monedas disponibles, el usuario deberá poseer BTC o ETH. También puede operar con una menor cantidad de criptomonedas utilizando NEO, USDT (Tether) o KCS (la divisa propia de Kucoin).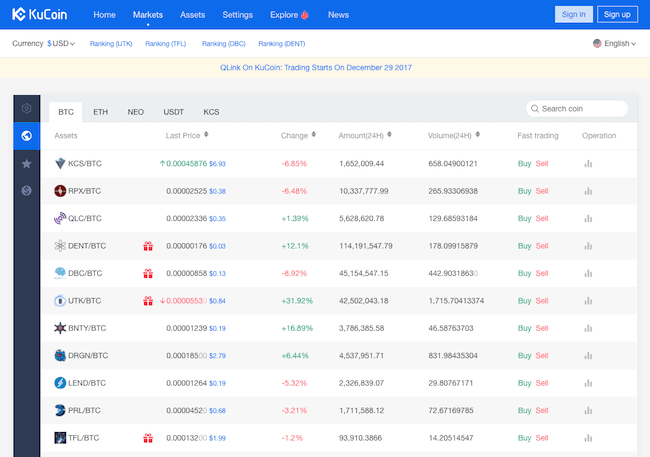 ¿Cuáles son las comisiones?
En Kucoin, los usuarios no pagan nada por depósito, al menos no más de lo que uno normalmente paga por la transferencia de una cierta criptomoneda. Por otro lado, las comisiones por operación son de un 0.1% – menos cualquier descuento que el usuario pudiera recibir por tener KCS.
Las comisiones por retiro varían según la divisa. Con algunas no se cobra nada, mientras que otras son bastante costosas.
Ventajas y desventajas
Ventajas
Ofrece una gran variedad de monedas.
Es uno de los primeros en incorporar las monedas nuevas.
No pide verificación.
Hay características y beneficios adicionales que los ofrece KCS.
Desventajas
No se acepta moneda fiduciaria; sólo criptomonedas.
A veces, la plataforma sufre problemas cuando el tráfico es muy alto.
Es un exchange de Hong Kong, por lo que los casos en los que se necesite ayuda, puede ser difícil encontrar soporte español o en inglés.
¿Hay límites en los depósitos o transferencias?
No. Kucoin no pone límites en ninguna de sus transacciones.
¿Se necesita verificar la identidad para operar en Kucoin?
No. Para operar, el usuario sólo se registra, verifica su dirección de correo electrónico y luego deposita su criptomoneda.
¿Cuánto tiempo se tardan las transferencias?
Los depósitos y tiempos de operación pueden variar dependiendo de la criptomoneda en cuestión, pero no debería tardarse más del tiempo de transferencia común de la criptomoneda con la que se opere.
En cuanto al retiro, el tiempo dependerá del monto. Si el monto que se retira es menor a (comisión x 100,000), debería ser inmediata. Si es mayor a eso, puede que se tarde más tiempo.
¿Se pueden almacenar criptomonedas en Kucoin?
Sí, aunque lo más común y también lo más recomendable es que el usuario guarde sus monedas en un monedero físico, es decir, almacenarlas en frío.
Próximos pasos
Para comenzar a usar Kucoin, sólo se necesita registrarse en la plataforma usando una dirección de correo electrónico y una contraseña, luego verificar el correo y posteriormente hacer un depósito.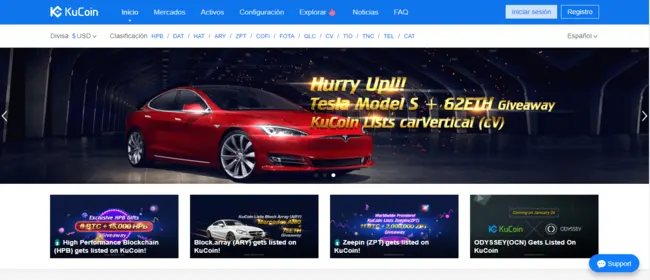 Fuente de las imágenes: Kucoin