Finder is committed to editorial independence. While we receive compensation when you click links to partners, they do not influence our content.
Reseña de Kraken ­– exchange de criptomonedas
Kraken es un exchange de renombre en el mercado de divisas virtuales, conocido por ser uno de los lugares donde se operan las criptomonedas más populares del mundo.
Uno de los primeros exchanges que irrumpió en el mercado de las criptomonedas fue Kraken. Esta plataforma, que se fundó en el 2011, ha pasado con los años por expansiones para incorporar a otras monedas distintas a Bitcoin.
Adicionalmente, a Kraken se le reconoce por ser el primer exchange cuyos precios e información se incluyeron en la Terminal de Bloomberg, lo que en sí, es un gran reconocimiento.
Hoy en día, Kraken es una plataforma en la que confían tanto cuerpos oficiales en Japón como bancos por toda Europa, convirtiéndola en una de las más respetadas del mundo.
Details
Product Name
Kraken Cryptocurrency Exchange
Fiat Currencies
USD, EUR, GBP, JPY, CAD, CHF, AUD
Cryptocurrencies
BTC, ETH, XRP, BCH, EOS, LTC, ADA, XLM, BAT, ETC & 40+ more
Deposit Methods
Bank transfer
Cryptocurrency
SWIFT
Wire transfer
Osko
SEPA

Trading Fee
Maker: 0.00-0.16%
Taker: 0.10-0.26%
Deposit Fees
Fees vary
Withdrawal Fees
Fees vary
Aviso legal: Esta información no debe interpretarse como una recomendación de criptomonedas o de ningún proveedor, servicio u oferta en específico. No es una recomendación para hacer transacciones. Las criptomonedas son especulativas, complejas e implican riesgos significativos: son altamente volátiles y sensibles a la actividad de terceros. Su rendimiento es impredecible, y el rendimiento pasado no garantiza el rendimiento futuro. Considera tus propias circunstancias y pide un consejo personal antes de confiar en esta información. También deberías verificar la naturaleza de cualquier producto o servicio (incluidos su estatus legal y los requisitos reglamentarios pertinentes) y consultar a los reguladores sitio web pertinentes antes de tomar cualquier decisión. Finder, o el autor, pueden tener participaciones en las criptomonedas discutidas.
¿Qué es Kraken?
Kraken es uno de los exchanges de divisas digitales más importantes del mundo, creado para "los operadores serios y profesionales." Esto quiere decir que el diseño y las funciones de la plataforma, tales como la velocidad en las ejecuciones, la liquidez y el margin trading; se hicieron para el operador experimentado.
Los operadores de criptomonedas verán que ésta es una plataforma completa, dándoles la capacidad de comprar y vender divisas virtuales y de hacer operaciones entre estos activos y monedas fiduciarias.
Además de esto, Kraken es un exchange transparente, con altos niveles de seguridad y auditorías basadas en el proof of reserve, un concepto que se refiere a la evidencia de que uno controla, al menos, una cantidad determinada de activos.
¿Qué divisas se pueden comprar, vender y operar con apalancamiento (margin trade)?
Supported fiat currencies: USD, EUR, GBP, JPY, CAD, CHF, AUD
Supported cryptocurrencies: Approximately 56 cryptocurrencies
¿En qué países está disponible Kraken?
Kraken está disponible en todo el mundo.
¿Qué métodos de pago se aceptan?
En Kraken se pueden hacer depósitos tanto en monedas fiduciarias como en criptomonedas. Para hacerlo, el usuario tiene que iniciar sesión y dirigirse a la parte de depósitos (primero a Account, luego a Funding y después Deposit), donde se deberá elegir el método de depósito.
Vale la pena destacar que los depósitos en USD que se hagan a través de transferencias electrónicas sólo los pueden hacer las personas con una cuenta de nivel 3 o de nivel 4. Estos niveles van acorde a cuánto haya verificado el usuario de su cuenta. En el sitio web se pueden revisar los detalles correspondientes a cada nivel.
Por el momento, no se aceptan tarjetas de crédito, débito ni PayPal.
¿Cuánto cuesta usar Kraken?
Las comisiones en Kraken pueden ser hasta de 0%, sin embargo dependen de la cantidad que opere el usuario, cobrándose por comisión y calculándose como un porcentaje del volumen de la divisa con la que se opera.
Kraken ofrece una de las estructuras de comisiones más completas del mercado. Para que el usuario pueda entender bien cuánto pagará por comisiones al operar en Kraken, lo mejor es visitar el sitio web.
¿Qué tan rápido se hacen efectivos los fondos?
Las transferencias electrónicas internacionales se procesan entre 1 y 5 días laborables, aproximadamente.
¿Hay límites en las transferencias?
Uno no podrá retirar sus fondos si éstos exceden el límite diario o el límite mensual, regla que se aplica igualmente para los depósitos; con la diferencia de que con los depósitos el límite únicamente es diario. A continuación explicamos los límites de retiro por nivel.
Límites de retiro:
Límite diario
Límite mensual
Nivel 1 (sólo criptomonedas)
$2,500 USD
$20,000 USD
Nivel 2 – dinero común y criptodivisas
$2,000 USD
$5,000 USD
$10,000 USD
$10,000 USD
Nivel 3
$25,000 USD
$200,000 USD
¿Es Kraken seguro?
En la comunidad de las criptomonedas, Kraken está considerada entre los exchanges más seguros. En este sentido, la plataforma realiza auditorías basadas en el proof of reserve – la evidencia de que el usuario controla al menos, una cantidad determinada de activos – las cuales se llevan a cabo para verificar la cantidad de criptomonedas que tiene Kraken. Los resultados de esta auditoría han sido excelentes, indicando que Kraken tiene buen capital y es muy seguro.
Es más, las medidas de seguridad que emplea Kraken son públicas (el usuario las puede ver en el sitio web). Entre ellas se encuentran que todos los depósitos van a monederos fríos cifrados.
Asimismo, los usuarios cuentan con autenticación de 2 factores y están protegidos de los ataques realizados por los hackers para obtener información personal.
Por otro lado, la comunidad ha tenido algunos problemas con Kraken en materia de privacidad al subir documentos, sin embargo la compañía emplea un sistema aislado para el envío de documentos personales. Además de esto, toda la información de la cuenta y los documentos que se usen para la verificación están cifrados.
Atención al cliente
Kraken es uno de los exchanges más populares en el mundo, por lo que es común que su equipo de atención esté saturado con consultas. De cualquier manera, el usuario tiene varios recursos a su disposición en la plataforma, tales como el Centro de Atención, el Centro de Apoyo, y una sección de preguntas frecuentes completa.
Adicionalmente, el usuario puede enviar su consulta si ninguno de los anteriores es ayuda.
Ventajas y desventajas
Ventajas
Exchange de renombre
Bajas comisiones por transacción
Plataforma de intercambio con todas las funciones que el usuario podría necesitar
Posibilidad de hacer margin trading (intercambio apalancado)
Desventajas
Métodos de pago limitados
No es ideal para personas con poca experiencia
La atención al cliente a veces tiene mucha demanda, por lo que se tardan respondiendo consultas
Próximos pasos
Cualquier persona que quiera probar con Kraken, sólo tiene que visitar el sitio web y hacer clic en "Abrir una cuenta", donde se deberá llenar una planilla. Una vez que se verifique la cuenta, se podrán depositar fondos en ella; ya sea con criptomonedas o con dinero en efectivo.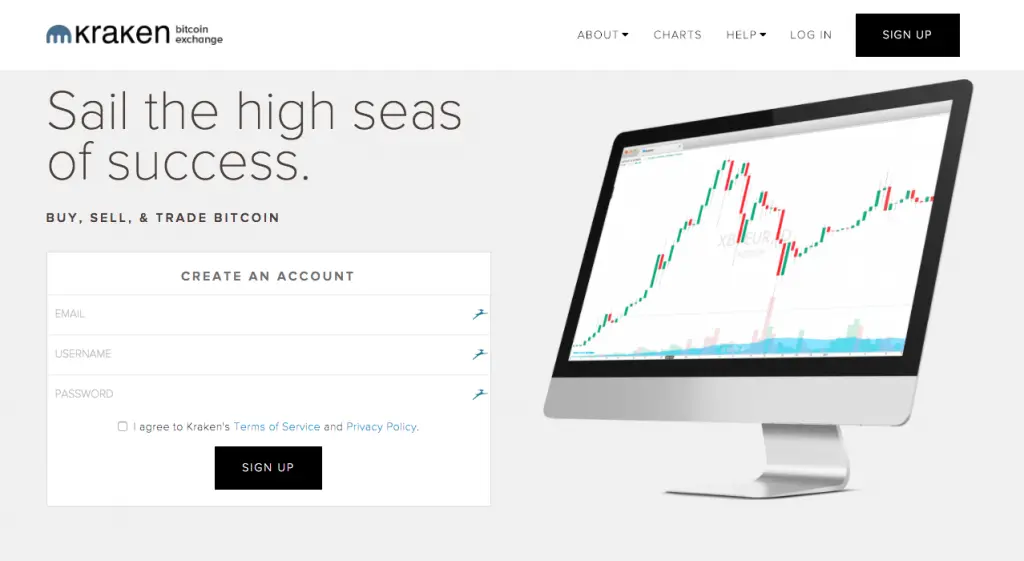 Preguntas frecuentes