Reseña de Cryptex24 – plataforma de exchange de criptomonedas
Cryptex24 es un exchange de criptomonedas que procesa transacciones entre sistemas de pagos, entre los que se incluyen Bitcoin y Litecoin.
Cryptex24, un exchange de República Checa que ha estado en el mercado desde el año 2014, tiene como objetivo hacer que el retiro de criptomonedas sea más fácil.
Esta plataforma brinda una variedad de divisas virtuales y combinaciones de métodos de pagos, sin embargo, puede que no sea la ideal para aquellas personas que operan con criptomonedas y que quieren características más avanzadas.
Details
Product Name
Cryptex24 Exchange
Fiat Currencies
USD, EUR, RUR
Cryptocurrencies
BTC, ETH, LTC
Deposit Methods
MoneyGram
PayPal
Perfect Money
Western Union
Unistream

Trading Fee
0-8%
Deposit Fees
None
Withdrawal Fees
None
Pros
Multiple transfer options
Fast processing times
Cons
Small selection of cryptocoins
Limited and ambiguous information available to users
Aviso legal: Esta información no debe interpretarse como una recomendación de criptomonedas o de ningún proveedor, servicio u oferta en específico. No es una recomendación para hacer transacciones. Las criptomonedas son especulativas, complejas e implican riesgos significativos: son altamente volátiles y sensibles a la actividad de terceros. Su rendimiento es impredecible, y el rendimiento pasado no garantiza el rendimiento futuro. Considera tus propias circunstancias y pide un consejo personal antes de confiar en esta información. También deberías verificar la naturaleza de cualquier producto o servicio (incluidos su estatus legal y los requisitos reglamentarios pertinentes) y consultar a los reguladores sitio web pertinentes antes de tomar cualquier decisión. Finder, o el autor, pueden tener participaciones en las criptomonedas discutidas.
¿Qué es Cryptex24?
Cryptex24 es una plataforma de exchange en el que puedes comprar y vender criptomonedas con efectivo, usando alguno de los sistemas de pagos electrónicos con los que la plataforma está integrado, tales como Western Union, MoneyGram, Unistream, Ria, CONTACT; entre otros.
Asimismo, los operadores de criptomonedas pueden intercambiar Bitcoin con Perfect Money, WebMoney, Skrill y otros.
¿Con cuáles criptomonedas se puede operar?
En Cryptex24, puedes intercambiar monedas fiduciarias con algunos de los mejores servicios de pagos electrónicos del mundo, e, igualmente, puedes hacer intercambios entre estos servicios y criptomonedas. El único punto negativo es que las únicas dos criptomonedas incluidas en el sitio son Bitcoin y Litecoin.
Países disponibles
Cryptex24 se puede usar en todo el mundo, aunque puede que haya ciertos métodos de pago cuyo uso dependa del país.
¿Qué métodos de pago se aceptan?
Bitcoin
Perfect Money (USD/EUR)
AdvCash (USD)
Payeer (USD)
eCoin.eu Code (USD)
Webmoney
Western Union (USD/EUR)
MoneyGram (USD/EUR)
Unistream (USD/RUB)
Ria (USD/EUR)
Golden Crown (USD)
CONTACT (RUB)
¿Cuánto cuesta usar Cryptex24?
Cryptex24 tiene una comisión por servicio que cobra en todas las transacciones. Si deseas ver la lista de tarifas y comisiones por servicio para cada método, puedes dirigirte a la página de tarifas de Cryptex24.
¿Qué tan rápido se hacen efectivos los fondos?
Las velocidades de transacción dependen en su mayoría del intercambio o del sistema de pago que se use. En este sentido, Cryptex24 lo único que expresa es que hay unos intercambios a direcciones que son instantáneos, mientras que otros deben ser completados por el operador, por lo que son más lentos.
¿Hay límites en las transferencias?
Cryptex24 no cuenta con una orden mínima, pero sí estipula una comisión mínima para cada operación. Por ejemplo, la comisión mínima para una operación BTC/USD es de $5 USD.
Los límites de transferencia dependen del método que se use para depositar fondos en la cuenta.
¿Es seguro usar Cryptex24?
Cryptex24 es una plataforma de exchange que está verificada por varios de los proveedores de servicio de pago de renombre en el mundo, entre los que se incluyen Perfect Money, OKPAY y Paxum. Esto quiere decir, en líneas generales, que los usuarios pueden sentirse confiados que sus transacciones se procesarán de la forma adecuada.
Por otra parte, al igual que otros exchanges, para hacer el registro completo se necesita una identificación, lo que muchas personas podrían ver como un riesgo en la privacidad.
Atención al cliente
En la parte de atención al cliente, Cryptex24 se presta de buena forma a los usuarios; aceptando consultas mediante su página "Contáctenos" y dándole la oportunidad a las personas de comunicarse con ellos por Skype.
Ventajas y desventajas
Ventajas
Gran variedad de opciones para hacer transferencias
Rápido procesamiento de las transacciones
Desventajas
Poca variedad de criptodivisas
El sitio web no es muy claro y puede ser contradictorio (Por ejemplo, incluye las comisiones de PayPal, pero en su sección de preguntas frecuentes dice que no aceptan las transacciones por PayPal. No se sabe si esto sólo se refiere a las transferencias desde PayPal.)
Próximos pasos
Si bien registrarse no es obligatorio, Cryptex24 lo recomienda. El proceso es sumamente sencillo, sólo se debe dar una dirección de correo electrónico e introducir tu nombre. Posteriormente recibirás un correo electrónico para activar la cuenta.
Para verificar la cuenta por completo se necesita un documento de identidad con fotografía emitido por el gobierno.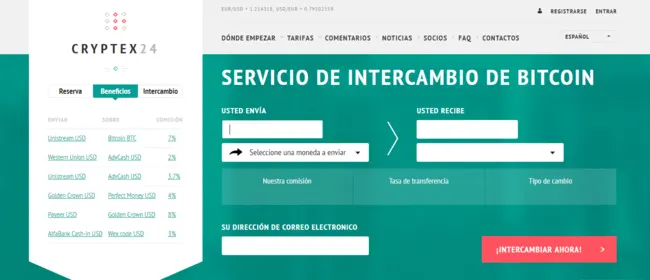 Preguntas frecuentes
Fuente de las imágenes: Cryptex24