CoinCorner: reseña 2020
Obtén más información acerca de CoinCorner, un exchange de bitcoin simple.
CoinCorner es un exchange europeo creado para facilitar la compra de bitcoin. Fundado en 2014, ofrece una aplicación de cartera móvil que te permite comprar, vender y transferir esta criptomoneda instantáneamente a través de diferentes métodos de pago.
Details
Product Name
CoinCorner Bitcoin Exchange
Fiat Currencies
GBP, EUR
Cryptocurrencies
BTC, ETH, LTC, XRP
Deposit Methods
Bank transfer
Credit card
Debit card

Trading Fee
Maker: 0.3-0.7%
Taker: 0.3-0.7%
Deposit Fees
Withdrawal Fees
Pros
A platform that is designed to be simple.
Combines a wallet and exchange for convenience.
Cons
Rates and fees might be higher than other options.
Low limits might prevent you from trading as much as you want.
High SWIFT fees apply to bank transfer withdrawals, which may be a problem when combined with the low limits.
Only offers basic services without any advanced features.
Aviso legal: Esta información no debe interpretarse como una recomendación de criptomonedas o de ningún proveedor, servicio u oferta en específico. No es una recomendación para hacer transacciones. Las criptomonedas son especulativas, complejas e implican riesgos significativos: son altamente volátiles y sensibles a la actividad de terceros. Su rendimiento es impredecible, y el rendimiento pasado no garantiza el rendimiento futuro. Considera tus propias circunstancias y pide un consejo personal antes de confiar en esta información. También deberías verificar la naturaleza de cualquier producto o servicio (incluidos su estatus legal y los requisitos reglamentarios pertinentes) y consultar a los reguladores sitio web pertinentes antes de tomar cualquier decisión. Finder, o el autor, pueden tener participaciones en las criptomonedas discutidas.
¿Qué es CoinCorner?
CoinCorner es un exchange de bitcoin que ofrece su propia cartera para escritorio y dispositivos móviles.Esto proporciona una herramienta para comprar, vender, almacenar y transferir bitcoin.
Puedes utilizar CoinCorner si tienes por lo menos 18 años.
Para adquirir bitcoin sólo necesitas crear una cuenta, depositar fondos y luego hacer la compra.
Puedes acceder al resto de sus características en una interfaz simple y fácil de usar.
Es un exchange persona a persona, así que puedes intercambiar con otros usuarios a precios potencialmente competitivos; y está diseñado para que su utilización sea tan simple como comprar algo en una tienda.
¿Cuáles monedas acepta CoinCorner?
CoinCorner te permite depositar fondos en euros y libras esterlinas, aunque los métodos de pago disponibles para cada una de estas monedas pueden variar.
¿En cuáles países está disponible CoinCorner?
Puedes utilizar CoinCorner desde cualquier parte del mundo, aunque está diseñada específicamente para los usuarios de Europa; lo que significa que muchas de las opciones de depósito no están disponibles en otros países, como México.
Métodos de pago
Puedes hacer depósitos en tu cuenta de CoinCorner utilizando los siguientes métodos:
Transferencia bancaria
Tarjetas de crédito y débito
Neteller
Puedes hacer retiros de tu cuenta de CoinCorner utilizando los siguientes métodos:
Transferencia bancaria SWIFT
Tarjetas de crédito y débito
Naturalmente, también puedes hacer depósitos y retiros en moneda digital (bitcoin).
Tarifas de CoinCorner
Hay ciertas tarifas para los depósitos y transferencias.
Depósito
Transferencia bancaria
Gratis (servicio para GBP no disponible por el momento)
Depósito
Tarjeta de débito/ crédito
5%
Depósito
Moneda digital
Gratis
Depósito
Neteller
5%
Tarifa de intercambio
Comprar/ vender moneda digital
1%
Reembolso
Tarjeta de débito/ crédito
£5.00 GBP/ €5.00 EUR
Retiro
Transferencia bancaria
SWIFT: €30.00 EUR/ servicio no disponible por el momento para GBP

SEPA: €1.50 EUR

Retiro
Tarjeta de débito/ crédito
Próximamente
Retiro
Moneda digital
Variable (depende de la congestión de la red)
Retiro
Neteller
Servicio no ofrecido
Tiempo de transferencia
Por lo general, todas las transferencias de bitcoin se completarán en unos minutos; pero CoinCorner advierte que podría demorar hasta tres días si necesitas transferir fondos a tu cuenta primero.
Tus transacciones de moneda fiduciaria estarán sujetas al tiempo de transferencia habitual para cada método.
Por lo general, esto significa hasta dos o tres días hábiles para transferencias bancarias y el mismo día para transferencias con tarjeta.
Límites de transferencia
Tus propios límites de transferencia se mostrarán antes de realizar una transacción, y pueden diferir con los siguientes límites generales:
Cuenta
Cuenta sin verificar
Generalmente £100 GBP / €130 EUR máximo
Depósito
Transferencia bancaria
Sin límites (servicio para GBP no disponible por el momento)
Depósito
Criptomoneda
Sin límites
Depósito
Tarjeta de débito/ crédito (mín-máx por periodo de 24 horas)
£10 GBP/ €10 EUR mínimo

Se puede aplicar un límite máximo variable

Depósito
Neteller (mín-máx por periodo de 24 horas)
£20-95 GBP/ €20-95 EUR
Intercambio
Comprar/ vender moneda digital (mín-máx por intercambio)
£5-10,000 GBP/ €5-10,000 EUR
Reembolso
Tarjeta de débito/ crédito
Equivalente al valor del débito/ crédito
Retiro
Transferencia bancaria (mín-máx)
Servicio para GBP actualmente no disponible

€50 EUR mínimo/ No hay límite máximo establecido

Retiro
Criptomoneda (mín-máx)
Mínimo 0.0005 BTC/ Sin límite máximo.
Seguridad y privacidad
CoinCorner opera acorde a las siguientes prácticas de seguridad:
Mantiene más del 95% de los fondos de los clientes fuera de línea en almacenamiento en frío, lo que es mucho más seguro para impedir el robo de activos digitales.
Todos los servicios se ejecutan en SSL (HTTPS).
Autenticación de dos factores disponible para todos los usuarios.
Servicio al cliente y contacto
Puedes acceder al servicio al cliente de CoinCorner enviando un correo electrónico a la dirección support@coincorner.com, o vía Facebook, Twitter, Google+ u otra red social.
Pros y contras
Pros
Plataforma excepcionalmente simple
Combina una cartera y un exchange para mayor conveniencia
Contras
Las tasas y tarifas podrían ser más altas que en otras opciones
Los límites bajos podrían impedirte intercambiar tanto bitcoin como desees
Se aplican altas tarifas de SWIFT a los retiros por transferencia bancaria, lo que podría ser un problema cuando se combina con los límites bajos
Sólo ofrece servicios básicos, sin características avanzadas
Cómo comenzar a operar
Todo lo que tienes que hacer es crear una cuenta en CoinCorner. Puedes descargar la cartera CoinCorner para iOS, Android o de escritorio.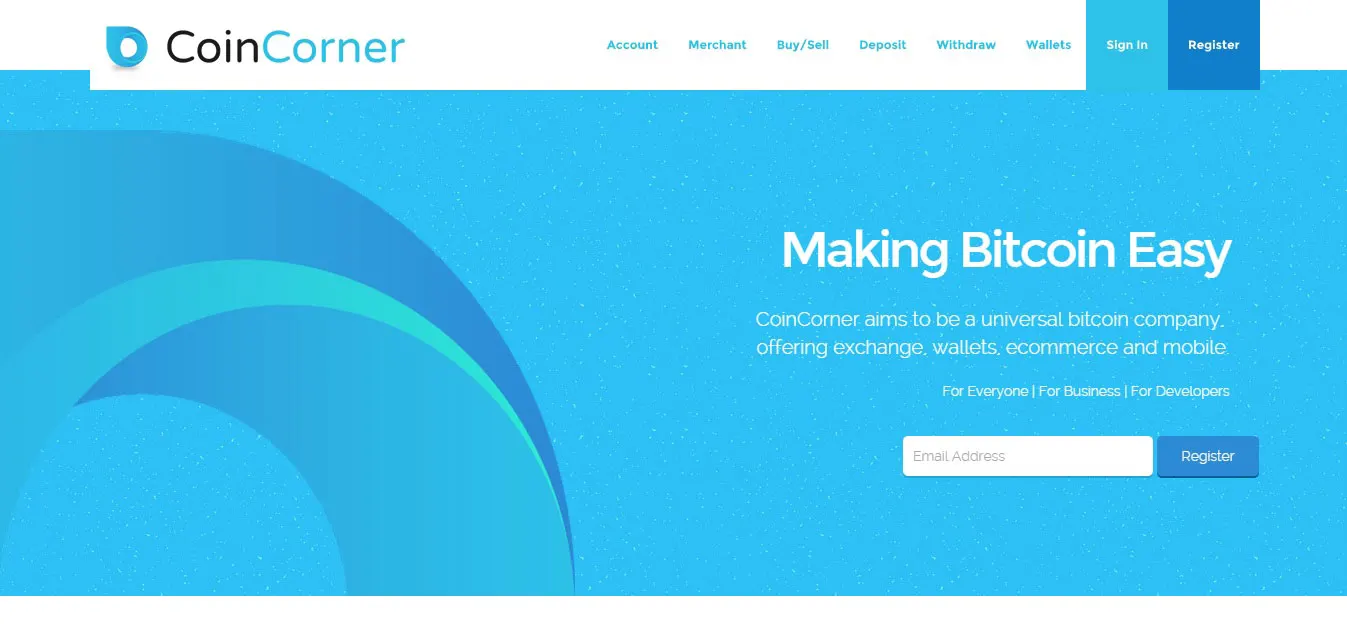 Fuente de las imágenes: CoinCorner