Finder is committed to editorial independence. While we receive compensation when you click links to partners, they do not influence our content.
Moving to Australia from New Zealand
Are you planning a big move across the ditch? Here's the ultimate guide for Kiwis looking to relocate to Australia.
During the years of the Global Financial Crisis, New Zealand migration to Australia skyrocketed by 40 per cent. With an ever-increasing number of Kiwis looking to re-settle in Australia, it's important to find out what you need to do to make your move a successful one. From visas and banking to sorting out your tax return, read on to discover everything you need to know about moving across the ditch.Australia is a hugely popular destination for New Zealand citizens looking to move overseas. Kiwis flock to Australia looking for better employment prospects, overseas experiences and warmer weather. And despite the fact that both countries have quite a healthy rivalry in the sporting arena, Australians typically welcome New Zealanders with open arms.
Compare money transfer services to New Zealand
Once you've made the move to Australia, you may want to send money back to New Zealand for a variety of reasons. Compare options in the table below, and click 'More' to read a review of the product, or 'Go to Site' to start a registration.
Disclaimer: Exchange rates change often. Confirm the total cost with the provider before transferring money.
Visas available to New Zealand nationals
From the 1920s onwards, the Australian and New Zealand governments have had arrangements in place to encourage the free flow of people between the two countries. When any New Zealand citizen wants to enter Australia and presents a valid passport, he or she will be granted a Special Category Visa (subject to meeting health and character requirements). This temporary visa allows you to stay and work in Australia indefinitely as long as you are still a New Zealand citizen.
While this temporary visa allows flexible travel arrangements, it doesn't give holders the same rights and benefits as an Australian citizen or permanent resident. With this in mind, there are a number of other visas New Zealanders can apply for. For example, the New Zealand Citizen Family Relationship (Temporary) visa (subclass 461) allows a non-New Zealand family member of a New Zealand citizen to live and work in Australia for up to five years.
Another visa that may be applicable to your circumstances is the Skilled Independent visa (subclass 189). Designed for points-tested skilled workers, this allows you to live and work in Australia as a permanent resident.
Alternatively, if you're the spouse or de facto partner of an Australian citizen, permanent resident or eligible New Zealand citizen, the Partner (Migrant) visa (subclass 100) allows you to travel to and live in Australia. For full details of all the visas available to New Zealand citizens, log on to the Department of Immigration and Border Protection website.
Visa FAQ
Getting to Australia
Getting to Australia from New Zealand is quite a simple process. Approximately half of all overseas travellers to Australia arrive in Sydney, the country's largest city, so this is where you can expect the majority of flights to land. Christchurch, Auckland, Wellington and Queenstown are the main departure points, while you'll also be able to fly directly to Melbourne, Brisbane, Perth and Adelaide.
Multiple flights depart from major airports daily, with the approximate flight time from Auckland to Sydney being three and a half hours. Major carriers that operate services between New Zealand and Australia include Qantas, Air New Zealand, Virgin Australia, China Air and Emirates.
Moving: Tying up loose ends before you leave
One of the important problems you'll have to tackle before leaving New Zealand is what to do with all your stuff. One option is to rent a storage unit in New Zealand to provide a safe and secure lock-up for your possessions. Look for a company with a trusted reputation and fair prices, with companies like National Mini Storage, Storage King and Kiwi Self Storage offering this service.
However, there will most likely also be some stuff that you'll want to ship to Australia. Companies like Transworld International Removals, Crown Relocations and Ausmove can look after this for you. The service these companies offer will typically include the cost of the Australian Quarantine and Inspection Service fee, which is designed to prevent any unwanted goods or dangerous pests making their pay to Australia.
It's also important to remember that while you are entitled to bring possessions and household goods which you have owned and used for longer than 12 months to Australia, any personal and household goods that you have owned for less than 12 months will be assessed for the payment of customs duty and GST.
Banking
Before you set sail for Australia, it's important that you get your finances sorted out so that you land on your feet when you arrive. You'll need to set up a transaction account, a credit card and possibly other banking products to help manage your finances in Australia.
Several of Australia and New Zealand's larger banks run migrant programs to help people planning on moving to Australia set up a solid financial base. These are designed to help you understand how banking in Australia works and how you can go about setting up the necessary accounts so that you are ready to make any purchases you need as soon as you arrive in Australia. Banks that currently specialise in offering services for people moving to Australia from NZ include ANZ, Westpac, BNA and ASB.
You can open a bank account before you arrive in Australia by applying online or by visiting your nearest branch. However, you will have to provide 100 points of identification in order to be approved, with passports, driver's licences and birth certificates all acting as proof of identity. Once your account is set up, you can start making deposits before you leave for your new home.
For some people, it may be worth considering getting a foreign currency account. These types of accounts are tailored for those who regularly need to send money overseas or may need to hold money in a foreign currency. This allows you to take advantage of fluctuating exchange rates and convert currencies when it suits you, and may be perfect for new Australian arrivals who may still be paid some form of income from New Zealand.
In terms of credit cards, you might want to consider signing up for a card in New Zealand that caters for travellers. Cards from Visa and Mastercard are accepted all around the world, but look for a card that doesn't charge any foreign currency exchange fees. This can help you take care of larger purchases when you land in Australia.
Employment and tax
Many Kiwis head to Australia in the hope of finding better job prospects or of gaining their what is commonly referred to as "overseas experience". The Australian economy is quite healthy and employment prospects are generally good, but you shouldn't expect to simply waltz right into your dream job as soon as you arrive. The special category visa you receive when you arrive here is all you need to live and work in Australia, while you can search for jobs on websites like Seek, MyCareer and CareerOne.
Superannuation and Social Security
All Australian employers pay superannuation contributions on behalf of their workers. The contribution rate at time of writing was 9.25%, though it will rise to 12% by July 2019. If you're a New Zealander who moves to Australia, you will be unable to access these contributions until you meet a condition of release, such as "retirement" or "attaining preservation age". If you return to New Zealand permanently after having met a condition of release, your super balance can be paid into a New Zealand bank account.
In addition, since July of 2013, New Zealanders who leave Australia indefinitely can now access their super benefits when they depart or have them transferred into a KiwiSaver scheme.
When it comes to social security benefits, things get a little more complicated. Non-protected special category visa holders (this is the visa all New Zealanders receive on arrival) cannot receive Australian social security payments from Centrelink such as the Newstart Allowance, the Youth Allowance, the parenting payment and the sickness allowance. However, those who have lived in Australia for ten continuous years since 26 February 2001 may be able to be paid the Newstart Allowance, Youth Allowance or Sickness Allowance for a one-off period of up to six months.
Driving in Australia
Australians drive on the left side of the road, so driving conditions in Australia should be relatively simple for Kiwis to adapt to. As a visitor you can use your overseas licence to drive in Australia indefinitely, so long as the licence remains current and valid (not cancelled or suspended), and you haven't been disqualified from driving here or have had your driving privileges revoked.
If you have a permanent visa, you'll be allowed to drive on your New Zealand licence for a maximum of three or six months (depending on the state or territory you're in). After that, you'll have to obtain an Australian licence from the state or territory in which you are living in.
Health care in Australia
Australia has private and public health care systems, just like New Zealand, with the public services provided by Medicare Australia. Kiwis who live permanently in Australia are eligible for Medicare if they can prove they are here permanently or for a long period, and will need to supply 100 points worth of proof of ID. If you're not eligible or enrolled in Medicare and are on a Returning Residents Visa, you are still eligible for free emergency hospital care and subsidised pharmaceuticals through the public health system under the Reciprocal Health Care Agreement. However, you may have to fork out for certain services like ambulance costs.
If you are not a permanent resident or in Australia on a Returning Residents Visa, you might not be eligible for any health care benefits in Australia, so its encouraged that New Zealanders take out an adequate level of health insurance cover during their stay in Australia.
Studying in Australia
Under the special category visa that all New Zealanders receive, you are able to study at Australian tertiary institutions without having to apply for a student visa. You'll also be able to enjoy paying domestic student fees rather than international student fees. However, there is a pretty good chance that you will not be eligible for any student loans.
A number of Australian universities have exchange programs and agreements in place with their New Zealand counterparts. For example, Victoria University of Wellington has exchange agreements with Australian National University and Macquarie University.
MUST READ: If you're still paying back a student loan…
Departing New Zealand can also have an effect on your student loan. If you leave for less than six months you will typically be considered a New Zealand-based borrower and have access to an interest-free student loan. However, if you're away for more than six months you will be charged interest on your student loan. There is a repayment holiday of three years but interest will continue to be charged during this period, so it makes sense to get on top of your repayments sooner rather than later.
Find out more about studying in Australia
Feeling at home in Australia
Though we do have occasional differences, Australia and New Zealand are very much alike. New Zealanders are very welcome in Australia, with the 2011 census revealing that there were 187,212 people of New Zealand descent in Australia and 483,398 New Zealand-born people residing here. Australians will welcome you to their country with open arms—you may hear the obligatory sheep joke every now and then, but that's just friendly banter.
Brisbane and Sydney are home to Australia's largest Kiwi populations, so you'll be able to find plenty of familiar faces in those parts. Other than that, from speaking the language to driving on the same side of the road, you'll also find all the same creature comforts you have in New Zealand.
And naturally, a few key translations to make the transition that much easier:
| Australia | Kiwi |
| --- | --- |
| Mobile phone | Cell phone |
| Esky | Chilly bin |
| Deli | Dairy |
| Thongs | Jandals |
| Bubbler | Drinking fountain |
| No through road | No exit |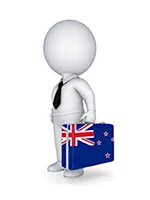 Matt S
Originally from: New Zealand.
Currently living in: Sydney, Australia.
Employment status: Full time.
Visa status: Special Category Visa (subclass) 444
Why did you decide to move to Australia?
There could be a case for following my fiancée over here, but I had always planned to leave New Zealand to work. There are limited opportunities and limited pay rates available in my line of work. However, it is a temporary move.
What were some of the things you had to consider before migrating?
Employment was the main one. It's a different market with different criteria. I was lucky to do some internships in NZ before heading over, which opened some doors. Well I guess you make your own luck, but you know what I mean. Finances I wasn't too fussed, the biggest debt I have is a student loan, I guess I'm hoping they don't fine me for a while on that one. But there is more money available over here which makes repayment easier.
What were the steps involved with obtaining a visa? Did you find it difficult or easy?
As a Kiwi it was very easy. Jump on a plane. Walk onto Australia. Perm visa = Done.
How did you set up a bank account? Did you face any difficulties here?
Very easy. got one from overseas before arriving.
How did you find accommodation? Was it easy/hard?
It was a bit hard. The landlords here are mostly agents and have a mountain of paperwork to fill out. I feel that this makes things hard for tenants and very impersonal experience.
Hot tip: Get accommodation paperwork in order before arriving.
How have you found adjusting to Australian life?
It's more or less the same as NZ, but there are some differences. It's a cash culture and a different work ethic. There is more focus on leaving work at work, which I like.
Do you have any tips or advice for other expats in your situation when moving to Australia?
Get accommodation paperwork in order before arriving.
If you could do it again, would you change anything in the way you went about migrating?
Probably sussed out my first job a bit better. :)
Handy contacts and addresses
New Zealand High Commission, Australia
Address: Commonwealth Avenue
Canberra ACT 2600, Australia
Telephone: +61 -(0)2 – 6270 4211
New Zealand Passport Office
Address: Level 10, 55 Hunter Street
Sydney NSW 2000, Australia
Telephone: 1300 559 535
Consulate-General of New Zealand
Address: Level 10, 55 Hunter Street
Sydney NSW 2000, Australia
Telephone: +61 (02) 8256 2000
More guides on Finder