Finder is committed to editorial independence. While we receive compensation when you click links to partners, they do not influence our opinions or reviews. Learn how we make money.
TD Bank mortgage review
finder.com's rating: 3.9 / 5.0
★★★★★
Offers a decent selection of home loans if you're on the East Coast.
TD Bank has a number of government-backed, conventional and unique home loans on offer for borrowers. With branches that are open far outside of typical bank hours, it can be easy to sit down with a loan specialist in person, too.
The snag? Its suite of products and services is only available to East Coast residents.
Details
| | |
| --- | --- |
| Loan types | Conventional, Refinance, Jumbo, Home Equity, HELOC, FHA, VA, USDA |
| Minimum credit | 620 |
| Available States | Only available in: CT, DE, FL, GA, MA, MD, ME, NC, NH, NJ, NY, RI, SC, VA |
Pros
Online process
Low down payment programs
Guides and resources
Cons
East Coast only
Online customer service limited
Unclear loan availability
TD Bank is accredited with the Better Business Bureau (BBB) and receives an A+ rating. The customer reviews on its BBB profile are sparse — slightly under 130 as of September 2019 — and what few are there average to barely over 1 out of 5 stars.

Negative reviews focus on poor customer service, and complaints are overwhelmingly categorized as issues with product and service or billing and collections. Out of the more than 950 complaints lodged through the BBB, all have either been answered or resolved.

In contrast to the poor ratings on its BBB profile, TD Bank received a 2019 award from J.D. Power for its retail banking customer satisfaction in the Southeast.
What types of loans does TD Bank offer?
A variety of home loans are on offer from TD Bank — including unconventional options, such as its Medical Professional Mortgage.
Conventional mortgages
Fixed- and adjustable-rate mortgages are available through TD Bank. Qualified homebuyers can put down as little as 3% down for a 15- or 30-year fixed-rate mortgage.
Jumbo loans
To borrow more than the standard loan maximum for your area, you'll have to go for a jumbo loan. Fixed-rate and adjustable options are available, and you can buy or refinance with it.
FHA loans
These government-backed 30-year fixed-rate mortgages come with a lower minimum down payment — only 3.5%, and it can be a gift. And you're not required to participate in a homebuyer education program to qualify.
VA loans
Designed for military service members, retired veterans and their spouses, VA loans offer low and no down payment options, as well as rates that typically beat out conventional loans.
USDA loans
For those living or looking to live in a rural area, a USDA-backed loan are for homebuyers in rural areas and could mean taking out a mortgage or refinancing with a $0 down payment. It's specifically designed for low- and moderate-income households, so you can apply without great credit.
Other loans offered by TD Bank
Outside of the typical and government-backed loan options, TD Bank also offers:
A medical professional mortgage option for physicians and dentists
Construction mortgages
Refinancing
Home equity loans
Home equity lines of credit (HELOCs)
Commercial real estate
TD Bank fees
The mortgage process comes with various fees. When going through the process, you can expect to pay:
Points. You can discount your mortgage rate by purchasing points — each costs 1% of the amount of your loan. For example, buying a single point on a $300,000 loan would be $3,000.
Lender fees. Typical fees you can expect to see from TD Bank are for origination, processing and underwriting.
Third-party fees. The home inspection and appraisal, as well as any title services, are paid to third-party providers.
Ongoing costs. Your biggest ongoing costs will likely be property taxes and home insurance premiums.
HomeReady program
Your minimum down payment can be as little as 3% with the HomeReady program, and mortgage insurance is provided at a reduced rate. Fixed-rate mortgages with 15- and 30-year terms are available through HomeReady.
TD Right Step Mortgage program
Qualified borrowers can get a 30-year fixed-rate mortgage for as little as 3% down with this program provided by TD Bank. You're off the hook for paying mortgage insurance after you complete a homebuyer education program.
Requirements
TD Bank doesn't list its eligibility standards on its site, but most lenders require similar documentation that verifies your income and contact information. Once you determine that you live in a region that TD Bank services, gather your credit score. To apply for a conventional loan, you'll get the best rate with a credit score of at least 620.
Documentation
When you're first getting ready to apply with TD bank, gather any of the following that apply:
W-2 forms from the past year
Most recent pay stubs
Signed tax returns from the past year
Proof of alimony or child support
Award letter for fixed income
Bank statements from the past two months for deposit and investment accounts
A letter confirming any gifted funds being used to close
Divorce decree
Verification of any additional properties or assets
Copy of homeowners and flood insurance
How to get a home loan with TD Bank
Before you start the process, TD Bank recommends you prepare a budget, get your credit score, gather any necessary documentation and check your rates online. Once you're ready to apply you can prequalify over the phone or at a TD Bank branch location.
Go to the TD Bank website and select Mortgage under the Products menu.
Click Get quote for instant rate and option estimates.
Once you have your quote, exit the popup box and select Get started.
Fill out your first and last name and email, create a password and select Start application.
Upon completely filling out your application and uploading documentation, TD Bank will call you to review next steps.
If additional information is required, submit it through the online portal and your application will begin processing.
The application goes through processing and underwriting to make a decision.
Upon approval, TD Bank will schedule a date and location for closing.
From start to finish, TD Bank lists an estimate turnaround of 30 to 45 days on home-purchase mortgages.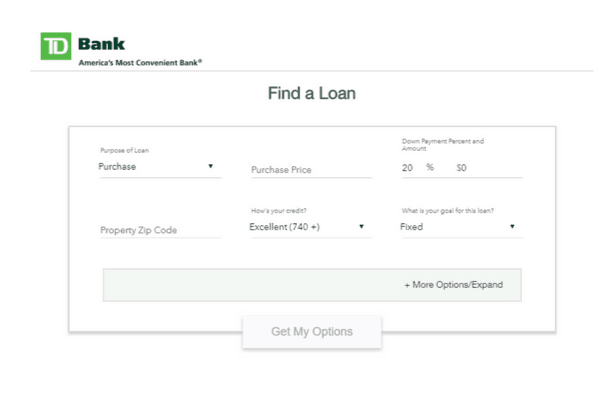 Pros and cons of TD Bank
Pros
Online process. Get quotes, start your application, upload documents and check up on the status of your application online anytime.
Low down payment programs. Outside of government-backed loans, TD Bank offers HomeReady and TD Right Step Mortgage to help you get the loan you need with as little as 3% down.
Guides and resources. TD Bank offers an almost overwhelming amount of information on its site for potential homebuyers and homeowners who are looking to take out a loan.
Cons
East Coast only. If you live outside of the TD Bank service footprint, you're out of luck.
Online customer service limited. Contacting TD Bank via Facebook or Twitter DM will likely land you with a link to a page you've already seen and a suggestion to call in, rather than an actual answer.
Unclear loan availability. While it lists general loan types on its site, TD Bank doesn't specify which government loans it offers. It also doesn't give defined terms for its conventional mortgages.
Compare LENDER to other lenders
What is TD Bank?
TD Bank is headquartered in New Jersey and is a subsidiary of Toronto-Dominion Bank — Canada's second largest bank according to an August 2019 report by the Wall Street Journal. It's been in business since 1852 and touts itself as America's "most convenient bank" with branches open late and on weekends.
Frequently asked questions
Home loans ratings
★★★★★ — Excellent
★★★★★ — Good
★★★★★ — Average
★★★★★ — Subpar
★★★★★ — Poor
We analyze top home loan providers and rate them one to five stars based on factors that are most important to you. These factors include: rates and fees, product selection and borrower experience.
Read the full methodology of how we rate home loan providers.
Expert review
Review by
rhys.subitch@findercrew.com
---
Rhys Subitch is a writer and editor at Finder who tackles topics across the site. With half a decade of experience researching, editing and writing for a Fortune 500 company, university and several independent publications, Rhys brings readers the most up-to-date and curated info on all things finance.
Expert review
TD Bank mortgages are good for good-credit borrowers who need help with a down payment. Fannie Mae's HomeReady program offer as low as 3% down and a reduced PMI. With its Right Step program, qualify for a 30-year fixed-rate mortgage with as little as 3% down, and no PMI after you complete a homebuyer's education program.
If you're outside TD Bank's footprint, or just starting your search, you can compare mortgage providers and get a better idea of what's available.