Finder is committed to editorial independence. While we receive compensation when you click links to partners, they do not influence our opinions or reviews. Learn how we make money.
SoFi mortgage review
finder.com's rating: 3.6 / 5.0
★★★★★
Refinance your home to change your term or cash out on your equity.
SoFi stands out among other mortgage lenders with lenient debt-to-income limits that can open up even jumbo loans to professionals who may have little available for a hefty down payment. If you already own a home, you could find lower your costs by refinancing through this online lender.
Details
| | |
| --- | --- |
| Loan types | Refinance |
| Minimum credit | 620 |
| Minimum down payment | 10% |
| Origination fee | None |
| Other fees | N/A |
Pros
No hidden fees.
Low down payments and no PMI.
Fixed and adjustable rates.
Return customer discounts.
High $3 million maximum.
Cons
Must put down at least 10%.
Limited service.
Mortgage can't be used for investment.
Fluctuating availability.
As of September 2019, SoFi has an A- rating with the Better Business Bureau and 2/5 stars from customers based on 159 reviews. It fares much better on Trustpilot, where it gets 4.4/5 stars based on reviews from over 2,000 users.

Customers who like SoFi tend to focus on the ease of applying online and the friendliness of customer service experts. But frustrated customers report difficulty being approved and applications that cite missing documents — but don't clarify what documents the borrower needs to upload.
What types of loans does SoFi offer?
In the past SoFi has offered both conventional and refinance mortgages. However, as of September 2019, this lender is only accepting applications for refinance mortgages, including regular and cash-out refinances. While it's unclear if SoFi will offer more home loan products in the future, if you're looking for a mortgage for a new home, you'll need to look elsewhere for now.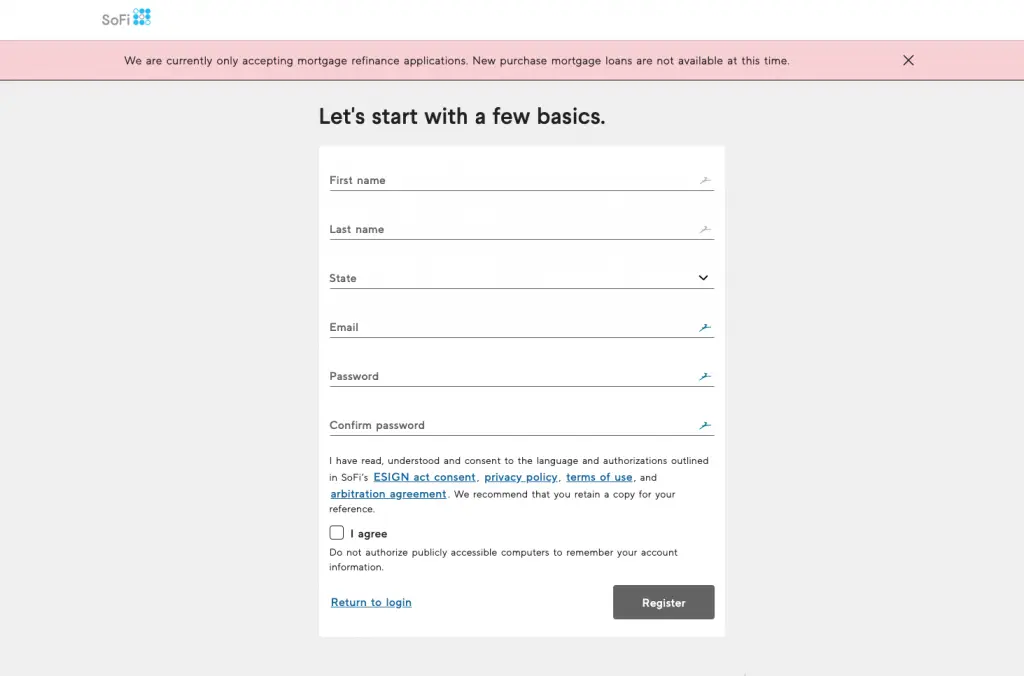 Does SoFi offer mortgage payment relief?
Yes. SoFi has an Unemployment Protection Program, which allows you to pause repayments on any loan in three-month increments if you lose your job. This can cover up to 12 months over the life of any loan.
And more assistance could be available if your income has been hurt by the coronavirus outbreak. "SoFi home loan members can request hardship relief online by accessing their home loans account and selecting Manage account from their home loans card," SoFi CEO Anthony Noto tells Finder.
SoFi's fees
These loans come with no application, origination or other lender fees in most states and no penalty for paying off your loan early.
But while there are no fees coming directly from the lender, you'll still be responsible for any third-party costs associated with buying or refinancing a new house, like taking out a homeowners insurance policy and paying taxes.
Requirements
In order to be eligible for a mortgage refinance loan through SoFi, you must be:
At least 18 years old.
A US citizen, eligible permanent resident alien or non-permanent resident alien.
Looking to purchase property that you intend to live in for at least 12 months.
Purchasing a home in DC or the states that SoFi offers loans.
Ultimately, your loan eligibility will depend on your creditworthiness, income, employment status and property eligibility.
Documentation
Required documents and information will vary slightly by the loan type you're interested in, but in general you'll need to supply:
Your full name and personal contact information.
W-2 forms from the previous two years.
Recent paycheck stubs.
Your most recent federal tax return.
A complete list of your debts, such as credit cards, student loans and minimum payments and balances.
A list of your assets, including mutual fund and brokerage statements, real estate and car titles and other investment records.
Proof of payment for your current rent or mortgage payments.
Pros and cons of refinancing your mortgage through SoFi
Pros
A SoFi mortgage can be ideal even for applicants with high student debt, given SoFi's relaxed debt-to-income limits and underwriting. But you'll find other advantages over traditional lenders.
No hidden fees. These loans come with no lender fees.
Low down payments and no PMI. Put down as little as 10% and no mortgage insurance is required.
Fixed and adjustable rates. Choose from 15- or 30-year fixed rates or a 7/1 adjustable-rate mortgage (ARM).
Return customer discounts. Get an 0.125% rate discount on your next SoFi loan.
High $3 million maximum. You may be able to borrow beyond the $417,000 cutoff that comes with many traditional lenders.
Cons
SoFi's minimum loan starts at $100,000, which could be more than you need in some markets. Keep an eye out for a few other drawbacks as well.
Must put down at least 10%. If you don't have at least 10% of your loan amount to put down, you may need to look into other options. And you'll need 20% equity to refinance.
Limited service. If you don't live in DC or one of the states SoFi services, you'll need to find another mortgage lender. SoFi is not available in: Alaska, Arkansas, Hawaii, Massachusetts, Mississippi, Missouri, Nebraska, New Hampshire, New Mexico, New York, Ohio, Oklahoma, South Dakota or West Virginia.
Mortgage can't be used for investment. You won't be able to buy rental property or vacation homes with these loans.
Fluctuating availability. As of September 2019, SoFi is only offering refinance loans, despite still having a page for new mortgage loans on their site.
How to get a home loan with SoFi
To refinance with SoFi:
Visit SoFi's website and hover over the Products menu at the top of the screen.
Click on Mortgage Refinancing.
Click Get started beneath the type of refinancing loan you're interested in.
Follow the onscreen prompts to provide information about yourself, your home and your finances.
What is SoFi?
Social Finance, known more commonly as SoFi, is a relatively new lender that started out by funding and refinancing student loans. In 2015, the company started offering mortgages, along with several other financial products.
In 2017, the company was heavily covered by the press as it faced a sexual harassment lawsuit centered on the behavior of its then-CEO Mike Cagney. The company replaced Cagney with a new CEO, Anthony Noto, and has stayed relatively scandal-free since.
In 2019, SoFi was accused by the Federal Trade Commission of falsely advertising how much customers can save by refinancing. There was no fine or monetary settlement, but the lender is required to make sure all of its future advertisements are fair and honest.
Common questions about SoFi
Disclaimer
Terms and Conditions Apply. SOFI RESERVES THE RIGHT TO MODIFY OR DISCONTINUE PRODUCTS AND BENEFITS AT ANY TIME WITHOUT NOTICE. To qualify, a borrower must be a U.S. citizen or permanent resident in an eligible state and meet SoFi's underwriting requirements. Not all borrowers receive the lowest rate. To qualify for the lowest rate, you must have a responsible financial history and meet other conditions. If approved, your actual rate will be within the range of rates listed above and will depend on a variety of factors, including term of loan, a responsible financial history, years of experience, income and other factors. Rates and Terms are subject to change at anytime without notice and are subject to state restrictions. SoFi refinance loans are private loans and do not have the same repayment options that the federal loan program offers such as Income Based Repayment or Income Contingent Repayment or PAYE. Licensed by the Department of Business Oversight under the California Financing Law License No. 6054612. SoFi loans are originated by SoFi Lending Corp., NMLS # 1121636. (www.nmlsconsumeraccess.org)
Home loans ratings
★★★★★ — Excellent
★★★★★ — Good
★★★★★ — Average
★★★★★ — Subpar
★★★★★ — Poor
We analyze top home loan providers and rate them one to five stars based on factors that are most important to you. These factors include: rates and fees, product selection and borrower experience.
Read the full methodology of how we rate home loan providers.
Expert review
Review by
aliyyah.camp@finder.com
---
Aliyyah Camp is a writer and personal finance blogger who helps readers compare personal, student, car and business loans. Aliyyah earned a BA in communication from the University of Pennsylvania and is based in New York, where she enjoys movies and running outdoors.
Expert review
If you're looking to refinance with low rates with an online lender, SoFi delivers with its regular and cash-out refinancing options. But if you need a low down payment option, compare other lenders.