Finder is committed to editorial independence. While we receive compensation when you click links to partners, they do not influence our opinions or reviews. Learn how we make money.
CitiMortgage review
finder.com's rating: 2.9 / 5.0
★★★★★
Discount programs and government-backed loans can reduce your down payment and interest rates.
CitiMortgage's HomeRun mortgages and relationship pricing gives home buyers an opportunity for a lower down payment and interest rates if you don't qualify for its government-backed loans. But beware of many poor reviews and complaints against his lender.
Details
| | |
| --- | --- |
| Loan types | Conventional, Refinance, Jumbo, Home Equity, HELOC, FHA, VA |
| Minimum credit | 620 |
| Other minimum credits | 620 |
| Other fees | In addition to traditional fees, CitiMortgage charges an upfront application fee |
| Available States | Available in all states |
Pros
Specialty program available
Nationwide availability
Closing cost and rate discounts available
Cons
Full loan details unavailable online
Application fee
Citibank, the parent company of CitiMortgage, isn't accredited with the Better Business Bureau (BBB) and receives an F rating from the site. Its BBB profile has almost 4,000 complaints and over 150 customer reviews as of September 2019, with an average customer rating of just over 1 out of 5 stars.

On top of its negative reviews and complaints, in 2018 Citibank was subject to a $100 million settlement over manipulating benchmark interest rates. It's not all bad reviews for Citibank, though — its average score from the over 2,300 customer ratings on Zillow as of September 2019 is 4.85 out of 5 stars.

What types of loans does CitiMortgage offer?
You'll find a fair selection of home loans with CitiMortgage, including refinancing and home equity options.
Conventional mortgages
CitiMortgage offers both fixed- and adjustable-rate options. Terms will vary based on your location and loan amount, but typically range between 10 and 30 years for fixed-rate mortgages.
Jumbo loans
If you're looking for a mortgage that goes above the standard maximum for a single-family home, CitiMortgage offers jumbo loan. Interest rates will likely be higher than you'd get with a conventional mortgage, but the funds can be used for primary or secondary homes.
FHA loans
One of its two government-backed loan options, FHA loans are typically good for first-time homebuyers and those without a perfect credit score. The government guarantee means credit standards are more flexible than those of conventional mortgages.
VA loans
Retired and current military service members and their spouses can benefit from low interest rates and down payments and avoid paying private mortgage insurance. VA loans also offer lower closing costs to those that qualify.
Other loans offered by CitiMortgage
Home equity loan
Home equity line of credit (HELOC)
Refinancing
CitiMortgage fees
A number of fees may apply to your home loan, both from CitiMortgage and third parties.
Points. Mortgage points lower your interest rate between 0.25% and 0.375% and each costs 1% of the loan amount.
Origination and underwriting. During closing you'll pay these fees, which include the cost of originating your loan, processing your application and approving it. CitiMortgage also charges an upfront application fee.
Third party. Your home will be appraised and inspected by third-party providers which is paid separately from CitiMortgage. Title service fees are also third party.
Ongoing. Costs that you'll continue seeing after the closing process include property taxes and insurance.
HomeRun mortgage
CitiMortgage HomeRun Mortgage program offers a low 3% down payment option without paying private mortgage insurance (PMI). Loans are available for single-family homes, condos or two-unit homes and include jumbo loan options.
CitiMortgage Relationship Pricing
This program gets you a discount on your closing costs or a break on interest rates if you hold a deposit account and use it to pay your monthly mortgage payment with autopay.
Requirements
To qualify for a loan with Citi, a debt-to-income ratio (DTI) of around 36% and credit scores above 620 are preferred. While you could potentially qualify with lower credit, you'll have a better chance of approval than you would otherwise if you meet both guidelines.
When you apply for preapproval with CitiMortgage, it sends you a letter showing a commitment to lend and guaranteeing the rates and terms you qualify for.
Documentation
Before you apply for a home loan with CitiMortgage, have the following on hand:
Pay stubs or proof of direct deposit
Bank and asset statements for the past two months
W-2 forms for the past two years
Tax returns for the past two years
Employment history for the past two years
Divorce decree or separation agreement
Verification of rent or mortgage payments
A letter explaining any recent credit inquiries or late payments
Any addresses of additional real estate you own
Alimony, child support or separate maintenance verification
How to get a home loan with CitiMortgage
You can start the application process in person, over the phone or online.
Go to the CitiMortgage website and select Learn about preapproval.
Fill out your name, phone number and email and select Submit.
A mortgage specialist will contact you and guide you through the preapproval process, which includes submitting your documentation.
Once you have a property picked out, you can fill out a full application online by going to the site and selecting Start mortgage application.
Fill out the property information along with your personal and financial information, CitiMortgage gives an estimate of 30 minutes to complete the form.
A loan officer will contact you within three days to provide you with a loan estimate.
Once CitiMortgage receives the home appraisal, the amount and terms are set and you'll receive a final decision.
Upon approval, a closing date and location is scheduled.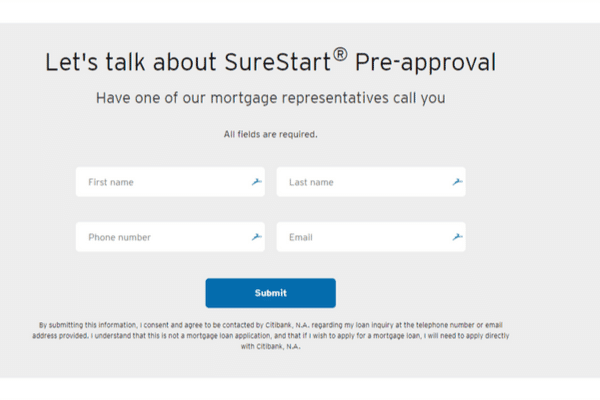 Pros and cons of CitiMortgage
Pros
Specialty program. Its HomeRun program could cut you a break on your down payment PMI, even with weak credit.
Nationwide availability. You can apply for a mortgage in any of the 50 states.
Closing cost and rate discounts. Citibank customers using an existing deposit account to make automatic monthly mortgage payments can receive a discount on closing costs or interest rates.
Cons
Full loan details unavailable online. You can't find the whole of CitiMortgage's loan terms on its website, and calling in may result in more sales pressure than you're looking for.
Application fee. Many lenders don't require an upfront fee to apply, but CitiMortgage does. This fee may also cover the cost of your appraisal, but it's not guaranteed.
Compare CitiMortgage to other lenders
What is CitiMortgage?
CitiMortgage is a subsidiary of Citibank, which is an international financial institution with business in 19 countries. Citi has been moving away from mortgage servicing since 2017, transferring the servicing rights for many of its mortgages to other financial institutions. But it has increased originations — meaning you can still apply for home loans with CitiMortgage, but another company may be taking care of collecting payments and sending them to Citi.
Frequently asked questions
Home loans ratings
★★★★★ — Excellent
★★★★★ — Good
★★★★★ — Average
★★★★★ — Subpar
★★★★★ — Poor
We analyze top home loan providers and rate them one to five stars based on factors that are most important to you. These factors include: rates and fees, product selection and borrower experience.
Read the full methodology of how we rate home loan providers.
Expert review
Review by
rhys.subitch@findercrew.com
---
Rhys Subitch is a writer and editor at Finder who tackles topics across the site. With half a decade of experience researching, editing and writing for a Fortune 500 company, university and several independent publications, Rhys brings readers the most up-to-date and curated info on all things finance.
Expert review
You could find a home loan option with CitiMortgage, even if your credit isn't perfect or traditionally verifiable. Its suite of products is well rounded and has several options for those looking to buy or refinance.
To get a look at even more providers, check out our mortgage guide and compare your options.