Morningstar Premium investment research review
This global financial firm delivers in-depth analysis at a reasonable price.
Morningstar Premium offers a suite of investment advice, tools and knowledge to help investors make educated decisions. This paid upgrade of Morningstar's free service can help investors looking to expand their portfolio, though you might want to look elsewhere for stock trading advice.
Details
| | |
| --- | --- |
| Annual Fee | $199 |
| Option trade fee | $0 |
| Available asset types | Stocks, Mutual funds, ETFs |
| Account types | Brokerage |
| Minimum deposit | $0 |
Who is Morningstar Premium best for?
Morningstar Premium's online investment advice service is best for:
Investors looking to diversify their portfolio. Expand your portfolio with a wealth of investment tools, such as rating lists and fund screeners.
Mutual fund investors. While Morningstar has expanded into stocks, its bread and butter is mutual funds.
Beginners to the market. For newcomers, Morningstar Premium offers a gateway into investing, tips and in-depth analyses.
What are the benefits of Morningstar Premium?
Morningstar Premium is all about the quality of the information and advice it offers, including:
Investment analysis. Analyze investment options such as exchange-traded funds, from a team of experts providing pros, cons, annual returns and historical data.
Mobile platforms. Morningstar's app fully syncs with your portfolio and allows you to perform research on the go, but it's not 100% fully functional compared to the desktop platform.
Reasonable fees. The annual $199 fee pales in comparison to similar investment advice services or directly paying an adviser for similar information.
Free trial. If you're not ready to invest in the paid upgrade of Morningstar's free service, take advantage of its 14-day trial.
What to watch out for?
While Morningstar offers analysis and advice, its information isn't perfect in every category of investing.
Lack of chart analysis.Data is presented through fundamental analysis, but there is little quantitative analysis and no charts for numbers-based people.
Slow to upgrade. Morningstar has been an industry leader for a number of years, but its platform hasn't seen significant upgrades or changes in the last 10 years.
Stock trading advice isn't as advanced. If you're primarily a stock-only trader, other platforms can outperform Morningstar Premium. Morningstar is best used for mutual funds or for a diverse portfolio.
How do I get started?
Sign up in four steps:
Visit Morningstar's website and click Get 14 Days Free in the top menu.
Enter your email address and create a password.
Select the term you'd like after your trial: monthly, one-year, two-year or three-year.
Enter your payment information and finalize the purchase.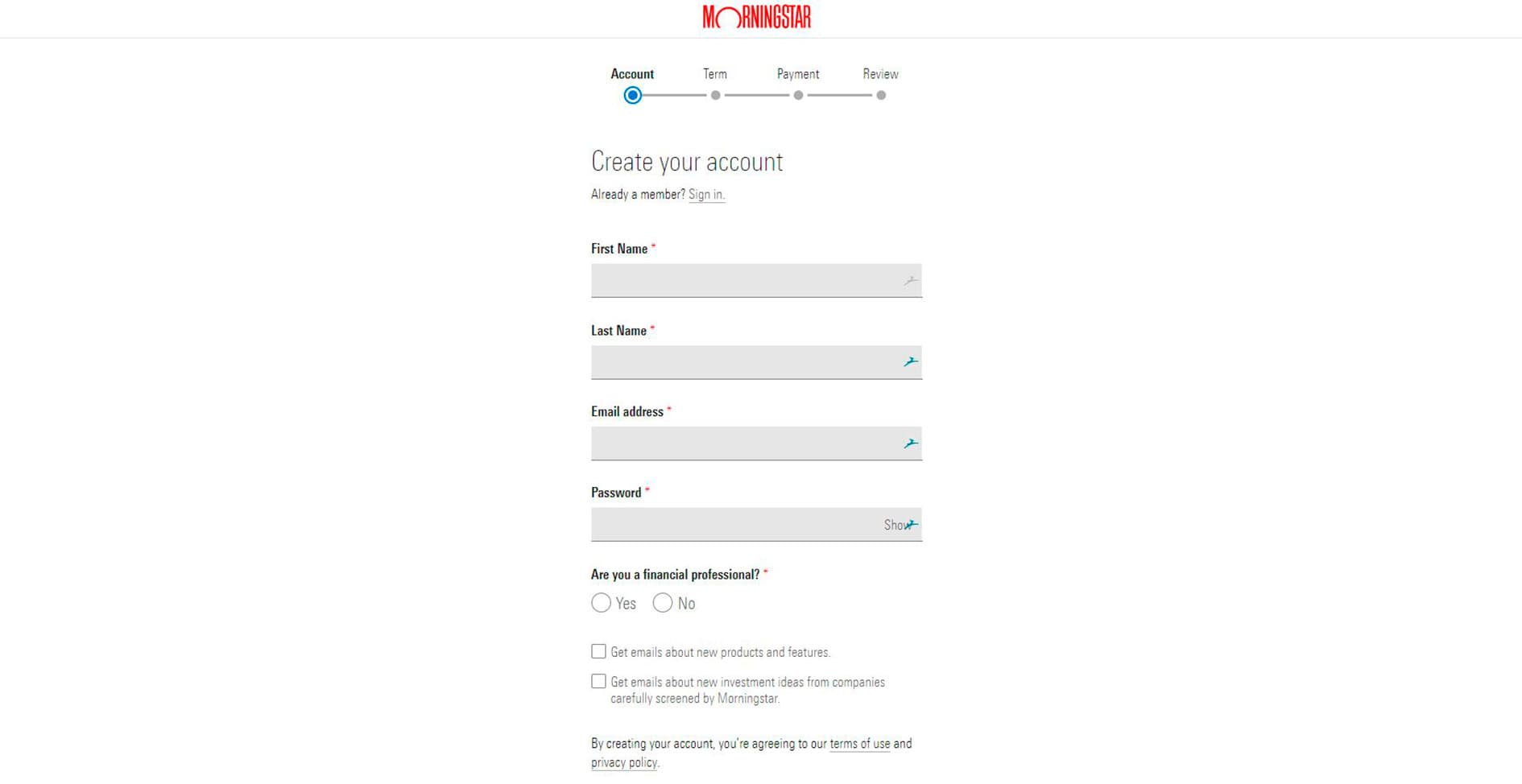 Compare with other investment research providers
Information on this page is for educational purposes only. Finder is not an advisor or brokerage service, and we don't recommend investors to trade specific stocks or other investments.
Finder is not a client of any featured partner. We may be paid a fee for referring prospective clients to a partner, though it is not a recommendation to invest in any one partner.
Morningstar reviews and complaints
Morningstar is an accredited member of the Better Business Bureau, earning an A+ rating based on its internal criteria that includes Morningstar's business practices, complaints history and time in business. The few reviews on the BBB's website skew negative, mainly due to the difficulty some customers experienced in canceling their service. Morningstar replied to each complaint. As of October 2020, TrustPilot gives Morningstar a TrustScore of 2.3/10. Here too, customers complain about the difficulty in canceling their subscription.
Since then they've added a new feature to easily cancel memberships. To cancel your membership log in to your account, go to My Account, navigate to "Membership" and click on "Cancel." You can also cancel your membership by emailing cancelation@morningstar.com. Headquartered in Chicago, Morningstar has been in business since 1984. It employs more than 5,000 people with services in 27 countries. Morningstar also publishes a quarterly investment guide.
I've signed up with Morningstar Premium. Now what?
Get familiar with the suite of subscriber tools:
Try out the stock and mutual fund screener. Narrow down potential buys based on the criteria that you set.
Analyze thousands of reports. Sort through details on stocks and funds to potentially invest in.
Access exclusive advice. Morningstar Premium unlocks access to certain articles and content that specifically lay out the company's best recommendations for buying stocks and mutual funds.
Morningstar Premium customer service
Morningstar supports offices around the world, but new customers in the US can reach customer service by phone or email. Business hours for Morningstar's customer care agents are Monday and Tuesday from 8 a.m. to 7 p.m. CT and Wednesday to Friday from 8 a.m. to 5 p.m. CT.
Call 312-384-4000 or email productinfo@morningstar.com for customer service and product sales.
Call 866-229-9449 or 312-424-4288 to cancel your membership.
Call 312-696-6600 or email dataquestions@morningstar.com for questions about data.
Bottom line
Morningstar Premium offers expert investment knowledge and advice. At less than $20 a month, it might pay for itself if you're looking to invest in mutual funds or diversify your portfolio. But if you're into numbers and charts or solely invest in stocks, you may want to compare other share trading services.
Frequently asked questions