Finder is committed to editorial independence. While we receive compensation when you click links to partners, they do not influence our opinions or reviews. Learn how we make money.
Montgomery Ward Credit review
A simple line of credit for this online-only department store.
Get this card if you frequently shop on Montgomery Ward's website.
Pick something else if you want a universal credit card.
Apply with a poor to fair credit score of 300 or higher.
5.75% to 25.99%
Purchase APR (fixed)
300
Recommended credit score
Details
Product Name
Montgomery Ward Credit
Annual fee
$0
Purchase APR
5.75% to 25.99% fixed
Balance transfer APR
N/A
Interest free period
Up to 25 days
Late payment fee
Up to $15
Late payment fee conditions
Varies by state
$0.00 - $15.00
Returned payment fee
Up to $25
Expert review
Review by
kliment.dukovski@findercrew.com
---
Kliment Dukovski is a credit cards writer. He's written over 600 articles to help readers find and compare the best credit cards. Kliment has also written on money transfers, home loans and more. Previously, he ghostwrote guides and articles on foreign exchange, stock market trading and cryptocurrencies.
Expert review
This store credit card comes with a $0 annual fee and fixed purchase APR of 5.75% to 25.99% depending on your creditworthiness. You'll initially receive up to $100 in credit with a minimum payment of $10 per month. As you make on-time payments, you'll receive higher credit limits.
The card limits your purchases to the Montgomery Ward online store. Approval is fairly easy, with poor credit accepted.
The perks
Easy approval.
Be approved quickly, even if you have poor credit.
Credit limit increases.
If you make on-time monthly payments, your $100 credit limit could increase.
Pay your bill online.
Easily manage your payments by logging in to your Montgomery Ward online account.
Potentially low APR.
You could qualify for APRs as low as 5.75% with excellent credit.
No annual fee.
You won't pay each year to keep this card.
What to watch out for
Only use at Montgomery Ward.
This isn't a regular credit card and you're limited to using it only on Montgomery Ward's site.
No rewards.
Many other credit cards offer rewards such as cash back, points or miles.
Penalty fees and interest charges vary.
How much you'll pay depends on the state you live in.
Compare store credit cards
What bank does Montgomery Ward use for their card?
The card is issued directly by Montgomery Ward and not by a bank.
What should I know before I apply?
To apply for the card, you only need to provide:
Your name and birthday
Billing and shipping address
Social Security number
What credit score do I need?
You can apply with a poor to fair credit score of 300 or higher.
Montgomery Ward Credit reviews and complaints.
Customers like how easy it is to get the card and are happy with Montgomery Ward's customer service. Complaints are often about the one-sided reporting to credit bureaus. Paying your balance on time may not help you build your score, but missing a payment or a default can stain your credit score.
How to apply for the Montgomery Ward Credit
Click Apply now.
Shop through the Montgomery Ward site.
Once you have the items you want, click Checkout.
Enter your billing and shipping address and click Continue.
Under Select payment method click Open & pay with new Ward credit account.
Enter the required information and click Continue.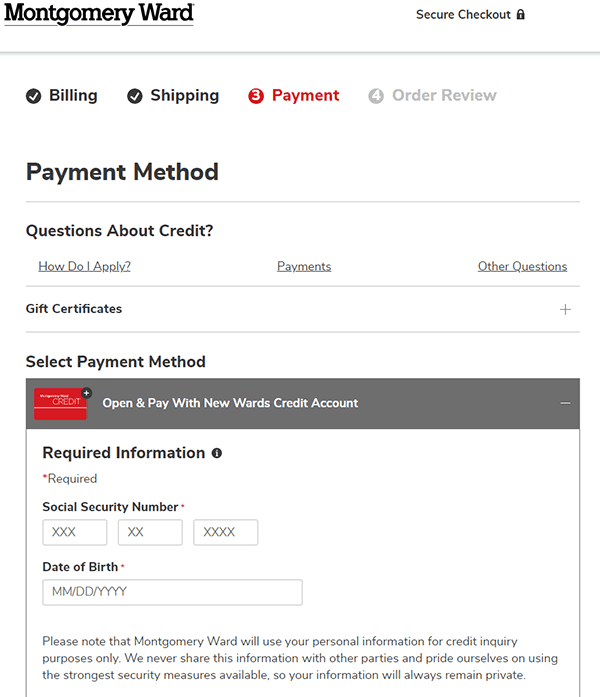 How long will it take to get my Montgomery Ward Credit?
Generally, approval only takes a few seconds. Once approved, expect your card to arrive within seven to 10 business days.
Can I be declined for the card?
Yes, you may not be approved if:
You haven't paid your previous Montgomery Ward Credit account.
There's a fraud alert or other restriction on your credit report.
You have no established credit history.
You may need to make a down payment if:
You have a bankruptcy or other blemish to your credit.
You have limited credit history.
Your checkout balance is too high.
I got the card. Now what?
Pay your balance.Log in to your online account to pay your balance.
Avoid interest.To avoid paying interest on your purchases, pay your balance in the 25-day grace period.
Customer service.For any questions, call 877-784-2836 for customer service.
Bottom line
If you often shop the Montgomery Ward website and struggle to get credit elsewhere, the Montgomery Ward Credit could be useful. Approval is easy and your credit line can grow as you use your card and pay your balance on time.
However, if you're looking for a universal credit card, consider looking for another credit card for poor credit.
Frequently asked questions