Finder is committed to editorial independence. While we receive compensation when you click links to partners, they do not influence our content.
Molekule review: Can it improve your home's air quality?
See what this bacteria-fighting air purifier has to offer and if it's right for you.
The Molekule air purifer claims to remove pollutants from the air in your home or office — from tobacco smoke to black mold. See what other customers have to say about this brand, what it costs, return policies and more.
Quick take
Pros
Claims to address a wide range of pollutants that include nail polish remover, bacterial spores and roach allergens
Low-noise emission and ozone-free.
Auto-refills of filters with free shipping
30-day home trial
Cons
Comes with a blue light that might be disrupt sleep.
High price point at $799 for a large model and $399 for a mini.
May be heavy for some — the full-size model weighs 20 pounds.
Molekule reviews and complaints
Reviews and complaints for Molekule are a mixed bag. Consumer Reports tested the Molekule and offered a disappointing assessment, reporting a "Fair" rating while run at a high speed and a "Poor" rating at a low speed during a lab test involving particles — including dust, smog and cat allergens — that measured between 0.1 to 1.0 microns.
Molekule has responded to negative reviews claiming the testing standard doesn't apply to its device, which uses proprietary PECO technology versus more traditional HEPA or CADR to capture extremely small particles, like mold. Though the National Advertising Review Board found that the Molekule addresses air pollution, it did not back up the company's claims that the Molekule destroys all pollutants orr is superior over HEPA filters.
However, the company has performed tests through a third party that appear to reduce virus particles and mold. As far as what actual customers say, the Molekule earns a 3.5 out of 5 score on Trustpilot, with complaints about a buggy website and price not matching quality.
Positive reviews say the purifier helped with allergies and resulted in a noticeable change in their home's air quality.
What can you buy from Molekule?
Air:
The largest of the models tackles pollutants in spaces of up to 600 square feet. It takes in air at a 360-degree angle and includes fan speeds that can be controlled with your phone or tablet.
---
Air Mini:
Covers up to 250 sq. ft. and offers five fan speeds.
---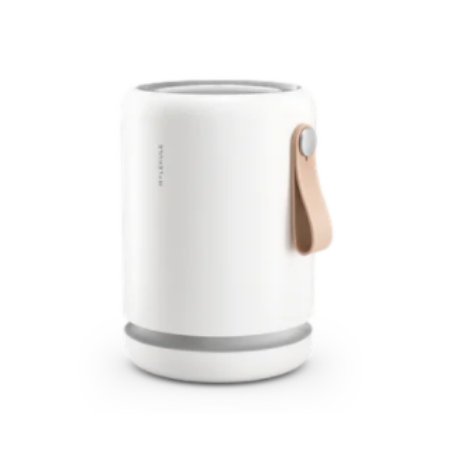 Air Mini+:
Covers up to 250 square feet and includes a sensor that rates the air in your home from good to very bad. The mini's auto protect mode adjusts fan speed based on your air quality.
---
Air Pro RX:
Designed for medical use, this model can be used in operating rooms, isolation units and ICUs.
---
Shipping, payments and returns
Can I get free delivery?
No. You'll pay for standard or expedited shipping within the US. Enter your shipping address at checkout to see the cost. However, you might want to keep an eye on the website, as frequent promotional specials with free shipping are offered for a limited time.
Payment options
Molekule accepts Visa, Mastercard, Discover and American Express. You can opt into a payment installation plan through Affirm, which allows you to pay for your purchase in monthly installments over the course of 6, 12 or 18 months.
Returning your order
You can take advantage of a 30-day trial. If you're unhappy with the air purifier at the end of the 30 days, you can request a full refund plus shipping charges. Once Molekule receives your order and verifies that it's undamaged, you'll get a refund in five to 10 business days.
Air purifiers used for healthcare or medical facilities are nonrefundable.
How do I return an item to Molekule?
Request a return authorization from Molekule's customer service team within 30 days of purchase.
Use the original shipping carton — if you don't have it, request a replacement carton for a fee.
Molekule inspects your item in two to five business days.
If you purchased the Molekule from a retailer, you can return the product to the store, along with proof of purchase.
What sets Molekule apart?
Molekule reports that its products destroy viruses and pollutants that are 1,000 times smaller than what's required of a standard air purifier. One of the company's most attractive claims is the purifying process – it doesn't just trap the pollutants in the machine, but breaks them down. Molekule notes that the light used to kill bacteria – UV-A – requires less energy than the typical UV-C light.
Another benefit is the low-noise feature. If you're a light sleeper, you'll appreciate the lack of constant whirring.
How can I contact customer support?
Reach out to customer service at 855-999-9069. You can also chat live with customer support through Molekule's website or submit an online request.
Bottom line
If you have the budget, you might consider investing in a Molekule. But no worries if the price tag is too steep – you can find cheaper and potentially more suitable air purifier alternatives, some of which sell for less than $100.