Finder makes money from featured partners, but editorial opinions are our own.

Advertiser disclosure
How to finance a Mitsubishi
Though its special buyer programs are limited, it does offer a competitive warranty on all new cars.
Mitsubishi Motors, part of the Mitsubishi Group, is the sixth-largest car manufacturer in Japan. While it doesn't offer a huge selection of models, it does have a very generous limited warranty on all of its new vehicles. And you have a range of financing options to consider, from taking out a car loan to working with Mitsubishi's banking partner, Ally Financial.
How can I finance a Mitsubishi?
There are multiple ways to finance a Mitsubishi, including car loans, personal loans and financing through the manufacturer. A car loan through an online lender, bank or credit union generally offers the lowest rates. But in order to get those rates, you'll have to spend time comparing loans and filling out preapproval forms. Another option is to take out a personal loan, though this is typically more expensive since you aren't using your car as collateral.
Financing through Mitsubishi may not be the most cost-effective option if you don't have the best credit, but it could save you time. Mitsubishi doesn't offer its own financing program, and instead works with Ally Financial to get you a loan to cover the cost of purchasing or leasing your vehicle.
Financing through Ally Financial. While the specific promotions available will vary based on where you live and your specific dealer, past offers have included 0% APR financing for four years on the 2019 Outlander Sport or a $500 factory rebate on the same model.*
Leasing through Ally Financial. Alongside the generally lower monthly costs, you'll be able to switch vehicles every few years by leasing a Mitsubishi. For the 2019 Outlander Sport, Ally Financial has offered a leasing deal of $274 a month for 39 months with $3,348 due at signing.*
Ally Buyer's Choice program. Ally Financial also offers Mitsubishi shoppers a flexible option that's a combination of buying and leasing. Basically, you choose a four- or five-year term and make your monthly lease payments. At the end of your term, you have the option to sell your car back to Ally at a predetermined price or can choose to continue making lease payments until the end of your contract.
Of course, the rates and terms you qualify for will depend on your credit score and financial situation.
*Rates as of November 5, 2018.
Compare car loans for financing a Mitsubishi
Does Mitsubishi offer special discounts or programs?
Unlike some other manufacturers that offer a variety of special car-buyer programs, Mitsubishi's rebate options are limited.
Customer loyalty discount. While it states that it has a discount for return customers, we couldn't find many details — just that you may be eligible for up to $250 off select models.
Military customer rebate. If you're a member of the US military, you may qualify for a $500 rebate on select Mitsubishi models. Ally Financial also offers $250 off the down payment or cost of leasing your new vehicle as well.
What will a new Mitsubishi cost me?
Interested in getting behind the wheel of a new Mitsubishi? Take a look at the manufactured suggested retail price (MSRP) for some of the latest models to get an idea of how much you'll need to borrow. The actual cost of your new Mitsubishi will vary based on where you live, your negotiating skills and any special promotions you qualify for, but you can expect to pay $13,395 to $35,795 for a basic trim.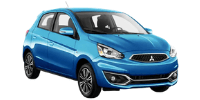 Mirage
Starting MSRP: $

13,395

Build: Hatchback
City/highway MPG:

37/43
Mirage G4
Starting MSRP: $

14,395

Build: Sedan
City/highway MPG:

35/41
Outlander Sport
Starting MSRP: $

20,945

Build: SUV
City/highway MPG:

24/30
Eclipse cross
Starting MSRP: $

23,595

Build: SUV
City/highway MPG:

26/29
Outlander
Starting MSRP: $

24,695

Build: SUV
City/highway MPG:

25/30
Outlander PHEV
Starting MSRP: $35,795
Build: HybridSUV
City/highway MPG:

25/74
Average car insurance costs of driving a Mitsubishi
Does a new Mitsubishi come with a warranty?
Yes, every new Mitsubishi has a competitive five-year, 60,000-mile limited warranty that covers nearly every part of your new vehicle. The best part? It's fully transferable to another owner — an uncommon feature these days. Mitsubishi also has a 10-year, 100,000-mile powertrain limited warranty and a seven-year, 100,000-mile anticorrosion perforation limited warranty.
Bottom line
While Mitsubishi doesn't offer many special car-buyer programs, its warranty stands out from the competition. When it comes to financing, you have the option to pay for your new set of wheels through Mitsubishi's banking partner, Ally Financial. Though you may be able to score a lower rate if you take out a car loan from a bank or online lender yourself.
To learn more about your options and compare lenders, read our guide to car loans.
Frequently asked questions
Image source: shutterstock and Mitsubishi's official page