Missing orders are on the rise — how to protect yourself while shopping online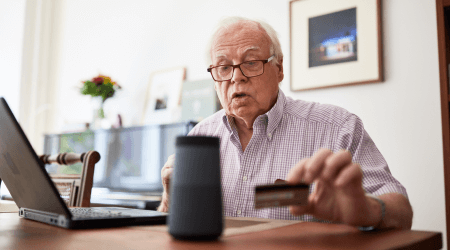 A record number of online orders are missing. Safeguard your purchases by following our online shopping checklist.
The COVID-19 pandemic has more people than ever shopping for essentials like face masks and hand sanitizer online — and a record number of customers have filed complaints with the Federal Trade Commission (FTC) about missing items. The FTC reported more than 34,000 complaints from consumers in April and May alone, a two-fold increase over the 2019 holiday season. More than 18,000 complaints related to items that were never delivered, including face masks, sanitizer, toilet paper, thermometers and gloves.
While orders do occasionally get lost even from reputable sellers, keep an eye out for warning signs that a shop isn't legit. Follow these best practices to steer clear of scam sites.
Make sure the seller is Finder-verified. Whenever possible, Finder vets providers and checks all necessary certifications and business licenses. In most cases, we ordered masks from the seller to ensure they were delivered in a timely manner and as pictured. Look for the Finder-verified logo on our face mask buying guides for peace of mind when ordering PPE.
Look at customer feedback. A quick Google search can tell you a lot. Are there any reviews for this company, and are they mostly positive? You can also check if they're accredited with the Better Business Bureau (BBB) and reviewed on a site like Trustpilot.
Look for a trust seal. Trust seals demonstrate that a site prioritizes security and its reputation. They're typically awarded from third-party sites like PayPal, Google or the BBB. Although requirements vary, trust seals are usually awarded when a site garners positive reviews and ensures customer data is stored properly. Businesses tend to place this seal at the top or bottom of the home page.
Inspect the security certificate. Google Chrome, Firefox and other browsers have built-in tools to analyze a site's security certificate, which secures and encrypts data exchanged. In Google Chrome, click the padlock icon on the address bar for the site you're browsing. Click Show certificate and make sure it says valid.
Screenshot its contact information. Look for contact details like a phone number, business address and email address. Save this information in case you need to contact the seller. And if contact information isn't clearly displayed, be wary of ordering from this site.
Check the site policies. An authorized seller of goods should have a terms and conditions page, as well as a privacy policy that outlines how information is secured. Terms and conditions typically cover topics like payment and delivery. You should also check a company's refund policy to make sure you'll get your money back if an order goes astray.
How to file a complaint with the FTC
The FTC protects consumers against unscrupulous practices like rip-off and imposter scams. If you unknowingly ordered from an unreputable site or your order is missing, you may want to file a formal complaint with the FTC. There are two ways to do so:
File a complaint online. On the FTC website, choose a complaint category and follow the on-screen instructions. Be sure to download or print a copy of the report.
Call 877-382-4357 to file a complaint by phone.
Photo: Getty Images