Mirandus game guide
A blockchain fantasy RPG by Gala Games — without a map or quest givers?
Free to try
Complete daily quests
Earn crypto & trade card NFTs
Runs on HIVE blockchain
Go to site
Disclaimer: This page is not financial advice or an endorsement of digital assets, providers or services. Digital assets are volatile and risky, and past performance is no guarantee of future results. Potential regulations or policies can affect their availability and services provided. Talk with a financial professional before making a decision. Finder or the author may own cryptocurrency discussed on this page.
Mirandus is an upcoming blockchain fantasy, massively multiplayer role-playing game (MMORPG) being developed by Gala Games. Mirandus is set to be an open-world game where players enter the wilderness and earn their fortune of their own accord.
Elite, playable NFT characters went on sale in December 2021, and most are sold out at the time of writing. However, no official release date for the game has been announced.
Despite the work that's left, we know much of what's to be expected. Let's take a closer look at this highly anticipated game to see what the fuss is about.
Highlights:
Still in development
Playable on PC and Mac
Free to play
Open world ran and owned by players
Few elite avatars still available
Multiple ownership opportunities
What is Mirandus?
An upcoming fantasy MMORPG by Gala Games, Mirandus allows you to own everything from in-game shops to entire cities. With such a wide range of ownership rights, a thriving game economy is possible for players who want to interact with the community or influence the game world.
Mirandus is going to be an open-world game. This isn't particularly groundbreaking, but the main site notes, "In Mirandus, players have absolute freedom of choice — there are no maps, no quest givers."
In other MMORPGs, such as World of Warcraft and Final Fantasy XIV, players buy items from NPCs and explore towns built by the game developers. In Mirandus, everything is meant to be controlled and created by the players. Players will essentially run and own most of the game — the cities, buildings, storefronts, you name it.
Items for Mirandus are already on sale at the Gala marketplace and can be bought with GALA and other currencies.
Mirandus will be free to play and won't require the purchase of an NFT to participate. You can buy elite avatars, called exemplar avatars, with special abilities to enhance the gameplay, but they're optional. There will be normal, free avatars to use.
Image source: Mirandus
Offering top-tier, pricey avatars with special abilities sounds a little too "pay to play" and may give a major advantage to paying players, but until the game releases, we're unsure.
Image source: Mirandus
Mirandus' following isn't super impressive — so far. The Mirandus Twitter account has around 6,500 followers and fewer than 200 members on its subreddit. The Gala Games Discord server, though, has over 150,000 members. So while the upcoming game still needs to build some hype, the developers are already working with a solid fan base.
Playing Mirandus
The game isn't out yet, and there's no solid news of a release date. The exemplar avatars were dropped in December 2021, and there was a game test phase that same month. You can buy and hold some in-game NFTs on the Gala market, such as deeds, ships and more.
All decisions will affect Mirandus, meaning your economic, governance and political choices will shape the experiences of other players. This is especially true for anyone who owns deeds, buildings or exemplars, as these gamers will have a large degree of control over how resources are traded or allocated.
While Mirandus will encourage players to choose their own path, one of the main objectives is to get Materium. Materium is a magical essence needed to cast spells and craft equipment, as well as buy and sell NFTs in the game. It doubles as a useful game item for multiple purposes and one of the in-game currencies.
Image source: Mirandus, "Materium"
To progress in Mirandus, you have to interact on a regular basis. For example, by getting your armor repaired or buying supplies for a dungeon. Other players profit from interactions by providing the relevant goods and services.
Set in a massive world ruled by five player-monarchs, Mirandus lets you decide your character's path — whether it be a dungeon-crawler or a famous merchant. If you're more of the explorer-type, you can step into the wilderness to test your skills against monsters or rise through the ranks of a monarch's royal army.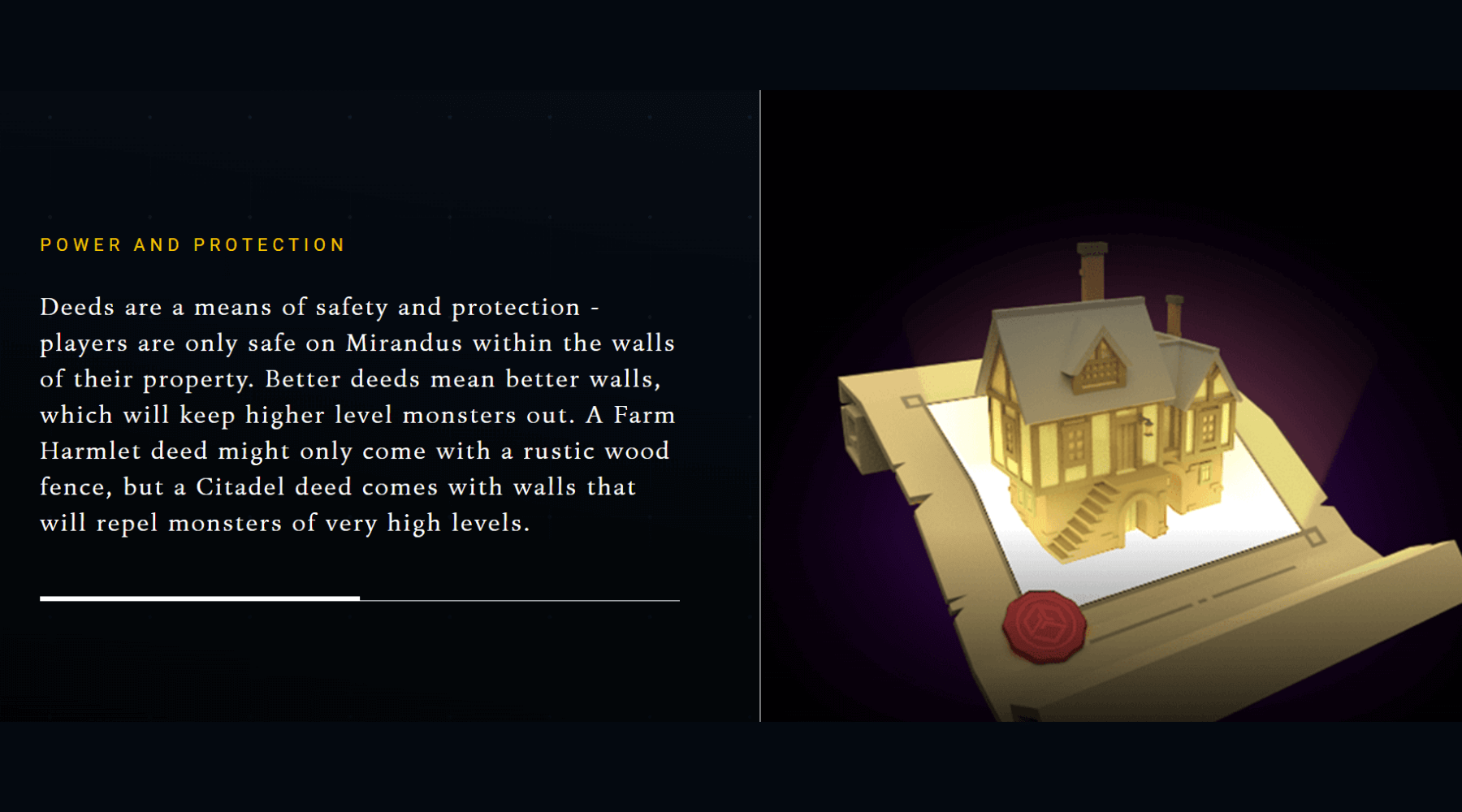 Image source: Mirandus
You don't have to engage in combat to play. Owning a piece of land near a dungeon entrance or on a heavily traveled path allows you to choose which goods or services to provide, and you can profit and play that way.
Most importantly, five player-owned citadels will form cities where owners can create or lead their own factions and levy taxes on trade. Owning land will offer opportunities to earn rewards but will also come with responsibilities such as using supplies like wood, meat or other materials to maintain it.
Image source: Mirandus
What is Mirandus token?
GALA, the digital utility token for Gala Games, allows you to make transactions within the Gala Games ecosystem. This makes purchases and sales convenient for players who participate in multiple games. You can use GALA to buy any of the Mirandus NFTs.
GALA does not represent a share of the network nor does it guarantee the user any fees, dividends or revenue from the network.
Another token in Mirandus is called Materium, which can be found in the game. The Materium token can be taken out of Mirandus as an ERC-20 token and sold on secondary markets. It has other uses, including:
Increasing abilities
Spellcasting
Crafting
Teleportation
How to buy the Mirandus token
GALA is available on nearly every major exchange, though Materium, is earned through gameplay.
Find an exchange to buy, sell and trade GALA by comparing deposit methods, supported fiat currencies and fees. Select Go to site to sign up directly with the provider.
How does play-to-earn work with Mirandus?
Some potential play-to-earn tactics include:
Exploring the wilderness. Rewards can be high if you're willing to claim a deed far from the city's protection. You may be able to track down and earn Materium.
Buy and sell items. GALA is the token used to buy and sell NFTs within Mirandus or on the Gala market. As you earn NFTs and tokens in the game, you can sell them for GALA. Additionally, you can speculate on the game's NFT assets by buying and reselling for a profit. Materium can be taken out of the game as ERC-20 tokens and sold on secondary markets.
Set up bases. Within the wilderness, you can set up homesteads, farms or cities. These places may generate resources or act as gathering points for players, incentivizing travel farther from a city's secure walls to find Materium.
Gala Node License. You can purchase a Gala Node License at the price of 156,500 GALA. The license awards tokens and the opportunity to receive other rewards like limited edition NFTs for helping to maintain the network.
While playing Mirandus, you can earn Materium, an in-game token. Owning more characters allows you to earn more Materium, but whether a rarer exemplar results in more tokens is unknown.
What are Mirandus NFTs?
Being a universe created by the players, Mirandus offers a variety of ownership opportunities depending on the NFT you purchase.
Mirandus NFTs include:
Characters — Exemplars are elite, playable NFT characters. There are five races: Elves (sold out), halflings (sold out), orcs, dwarves and humans. Each race has unique traits depending on rarity and personal strengths.
Deeds — Deeds are the most important NFTs available in Mirandus, as they allow you to build a place of commerce or safe haven. As the name suggests, deeds prove land ownership. Property is power and players who own deeds decide what is built and how it benefits them and the community. Homesteads, outposts, towns and citadels are all examples of properties that you can purchase, with each varying in size, location and rarity.
Buildings — There are 70 types of buildings. You can only place a building on your property if its land size corresponds with your property's size. Deed holders can lease their land out to other players for a fee or share of the profits. Armorers, jewelers, breweries and temples all come in varying rarity and size and can be placed within citadels or towns.
Docks — Simple docks accommodate a few basic ships, but docks of greater size and rarity can handle both small ships and large shipping vessels like the cog, caravel or carrack.
Ships — You can buy ship NFTs if you're willing to sail the surrounding seas with your own vessel or profit from such voyages.
Mirandus NFTs all come with a designated rarity that indicates their size, strength or abilities. A rare exemplar and uncommon deed may be best for a traveling adventurer, while a local merchant may want to own a rare deed and building but worry less about the rarity of their exemplar.
There are six levels of NFT rarity:
Uncommon (gray)
Uncommon (green)
Rare (blue)
Epic (purple)
Legendary (orange)
Ancient (black)
How to buy and sell NFTs on Mirandus
Right now, users can buy NFTs directly from Gala. Go to app.gala.games/games/mirandus so see what's for sale. To use the Gala market, you need to create a Gala account (doubles as a wallet), which requires basic setup — username, password, verifying email and setting up two-factor authentication.
The market accepts multiple currencies, including ETH.
Image source: Gala Games market
About the Mirandus developers
Gala Games is a fun-first blockchain gaming company that was founded in 2019. Gala Games has over one million users per month across their various crypto applications.
The company has a rockstar team. The current CEO and founder of Gala Games is Eric Schiermeyer. He was a cofounder of MySpace and Zynga (produced Words With Friends, Farmville and more). The lead developer of Gala Games is Michael McCarthy — an experienced game developer that worked on major titles, such as Fable 2 and the Fallout franchise.
The whole Gala Games team boasts amazing experience and expertise in the gaming space. Gala Games is also responsible for crypto applications such as Town Star, Fuzzles and The Walking Dead: Empires.
Other crypto games and NFT projects
Bottom line
Mirandus is an ambitious project, to say the least. It has potential and hype behind it, and we're anxious to see more updates and news from Gala Games. There aren't any current plans for a mobile app, and the game will be released on PC and Mac.
Mirandus reminds us of the series Sword Art Online — players owned their own shops and blacksmiths and ran guilds, while others were information brokers or fought on the front lines to clear the game. Much of the world in Sword Art Online was run by players, and in Mirandus, nearly everything in the game is built and run by players.
While users can buy NFTs for the game, there isn't anything to play just yet. While we're all waiting, check out our list of over 50 crypto games to find something you can play right now.