Finder is committed to editorial independence. While we receive compensation when you click links to partners, they do not influence our content.
How to finance a Mini
Recent grads and business owners may be able to take advantage of special programs.
As one of the most iconic British car brands, a new or preowned Mini can be an eye-catching vehicle to take for a spin. But with its base models starting at over $20,000, you'll want to explore all your financing options before hitting the dealership.
How can I finance a Mini?
Like all vehicles, you can opt for a car loan from a bank, credit union or online lender. Even if you end up opting for the Mini financing programs available below, applying for preapproval from multiple lenders will allow you to see your potential rates — making it easier to choose the loan that best suits your budget. However, this isn't the fastest option, since it takes times to compare offers.
Another option is to consider financing or leasing directly through Mini Financial Services. This is typically the fastest way to go, though you might not get the most competitive rates. Here's how it breaks down:
Mini retail financing. Mini Financial Services offers specialized financing for its vehicles at authorized dealerships. Current offers include financing a 2019 two-door Mini Hardtop for as low as 3.49% APR for 72 months with no down payment required.*
Mini leasing. Mini Financial Services also offers three lease programs: A motoring lease for heavy drivers, a traditional lease with the normal limitations and a mileage adjustment program that allows you to buy up to 100,000 miles. Mini leases last for 36 months, but the exact amount you pay and cash due at signing vary based on the model you select.
Mini Select financing. The Mini Select financing program allows you to make low monthly payments like you would on a lease, then pay off your Mini at the end of your term with a balloon payment. You can also choose to refinance the balloon payment through BMW Bank, but it does mean extending your loan term.
Mini OwnersChoice program. Like the Select financing program, OwnersChoice provides you with low monthly payments for a set term. After it's up, you can choose to sell your car back to Mini at a predetermined price, refinance your balloon payment with BMW Bank or complete the financing process by making your final balloon payment. However, this is only open to Texas and Illinois residents.
As with all types of financing, the exact terms and rates you qualify for will depend on your creditworthiness and personal financial situation.
*Rates as of May 30, 2019.
Read our review of Mini Financial Services
Compare car loans to buy a Mini
Does Mini offer special discounts or programs?
Yes, Mini has a variety of programs that offer discounts and reimbursements to customers.
What will a new Mini cost me?
Like all new cars, prices will vary based on where you live and your negotiation skills at the dealership. The basic trim of a Mini ranges from $21,900 to $36,900 — your final price will depend on the add-ons and other features you choose.
2-door Mini Hardtop
Starting MSRP: $21,900
City/highway MPG: 32/28
4-door Mini Hardtop
Starting MSRP: $22,900
City/highway MPG: 31/30
Mini Clubman
Starting MSRP: $24,900
City/highway MPG: 28/27
Mini Countryman
Starting MSRP: $26,900
City/highway MPG: 28/27
Mini Convertible
Starting MSRP: $26,900
City/highway MPG: 32/30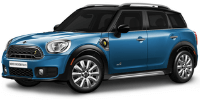 Mini Countryman Plug-In Hybrid
Starting MSRP: $36,900
City/highway MPG: 65 EPA-estimated
Car insurance costs that come with driving a Mini
Does a new Mini come with a warranty?
Yes, all Minis come with a standard four-year, 50,000-mile limited warranty that covers defects in material or workmanship. Your Mini will also have a 12-year, unlimited-mile warranty for any rust or corrosion perforation. And during the first four years, Mini includes 24-hour roadside assistance at no extra cost to you.
Mini also includes complimentary maintenance for the first three years or 36,000 miles — whichever comes first. Covered items include:
Brake fluid services
Cabin air microfilter
Engine oil services
Engine air filter
Remote control/key battery
Spark plugs
Vehicle check
However, this complimentary maintenance is non-transferable — only the first owner or lessor of the vehicle is covered.
Bottom line
Known for its sporty design and sleek interior, getting behind the wheel of a new Mini will run you more than $20,000. But you may be able to cut down on costs by taking advantage of one of its many car-buying or financing programs. Before you get started, explore your car loan options to get an idea of what rates and terms you might qualify for.
Frequently asked questions
Pictures: Getty Images and Mini official page