Members of the armed forces can rely on the government for life insurance coverage. But if you want to purchase extra protection for your family, you can also buy a policy from a private provider.
I'm a servicemember. How do I get life insurance?
Actually, life insurance found you. All military members are automatically enrolled in Servicemembers' Group Life Insurance (SGLI). But if you're hoping for more coverage — or want protection that'll stay with you after discharge — options include:
Military financial agencies. USAA and Armed Forces Life Insurance offers niche coverage that caters to your life experience.
Private insurance companies. You can shop for a policy on your own, and set up automatic payments while you're deployed.
How does USAA life insurance work?
USAA policies can cover you while you're in the military and once you return to civilian life. The insurer sells whole, universal and term life policies lasting 10, 15, 20, 25 or 30 years, and it offers a severe injury benefit, which pays $25,000 to active servicemembers who are severely injured in the line of duty. USAA can also accelerate your application if you're being deployed and need coverage as soon as possible.
If you purchase a policy within 240 days of separation, you'll be able to convert your SGLI coverage to a private USAA policy.
What is Servicemembers' Group Life Insurance (SGLI)?
The SGLI is run by the VA and costs about seven cents per $1,000 of coverage. Each service member is automatically enrolled for a benefit amount of $400,000. There's no underwriting required and the benefit amount is guaranteed. All details of SGLI policies are set in place by federal law.
After death, the cash goes into an interest-bearing Prudential Alliance Account marked with the beneficiaries name. The beneficiary can choose whether to receive the money all at once or in 36 monthly installments of equal value.
The cost of SGLI also includes $1 a month for Traumatic Injury Protection (TGI), which pays a benefit ranging from $25,000 to $100,000 in the event of a traumatic injury.
Who's eligible for SGLI?
All active service members are eligible for SGLI, in addition to:
Ready Reservists
Members of the ROTC
Cadets and midshipmen
Commissioned members of the National Oceanic and Atmospheric Administration
Commissioned members of the US Public Health Service
Members of the Coast Guard
Members of the National Guard who are scheduled for a minimum of 12 training periods per year
Does SGLI provide enough coverage?
Whether or not SGLI's maximum $400,000 coverage is enough for you depends on the anticipated needs of your beneficiaries. When assessing your life insurance needs, there are multiple factors to consider, including existing debt, monthly budget, the size of your family and end-of-life coverage.
A financial planner can help you formulate a plan, but our calculator can help you get the gist in the meantime.
Pros and cons of SGLI
Pros
Automatic enrollment. All active duty members get SGLI, unless they decide to opt out or reduce their benefits.
Additional coverage available. You can take out policies for your spouse and children or purchase traumatic injury protection for an extra fee.
Caters to military members. Many traditional policies have exclusions for aviation and war, while SGLI doesn't.
Predictable premiums. The premiums are steady and deducted from your paycheck, which makes it easier to stay on top of your payments.
Flexibility in specific situations. If you're diagnosed with a terminal illness, you might be able to access half of your benefit. And once they leave the military, disabled veterans can apply for an extension of their SGLI coverage.
Cons
Not portable. Like all group life insurance, SGLI is tied to your workplace – in this case, the military. If you leave the military, you'll need to find coverage elsewhere.
How to buy a private life insurance policy on your own
If you want to secure more coverage, you might be able to supplement SGLI with a private policy.
But since you're in a high-risk profession, you could run into roadblocks.
Travel limitations
Many private policies have a clause about dangerous travel, and won't pay out if you travel to a country listed in the policy.
Insurance companies use the State Department's guidelines when underwriting policies. The government department issues "warnings" and "alerts" for countries with:
Elevated terror threats
Serious health alerts
Unstable governments
Civil wars
If you're being deployed to a country on the State Department's list, you'll likely be denied coverage. But if you're being deployed to an insurable country, you should be able to continue with your application.
War clause
Many traditional life insurance companies have a war clause, which means they won't pay out if you die due to war-related activities. If you're intending to return to active duty, ensure your policy doesn't have a war clause attached to it.
Job duties
If your deployment orders are to an insurable country, your insurance company will then look at the type of work you'll be performing.
Your duties might affect your ability to get coverage:
If you'll be responsible for office work and other non-threatening tasks, you'll likely be able to continue with your application.
If you'll be in combat, you'll likely be declined.
If you're a member of the Special Forces, Rangers, SEALS, Marine Raiders, Marine Force Recon, Air Force ParaRescue or Delta Force, you'll likely be declined.
Get a quote in less than 10 minutes with on-the-spot approval and no medical exam.
Get up to $1 million in coverage online
10 minute process from start to finish
No medical exam needed
Does military rank affect premiums?
Yes. When calculating your premiums, insurers look at your odds of dying. High-ranking officials are less likely to see combat than lower servicemen and servicewomen, so they're typically charged lower premiums.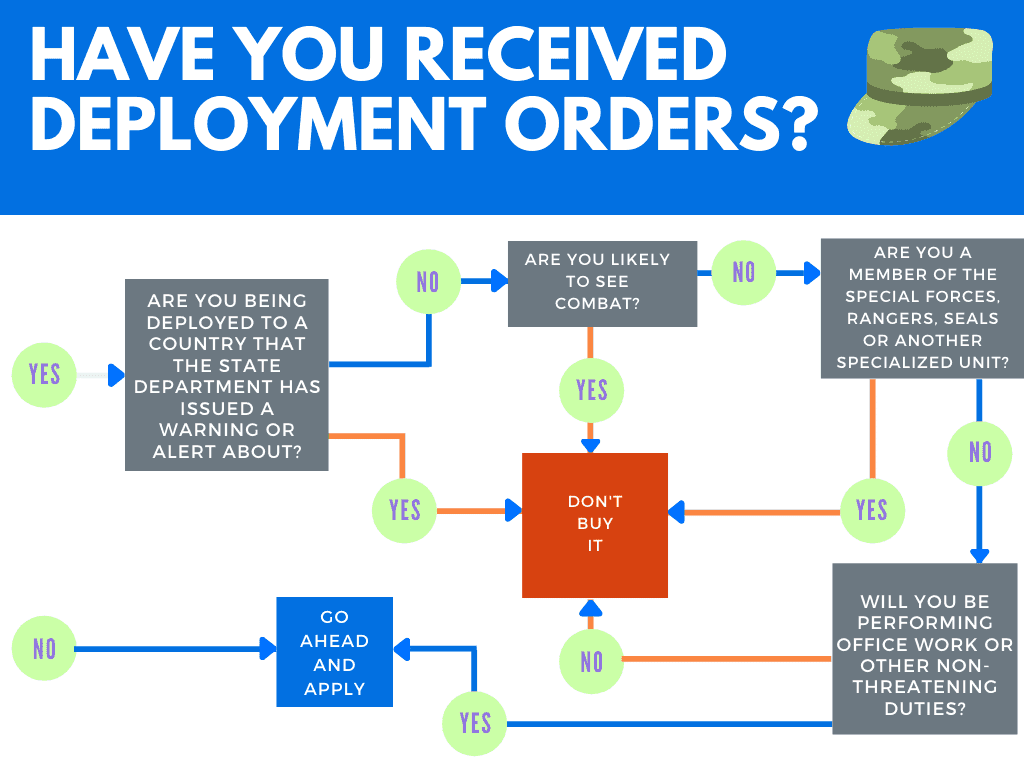 What if I'm no longer active duty?
After military discharge, you can either choose to enroll in Veterans' Group Life Insurance (VGLI) or purchase coverage through the private sector.
Keep in mind that VGLI won't ask questions about your health if you apply within 240 days after separation, and it doesn't hike rates for smokers. That's a solid perk considering many providers require lengthy questionnaires about your medical past and day-to-day life.
What is Veterans' Group Life Insurance (VGLI)?
The VA offers life insurance to former service members that lasts for life — as long as you keep up with premiums. Rates are determined primarily by age. For example, $400,000 of coverage for people age 29 and younger costs $32 monthly, while the same amount for a 50 to 54 year old costs $144.
Also note that after separation, you only have one year and 120 days to apply for VGLI. And your benefit amount can't be more than it was in your SGLI policy at your time of separation from the military.
The 5 best life insurance companies for veterans
How do I file a military life insurance claim?
To file a military life insurance claim, you'll need to fill out the correct form and contact the VA's Branch of Service Casualty Assistance Office for help submitting it. However, the documents you'll need vary depending on if the service member was on active duty at the time of death, or a member of the Reserves.
The process also differs between SGLI and VGLI claims. Visit the US Department of Veterans Affairs website for step-by-step instructions.
Compare life insurance companies for the military
Bottom line
The government has infrastructure in place to help military members and veterans lock down relatively affordable life insurance. But if you'd prefer a private individual policy, make sure to compare providers to see if another plan might be a better fit.
Frequently asked questions