Finder is committed to editorial independence. While we receive compensation when you click links to partners, they do not influence our content.
Helcim review
Whether you accept payments in-person or online, this processor has you covered.
Helcim's payment processing service comes with transparent pricing and a clear breakdown of fees. With point-of-sale (POS) solutions, payment gateways, a card reader and a virtual terminal, this provider has about all you need to start accepting payments. But its tiered rates may not be advantageous for small businesses.
Choose this provider if you're a medium to large business seeking an all-in-one processing solution.
Consider something else if you're a small or high-risk business processing less than $25,000 monthly.
Details
| | |
| --- | --- |
| Solutions | In-store, Mobile, Online |
| Products | Payment processing, POS software, POS hardware, Website builder, Inventory tracking |
| Monthly fees start at | $20/month |
| Processing fees start at | 1.92% + $0.08 per transaction |
| Contract required? | No |
| Processing time | Two business days |
| High-risk merchants accepted? | No |
Helcim services
Whether you're looking for straightforward processing or an all-in-one POS solution, Helcim can accommodate:
Payment processing. Accept payments through card terminals, virtual terminals and mobile apps.
Merchant accounts. With interchange-plus pricing and are available month-to-month with no cancellation fees.
POS solutions. All-in-one POS system accompanied by payment processing, POS hardware, a virtual terminal and a hosted e-commerce platform.
Payment gateways. Use it's payment gateway APIs to accept payments via app or website.
Features
Helcim has a comprehensive range of helpful features:
Virtual terminal. A mobile app that can turn iPads, iPhones, Android smartphones and tablets into a virtual terminal with a built-in merchant account.
Terminal exchange program. Once your POS hardware arrives, you can return your old hardware to Helcim using the same packaging.
Software integrations. Processing service seamlessly integrates with a variety of third-party software and shopping carts, including Drupal Commerce, Magento, QuickBooks and WooCommerce.
Developer APIs. Opens the door for direct website, shopping cart and billing system integration.
International processing. Accept credit card payments from almost anywhere in the world.
B2B processing. Helcim offers Level 1, 2 and 3 payment processing.
What hardware is available?
The Helcim Card Reader costs $199, and is meant to function as your POS terminal. It accepts all major credit and debit cards, and is also EMV- and NFC-enabled, which means it's capable of processing contactless payments. It works in tandem with the Helcim app, and syncs with the cloud so you can keep track of transactions 24/7, no matter where you are.
Shipping for the Helcim Card Reader is free. You can also buy a counter stand for $79.
Helcim Online Store
Helcim offers a fully hosted e-commerce platform with the following features:
Payment processing. With the help of a virtual terminal, accept and process payments through your online store or mobile device.
Online store builder. You don't need developer tools or coding skills to build a website with Helcim Online Store. You can upload your logo, set up a checkout, select from different site themes and adjust colors to customize the user experience.
Unlimited users. Add an unlimited number of users and stay safe with two-factor authentication.
Customer management. Keep track of customers by storing their billing, shipping and payment information.
Invoicing. Create custom invoices and follow up on outstanding payments.
Inventory. Manage your merchandise by adding items, categories and brands to your product line.
Helcim pricing and fees
It costs $20 monthly to use Helcim, billed monthly. You don't have to sign a long-term contract, so you can cancel whenever you need.
You'll also pay a processing fee for every transaction. Helcim's processing rates are tiered, so the higher your processing volume, the less you pay in processing fees. The most expensive rates fall to businesses processing less than $25,000 monthly, while the most competitive rates are given to businesses that process over $5 million monthly. Processing fees also vary depending on whether the payment was made in person, online or keyed-in.
Helcim calls its pricing Interchange Plus, because it breaks down exactly how much is going to the credit card company — Interchange — and how much it takes as a margin — Plus. This level of transparency is very unique for the payment processing industry, as you'll more often see a single blanket fee without a detailed breakdown.
For example, here's what the average rates would look like per transaction if your average card purchase is $250:
| | | | | | | | | |
| --- | --- | --- | --- | --- | --- | --- | --- | --- |
| | | | | | | | | |
| | Transactions where the physical card is not present | | | | | | | |
| | Transactions that occur outside of the US | | | | | | | |
To see specific rates by card type or average transaction amount, visit Helcim's website by clicking the Go to Site button at the top of the page.
Additional fees
Helcim charges a $15 chargeback fee, though you'll get a refund if the chargeback is ruled in your favor. It also charges a currency conversion fee at 1% above the daily market rate — but this only applies if you use its multicurrency-processing service, and not for regular international transactions.
Pros and cons
Pros
Transparent pricing. Helcim doesn't hide what it charges merchants — you'll find a comprehensive list of processing rates and fees on its website.
24/7 support. Tech support is available by phone 24 hours a day.
No cancellation fees. Processing services are available monthly so you can cancel at any time without fee or penalty.
Cons
No live chat feature. With no live chat feature on its website, Helcim's tech support is limited to email and phone inquiries.
Expensive for small businesses. Processing rates are tiered, which means the less you process, the more you pay.
Helcim reviews and complaints
Helcim is an accredited business with the Better Business Bureau (BBB), from which it receives an A+ rating, though no customer reviews or complaints have been filed.
As of June, Helcim's Facebook feedback offers more to explore, with the service scoring a 5 out of 5 based on feedback from 22 customers.
Customers praise intuitive point-of-sale solutions and speedy responses from customer service but a few reviews mention transaction holds and fees for high-risk merchants.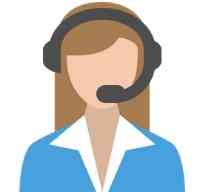 What I thought of Helcim's customer service
I called Helcim to find out if it charges cancellation fees. Its phone number was easy to locate: splashed front and center right across its home page. The rep I spoke to was prompt and professional and didn't require that I identify myself or my business before answering my question. Here are the main takeaways:
Did I get an answer? Yes, the rep said Helcim doesn't charge cancellation fees.
How long did it take? The call lasted 1 minute and 11 seconds.
Was there an automated system? Yes — press 2 for customer service. From here, you're given the option to press 1 to leave a message or wait on the line for a rep.
What other products will I need?
Helcim's all-in-one Omni service tier offers just about everything you need to start accepting payments — with the exception of an important account:
Checking account. You'll need to connect your Helcim account to an externally linked business checking account before you can process payments.
What is Helcim?
Helcim is a Canadian processing service founded in 2006 and headquartered in Calgary, Alberta. Its US office is located in Seattle, Washington.
Today, over 6,000 merchants use Helcim's processing service with over $2.5 billion in annual processing to its name.
How do I contact Helcim support?
Touch base with Helcim customer support by:
Phone. Call 877-643-5246 to be connected with a customer service rep 24 hours a day.
Email. Send email inquiries to help@helcim.com for a reply from the support team within one to two business days.
Compare other payment processors
Bottom line
Alberta-based Helcim has much to offer brick-and-mortar and online merchants alike. With its comprehensive suite of processing services available month-to-month along with transparent rates and fees, there's plenty to celebrate. But smaller businesses will have to deal with higher processing rates and high-risk merchants may not be accepted.
Review your payment processing options with additional providers to make sure you receive the optimal service for your business.
Frequently asked questions
Does Helcim check my credit when I apply?
It might. Helcim performs a hard credit check on all new applicants unless you provide business financial statements.
What types of cards can I accept?
Helcim allows you to accept Visa, Mastercard, Discover, China UnionPay, American Express OptBlue, JCB and Visa Debit cards.
Does my business qualify for Helcim's service?
The following business types are ineligible for payment processing with Helcim:
Collection agencies
Consumer bankruptcy lawyers
Debt resolution agencies
Identity theft/card theft protection services
Payment aggregators
Money transfer services
Bitcoin dealers
Shell banks
Investment services
Payday lenders
For-profit adoption agencies
Tarot reading/fortune-telling services
Game console circumvention devices
Remote technical support
Adult entertainment
Internet gambling
Telemarketing
Multilevel marketing
Counterfeit goods
Discount travel clubs
Penny auctions
Online pharmacies without VIPPS or CIPA certification
Online or telephone order tobacco and nicotine sales
Telemedicine services
Banned supplements by Health Canada or the United States Food and Drug Administration
Online and telephone firearm, assault weapon and military-grade weapon sales
Any illegal activity