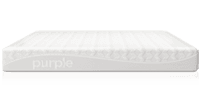 The Original Purple Mattress by Purple Mattress
If an egg can sleep soundly on this mattress, so can you.
Finance with Affirm

10 year warranty
100 night trial
Free shipping
Purple's claim to fame is that an egg remains in one piece on this mattress, no matter how hard you try to crush it. Imagine your shoulders, hips and knees are that egg. You want them to be just as cradled as that egg while snoozing away on your side.