Finder is committed to editorial independence. While we receive compensation when you click links to partners, they do not influence our opinions or reviews. Learn how we make money.
Mastercard Send review
Get the convenience of quick payments, tax refunds and more.
Mastercard Send is the global payment network's entry into real-time personal payments, supporting transactions that hit your wallet almost instantly. It's partnered with banks, businesses and digital wallets to deliver money to bank accounts, prepaid debit cards, mobile wallets and select cashout locations.
What is Mastercard Send?
It's a global platform like Visa Direct that allows banks and businesses to "push" money to a recipient with only their debit card number.
Because it doesn't rely on a bank's ACH system, you don't need to provide your bank's routing or account number to get your money.
Direct payments mean fast, secure delivery for:
Consumer disbursements

Governments, businesses and nonprofits can pay consumers directly.

Domestic P2P payments.

People and businesses can pay clients and customers within the US.

Cross-border P2P payments.

People and businesses can pay clients and customers internationally.
How does Mastercard Send work?
Rather than a P2P platform like Square Cash or Venmo, Mastercard Send supports cross-border payments from people and places. If your payor uses it, you could see near-real-time reimbursements for, say, side-gig invoices, insurance claims or even lottery winnings.
Mastercard Send gets funds into your hands faster in three steps:
Sender initiates payment.

Mastercard Send works with people, businesses — even the government.

Your payment is processed.

Mastercard Send relies on a global network of financial institutions and companies using Mastercard's cross-border API.

You receive your money.

Depending on the transaction, you may have the option to get your money as a bank deposit, credit on a Mastercard or other branded card, mobile wallet payout or cash pickup at a storefront.
How much will I pay to send money with Mastercard Send?
Mastercard Send is a payments management service, rather than a provider like Western Union or MoneyGram. Any fees you pay are charged by the organization, business or government you transact with.
Our research shows that Google Pay, for example, doesn't charge merchants for accepting it as a payment option. Similarly, Allstate doesn't charge you when it deposits a claim payment to your account or debit card using Mastercard Send.
International companies, however, may charge a fee for the convenience of instant cross-border payments.
Does Mastercard Send support international payments?
Yes. Mastercard Send works with banks, businesses and digital wallets in more than 80 countries, supporting a wide range of currencies.
Mastercard says its exchange rates are competitive. But the rate you get ultimately depends on the service you're using that relies on Mastercard Send for international payments.
What companies use Mastercard Send?
Mastercard Send is surprisingly coy about who uses its services, listing only Google Pay and Allstate Insurance by name on its site.
Internal documents reveal that Uber and Lyft are using Mastercard Send's API to pay drivers. And Florida Capital Bank has partnered with the service for debit card disbursements.
Benefits and drawbacks
Benefits
Allows for real-time transactions delivered in seconds.
Backed by the security and reliability of Mastercard.
Flexible delivery options that vary by payor.
Drawbacks
US disbursements and P2P payments limited to debit card accounts.
If there's a hiccup, you don't contact Mastercard directly.
No one place to find fees, rates and other transaction details.
Need something different? Compare online money transfer services
How do I send money through Mastercard Send?
Your business can use Mastercard Send to pay contractors, reimburse clients and donate to worthwhile causes nearly instantaneously.
To sign up, visit Mastercard Send's website and complete an information request form.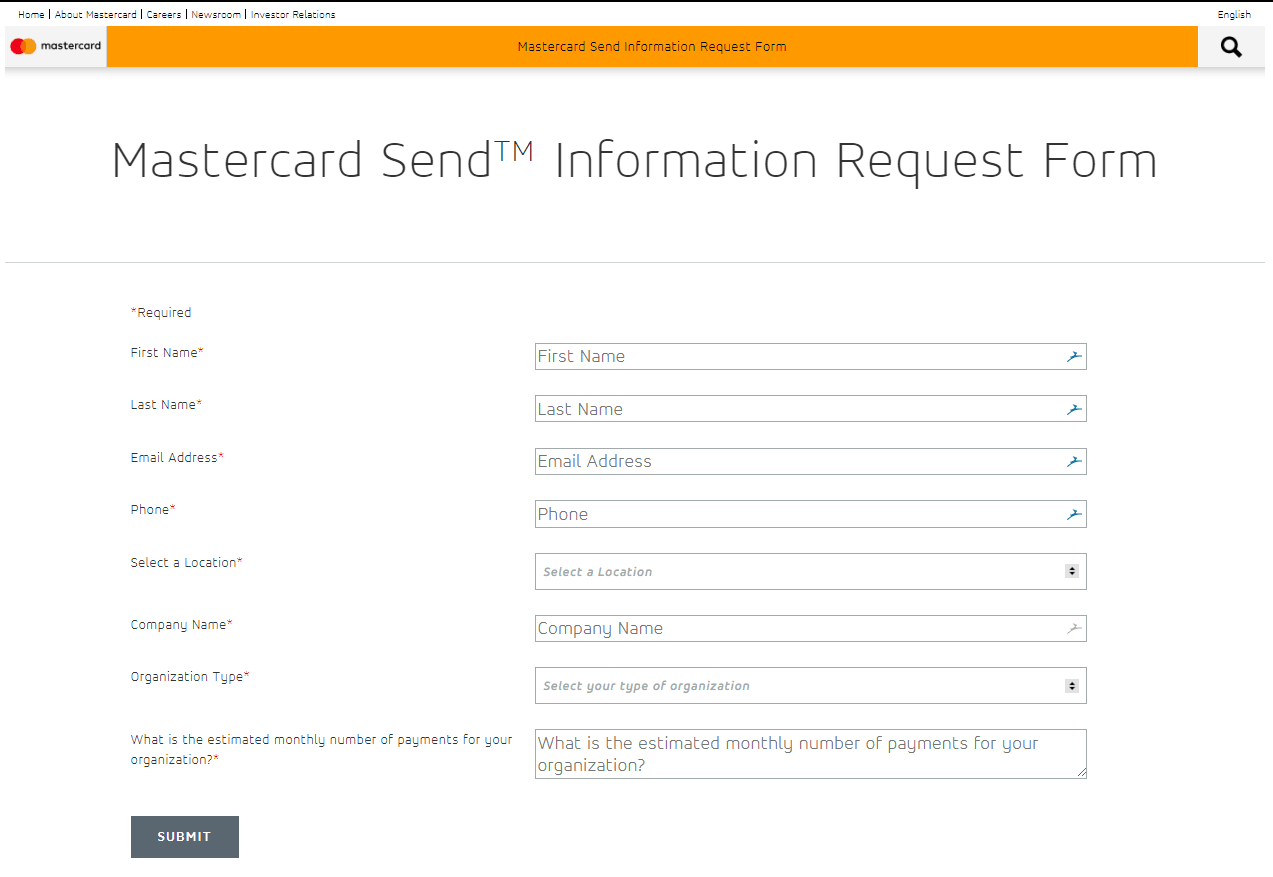 Bottom line
Mastercard Send is a fast, safe way for businesses and organizations to streamline payments to customers and clients worldwide.
But it's not yet a solution for P2P payments. If you're looking to get money to friends, loved ones or businesses, compare money specialists like Transferwise for ultra-competitive exchange rates or CurrencyTransfer to send funds fee-free.
Frequently asked questions
More guides on finder