Finder is committed to editorial independence. While we receive compensation when you click links to partners, they do not influence our content.
Martha & Marley Spoon promo codes
Best deal: Up to 30% off sale items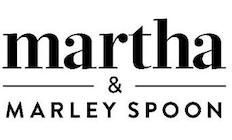 This subscription service allows you to choose from ten Martha Stewart recipes weekly, and have portioned ingredients delivered fresh to your door, along with step-by-step recipe cards. So you can enjoy delicious home-cooked meals without the hassle.
How do I use my coupon code?
What is Martha & Marley Spoon?
In 2015, Jennifer Aaronson left her position as food editor for Martha Stewart Living to become culinary director for meal-kit service Marley Spoon. In 2016, Martha Stewart partnered with Marley Spoon to incorporate its easy-to-follow recipe format and high-quality ingredients with her massive archive of celebrated recipes and kitchen know-how.
Together, Martha and Marley Spoon make it easy to save time and effort in the kitchen with fresh foods and delicious recipes delivered right to your door. Fine ingredients include grass-fed beef, Berkshire pork, artisanal cheeses and more from local businesses, all portioned and paired with carefully tested seasonal recipes. It boasts cooking joy for on-the-go families, busy professionals and even kitchen newbies.
What can I buy from Martha & Marley Spoon?
Martha & Marley Spoon is a meal-kit delivery service. Choose any of the 10 seasonal recipes featured on the weekly menu, and indicate whether you're feeding two, three or four people. After choosing how many meals you'd like to receive, you''ll get fresh ingredients with an easy-to-follow recipe card for each meal delivered to your address in chilled, insulated boxes.
As a "flexible" subscription service, you decide which weeks you'd like meal kits delivered, and you pay only for what you receive. You pause weeks for vacations or a break or plan up to two months in advance.
Food is portioned, so there's no food waste (or measuring — yay!), and ingredients are sorted by recipe so that you can grab and go. Recipe cards contain six simple steps with colorful photos that help eliminate the need for guesswork.
Payment options
Pay for your delicious subscription with your Visa, Mastercard, or American Express. If you'd rather not enter your credit card details, use your PayPal account instead.
Can I get free delivery?
Yes! Shipping is included in your subscription price.
Shipping details
Martha & Marley Spoon delivers to most of the contiguous United States for free. Delivery days and times depend on your location and are available after entering your ZIP code and email address during signup.
Your ingredients arrive in a chilled, insulated box to maintain freshness. During the checkout process, be sure to leave any additional delivery instructions — for example, "Leave with next-door neighbor" — if you won't be home for delivery.
What's Martha & Marley Spoon's refund policy?
At its discretion, Martha & Marley Spoon offers full or partial refunds or credit toward future deliveries for issues that include missing ingredients, damaged boxes or missed deliveries altogether.
For a refund or credit, contact customer service within seven days of receiving your delivery or your expected delivery date, if your box did not arrive.
When's the next sale?
Martha & Marley Spoon offers periodic discounts, like three free meals to new subscribers.
Sign up for its newsletter
for future opportunities to save, as well as a wealth of handy food tips and tricks.
What sets this brand apart?
Martha Stewart is a household name that's set a high standard for all things domestic — especially when it comes to the kitchen. The ability to easily replicate some of Martha's wholesome recipes can add variety to your meal repertoire, impress your guests (visiting in-laws, anyone?) and eliminate some of the hassle that comes with preparing holiday dinners — because you can even order a complete Thanksgiving spread!
Martha & Marley Spoon also supports local food markets and suppliers, and claims to reduce your carbon footprint through recyclable packaging. If that isn't enough, you can also order individual meals from Martha & Marley Spoon through Amazon — an option you won't find through its major competitors.
What do people really say about Martha & Marley Spoon?
Despite an assumption that you'll have basic pantry staples and equipment on hand, Martha & Marley Spoon's detailed recipes and instructions make it easy for even the most inexperienced cooks to whip up delicious meals.
Customer reviews are overwhelmingly positive, but chief complaints among dissatisfied customers center on the quality of ingredients, ranging from bruised fruit and dried-out or rotten veggies to molded-over sauces. It doesn't appear that unfresh food is the norm, but you can always reach out to customer support if your ingredients aren't up to snuff.
How can I contact customer support?
Reach support by emailing contact@marleyspoon.com, calling 866-228-4513 or chatting with a rep through the site from 9 a.m. to 9 p.m. ET. Or send a message through one of Martha & Marley Spoon's many social media channels.
What about social media?
In addition to a blog, you'll find Martha & Marley Spoon on Facebook, Twitter, Instagram and Pinterest.
True to Martha form, its neatly organized Pinterest boards can help you quickly scope out dishes, special ingredients and presentation ideas.
A word to the wise: Martha & Marley Spoon's Instagram feed requires a bib to protect your device or keyboard from excessive drool — because yum!
Pros and cons
Pros
Specialty meal options.You don't need to be a carnivorous carboholic to eat great. The service includes recipes for vegetarian and gluten-free diet too!
Easy-peasy lemon squeezy.Portioned ingredients and simple, illustrated recipe cards eliminate the guesswork for planning and prepping tasty meals.
Flexible subscription.If you're going out of town for a week, pause your delivery. Or update your meal size if family is coming in to visit. If you decide not to continue your service, cancel your subscription at any time.
Cons
Likely not the cheapest.Martha & Marley Spoon says its service costs less than buying groceries at the supermarket — but we're not so sure. You might save on groceries if you typically shop at Whole Foods (especially if you have those groceries delivered), but this meal-kit service will likely cost more than your discount supermarket sweep.
Not portioned for large families.The largest order is four portions — likely not big enough for larger families or parties.
Dinner only.Martha & Marley Spoon doesn't currently offer breakfasts, lunches or desserts, though the website does suggest that may one day change. That alone is an excellent reason for signing up for the newsletter!
Bottom line
If you hunger for Martha Stewart–approved gourmet dishes that you can make yourself without driving to the store or measuring out ingredients, Martha & Marley Spoon's meal-kit service might be for you or your family.
With the hard work out of the way, you can focus on your inner kitchen whiz to enjoy wholesome, delicious and even Instagram-worthy meals.
Frequently asked questions
More guides on Finder