Main Street small business lending is booming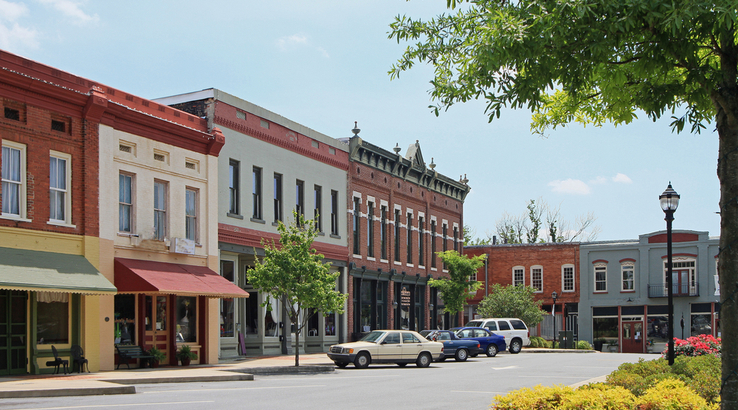 Record growth is expected to continue in places like Georgia, paving the way for a favorable small business lending environment.
Main Street businesses are booming. If you've ever considered starting or expanding a business, there may be no better time than the present. Small business lending is at a record high in Georgia, for example; only two states surpassed it in terms of small business loans: California and New York.
The Georgia Small Business Administration (SBA) says that $650 million in loan disbursements were issued to small businesses during the last two quarters alone.
The administration recently released a report showing that of the $30 billion in small business loans across the US in 2017, $1.41 billion occurred in Georgia, marking the third year that SBA lending topped $1 billion there. Overall, 1,876 loans were guaranteed by the Georgia SBA.
The director of the SBA's Georgia District Office, Terri Denison, says the administration is encouraged to see another year of record growth.
"It means small businesses are getting the capital they need to grow, creating jobs and strengthening the economy."
Nearly 1 million small businesses are part of Georgia's entrepreneurial landscape. These smaller enterprises account for nearly 1.5 million of the workforce there.
Some industries are growing at a faster pace than others. The healthcare sector, as well as hospitality, retail, agriculture, professional and manufacturing, commanded 75% of small business lending in 2017.
Small businesses in Georgia also account for nearly a third of the state's exports, points out the International Trade Association.
Small business lending seems to be evolving, offering a more favorable environment for borrowers, but there are still challenges.
Drew Tonsmeire of the UGA Small Business Development Center notes that the lending environment is much improved from a decade ago.
He points out that the availability of multiple funding sources may be helping. He says access to SBA loans and online lending sources means aspiring business owners no longer have to rely solely on banks for commercial loans.
However, smaller businesses are more at a disadvantage when it comes to accessing credit, a 2017 Federal Reserve Bank report showed. It's a problem larger enterprises don't encounter as much.
Meanwhile, women still have trouble accessing loans for businesses, even though female-owned small business enterprises contribute in a huge way to the US economy.
Approximately 10 million small businesses in the US are owned primarily by women and add $1.4 trillion to the economy. Female-owned enterprises also employ a huge part of the workforce – 8.4 million, in fact.
However, women face lower approval rates for small business loans than do their male counterparts. In the US, only 27% of women who apply for small business loans are successful.
Unfavorable credit issues and lack of rapport with financial institutions account for some loan application rejections, according to Tonsmeire. He recommends that aspiring business owners and those already looking to expand reach out to lenders prior to attempting to secure financing.
Dean Bird, a small business bank manager at Bank of America in Atlanta says that capital is a key ingredient of turning a business idea into action. It enables businesses to pursue new projects and expand their business while hiring new people and growing the workforce.
A recent report by Bank of America shows that business owners and aspiring entrepreneurs should feel optimistic about small business operations in Georgia.
The report forecasts that Georgia is headed for its biggest growth yet as 81% of small businesses plan to expand in the next five years. In addition, 36% of small business owners intend to hire additional employees in the next year. Bird credits the recent tax reform and new technologies for the optimism.
Picture: Shutterstock