Finder is committed to editorial independence. While we receive compensation when you click links to partners, they do not influence our content.
Top 10+ made-in-USA toy brands
Get whimsical playthings for the kiddos — produced on American soil.
Gear up for imaginative play with toys made right here in the USA. You might be surprised that many of these toys don't cost much more than ones shipped from overseas.
Not every product available on these websites is necessarily made in the USA. Some brands may only offer a small selection of American-made products. Check the product description before buying to be sure.
Our top picks
List of 10+ American-made toy brands
The brands on this list offer toys made in the US, though some offer a larger selection than others. Check the product page of the item you're considering to be sure it's made in the US.
Brand
Made in
Products available
What to know
Where to buy?
American Plastic Toys
Michigan and Mississippi
Playsets, dolls, cars, wagons, sand toys
All toys made in the USA, primarily with domestic materials
Amazon
Beka
Minnesota
Wood toys, easels, play tables, looms
All toys handmade in the USA
Amazon
Channel Craft
USA
Games and puzzles
All toys made in the USA, primarily with domestic materials
Amazon
Crayola
Pennsylvania
Crayons and markers
All products made in USA
Crayola
Dirt King USA
USA
Tricycles and bikes
All products made in USA
Green Toys
USA
Recycled plastic toys
Made from recycled milk jugs
Amazon
Little Colorado
Denver, Colorado
Play kitchens and furniture
All toys made in the USA
Amazon
Little Tikes
USA
Playsets, cars, furniture
Select toys are made in the USA
Amazon
Maple Landmark
USA
Toy trains, wooden letters
All toys made in the USA
Amazon
Melissa and Doug
USA and other countries
Wooden toys
Only select products are made in USA. Check the product page for the country of origin.
Amazon
Our Green House
USA
Eco-friendly baby toys
Select products made in USA
Amazon
Slinky
USA
Slinkies
All products made in USA
Amazon
Step 2
Ohio
Plastic playsets, kitchens, toys
Select products made in the USA
Amazon
Uncle Goose
Michigan
Wooden toys
All products made in USA
Amazon
Does your company belong in this list?
Top 6 toy brands made in the USA
Green Toys
This California-based company uses 100% recycled materials to make uber-safe toys.
Green Toys sources recycled milk jugs, prints its packaging with biodegradable soy ink and manufactures its goods right here in the USA. Plus, its toys are budget-friendly.
Beka
Selling toys made in Minnesota since 1973, crafted in a family-owned workshop.
Beka's hard-maple and cherry-wood products are infused with a sense of whimsy. You'll find easels, play structures, art tables, block sets and more to spark the imaginations of kiddos and adults alike.
American Plastic Toys
You can't help but smile while browsing its bright and colorful playthings, from snow goods to sand toys, doll houses and more.
Since 1962, it's been making toys in the US. Today, less than 4% of its raw materials are imported — the vast majority are sourced within the states.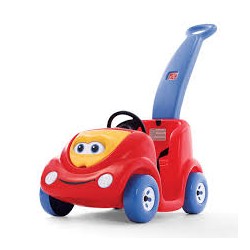 Step 2
It's got four manufacturing plants in Ohio, and employs over 800 toy-makers right here on American soil.
Step2's toys are totally delightful, with playhouses, wagons, swing sets, tunnel towers, water play tables and more. You can even apply to be a "toy tester" for a first look at its newest products.
Our Green House
Wooden block toys made from eco-friendly, sustainably-harvested wood.
Founded by a family that wanted toys for tots without the toxins, Our Green House sources its materials locally to produce heirloom toys that are meant to last for generations.
Slinky
This classic bouncing metal toy has been made in the USA for over 70 years.
You can buy a slinky in every shade of the rainbow online — while supporting an American business.
Where can I shop for American-made toys?
You can find American-made toys at local and large-scale retailers alike, including:
How do I know if a toy was made in the USA?
Check the product description to see where a toy was made.
Keep in mind that some toys may only have some components that were made in the USA. For example, the wood in a Lincoln Logs is sourced and manufactured in the US, but most of the plastic parts are imported.
If you can't find this information on the brand's website, contact the company directly to inquire about a specific item.
Popular brands that are NOT made in the USA
You may be surprised to learn that toys from these brands are actually produced overseas.
Lego. No doubt an American favorite, Lego bricks are actually manufactured in Denmark, Hungary, Mexico, China and the Czech Republic.
Build-A-Bear. Its stores are a mainstay in many suburban malls, but Build-A-Bear's products are mostly produced in Asia.
Fisher-Price. It's a brand name recognized in most kid-friendly households, though Fisher-Price imports most of its products.
Barbie. Mattel's dolls are made in China, Indonesia and Malaysia.
Shop more made-in-America products
More guides on Finder