Finder is committed to editorial independence. While we receive compensation when you click links to partners, they do not influence our content.
Top 30+ American-made jeans
Style and sustainability never fit so good.
The majority of clothing companies manufacture overseas for a number of reasons — including lower production costs, access to more manpower and resources and larger infrastructure. But more and more denim brands are moving their supply chains stateside.
Check out these brands if buying American-made denim is important to you — whether it's to bolster the US economy, ensure high-quality goods or foster sustainable manufacturing processes.
Not every product available on these websites is necessarily made in the USA. Some brands may only offer a small selection of American-made products. Check the product description before buying to be sure.
Our top picks
List of 30 American-made jeans
The brands on this list offer at least one made-in-USA collection, and we've highlighted this where applicable. Some offer a larger selection of American-made goods than others, so it's a good idea to check to the product page if the item you're considering to be sure it is made in America.
Brand
Made in
Who's it for?
What to know
Where to buy?
All American Clothing Co.
Georgia, Illinois, Kansas, Kentucky, Texas, Wisconsin
Men and women
Many products are union-made; free 60-day returns and exchanges
AYR Jeans
Los Angeles
Women
Casual clothing and jeans designed in NYC and manufactured in LA using imported materials
Blue Delta Jeans
USA
Men and women
Custom made using your measurements; pricing starts at $500.
Bluer Denim
Los Angeles
Men and women
Recycle your old jeans and receive a $10 credit.
Bullet Blues
Los Angeles
Men and women
Free shipping on all orders
Brave Star Selvage
Los Angeles
Men
Selvedge jeans offered for under $100; select styles made in the USA
Brooklyn Denim Co.
Brooklyn
Men and women
First Standard Co. line is made in America.
Buck Mason
California
Men
Select styles made in the USA
Carhartt
Michigan
Men and women
Only a small selection of pants are made in the USA. Look for the made in USA seal.
Crawford Denim
Manhattan Beach, California
Men and women
Includes a vintage collection
Dearborn Denim
Chicago
Men and women
Stretch denim sourced from Mexico; all items crafted in the USA
Detroit Denim Co.
Detroit
Men and women
Virtual tour of workshop available online
Diamond Gusset Jean Co.
USA
Men and women
Defender collection is built for motorcycle riding.
FRAME
Los Angeles
Men and women
Save 15% when you sign up for the brand's email list.
Gustin
USA
Men
Uses crowdsourcing to cut down on waste
Imogene + Willie
USA
Men and women
Handmade; free 30-day returns and exchanges
James Jeans
Los Angeles
Women
Includes a maternity line
J Brand
Los Angeles
Men and women
Variety of styles, fits and fabrics
Karen Kane
Los Angeles
Women
Plus sizes available
LC King Manufacturing Co.
USA
Men
100+ year-old brand
Left Field NYC
USA
Men
Customized hemming available
Raleigh Denim Shop
North Carolina and Los Angeles
Men and women
All jeans are hand sewn.
Rag & Bone
Los Angeles
Men and women
Select styles made in the USA
Robin's Jean
Los Angeles
Men, women and kids
Save 10% with email signup.
Round House Jeans
Oklahoma
Men
Tour of factory available online; low prices
Schaefer Outfitter
El Paso, Texas
Men and women
Wearable and non-wearable ranch gear available.
Siwy Jeans
Los Angeles
Women
Large selection of fashion-forward styles.
Texas Jeans USA
Texas
Men
All jeans 100% made in the USA
Todd Shelton
New Jersey
Men
Fabric sourced from Japan
Williamsburg Garment Company
USA
Men and women
Select products made in the USA; made-to-order jeans available
Wrangler
USA
Men
Only a select collection is made in the USA.
Does your company belong in this list?
Top 5 jean brands made in the USA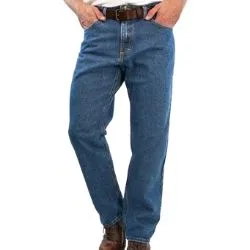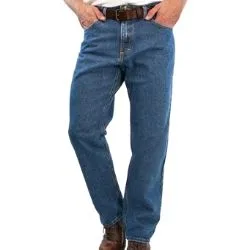 All American Clothing Co.
Fill your closet with American-made jeans, shirts and shoes.
Popularity for this clothing brand has skyrocketed in recent years, offering entire collections of men's and women's clothing — all made in the USA. All American Clothing Co. offers a large selection of jeans — some styles starting as low as $15. Designer styles can cost upwards of $140, but are made with high-quality materials and built to last.
In fact, All American offers a satisfaction guarantee on all of its products, as well as free returns and free shipping over $99.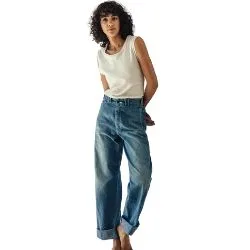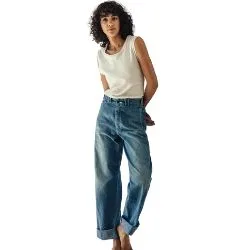 Imogene + Willie
Handmade denim with a charming story.
This brand's name is inspired from the cofounder's maternal grandparents — honoring an American tradition of hard work, integrity and community building. The jeans are patterned, cut and sewn in the USA, and come in a surprisingly broad range of styles for women and men.
Expect to pay more than you might find at a department store, considering the time that goes into making each pair.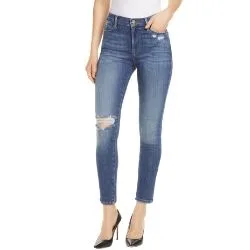 FRAME
High-fashion looks from London, made this side of the pond.
Frame will elevate your off-duty look with its casual, yet chic denim — and it's all made in Los Angeles. The brand is known for its American craftsmanship and European aesthetic. Shop high-quality jeans and clothing for women and men here.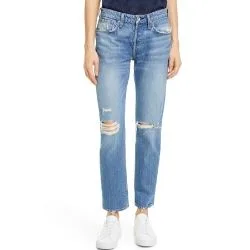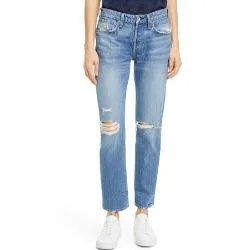 Rag & Bone
Minimalist picks from skinny jeans to on-trend wide-leg.
The urban-chic brand known for its clean, simple designs manufactures select 5-pocket styles in the US. Shipping and returns are free, or buy from a department store like Bloomingdale's or Nordstrom. Although Rag & Bone also sells other clothing and footwear, only its jeans are made in America.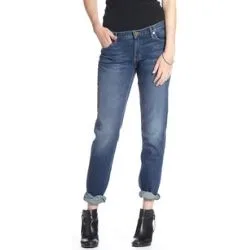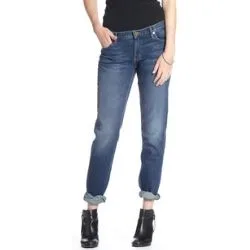 Crawford Denim
True blues handmade in California.
Shop denim created in small batches for men and women here. If you're looking to stand out in a sea of blue-jeans, you can also find a one-of-a-kind vintage pairs rebuilt by the Crawford Denim team. Its pieces include classic fits and rises, plus on-trend styles — and other clothing like vintage button-downs and dresses.
Major retailers that stock American-made denim
These well-known department stores typically stock several jean brands that are made in the USA.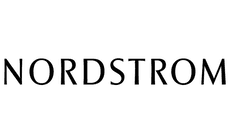 Nordstrom: Find designer brands like Rag & Bone, FRAME and J Brand.
These high-fashion brands offer a selection of jeans that are made in the USA — and you'll get everyday Nordstrom perks like free shipping and returns on your purchase.
How do I know if jeans are made in the USA?
Check the product description of the pair of jeans you're interested in. Most brands will list "Made in USA" or include a "Made in USA" logo on each product. If you can't find this information on the brand's website, contact the company directly to inquire about a specific item.
Popular brands that are NOT made in the USA
You may be surprised to learn that jeans from these brands are actually produced overseas:
Levi's. Although Levi's uses cone denim from a supplier based in Greensboro, North Carolina, most of its jeans are produced overseas. Cone Denim notes on its website that it manufactures in China and Mexico. Our editor checked a pair of Levi's made with white cone denim, and the tag on the jean notes it's made in China. Another pair was made in Pakistan without cone denim. Though a Levi's live chat agent on May 29 claimed all inventory is made in the US, this is simply untrue.
Good American. Despite its name, not all Good American jeans are made in the USA. Khloe Kardashian's size-inclusive denim brand used to manufacture in Los Angeles, but the majority of its jeans are now imported. You'll still find some styles made in LA with imported materials.
Duluth. Most items currently available from Duluth are imported. However, the company has expressed interest in bringing more of its manufacturing back to America in the future. It also offers other merchandise like packs, belts, socks and boots that are made in the USA.
True Religion. Although many of its jeans used to be made in the US, most styles available online are imported.
Shop more made-in-America products
More guides on Finder