Finder is committed to editorial independence. While we receive compensation when you click links to partners, they do not influence our content.
Made in USA cookware
Pots, pans and other foodie faves — made in the States.
Support a tradition of American manufacturing by investing in made-in-USA cookware that lasts for life. Your food will taste better too, whipped up with love in premium copper, iron and steel.
Not every product available on these websites is necessarily made in the USA. Some brands may only offer a small selection of American-made products. Check the product description before buying to be sure.
Our top picks
List of 20+ American-made cookware brands
The brands on this list offer made-in-the-US cookware, and we've highlighted which products where applicable. Some offer a larger selection of American-made cookware than others. Check the product page of the item you're considering to be sure it's made in the US.
| Brand | Made in | Products available | What to know | Where to buy? |
| --- | --- | --- | --- | --- |
| All-Clad | Canonsburg, Pennsylvania | Pots and pans | American-made steel; some products, like nonstick pans and appliances, are made in China. | Amazon |
| American Kitchen | USA | Pots and pans | Stainless steel, nonstick and cast aluminum cookware | Amazon |
| Belkraft International | Pennsylvania | Pots and pans | Surgical stainless steel used; made in the US and Canada | Amazon |
| Best Whips USA | Portland, Oregon | Whisks and mashers | Family-owned business | Amazon |
| Brooklyn Cooper Cookware | Wisconsin | Pots, pans and cookware | Tri-ply stainless steel line; upcycled materials | Amazon |
| Calphalon | Tennessee | Cooking utensils | Select stainless-steel products are made in the USA. | Calphalon |
| Corelle | Brooklyn | Pans, casseroles and covers | Eco-friendly line made from renewable resources | Brooklyn Cooper Cookware |
| Duparquet Copper Cookware | Ohio | Pots, pans and cookware | Products are handmade in the US | Amazon |
| Field Company | Rhode Island | Cookware | Products are handmade in the US | Duparquet Copper Cookware |
| Fiestaware | USA | Iron pans | Vintage irons | Field Company |
| Heritage Steel | Tennessee | Pans and pots | 7 layers of metal | Amazon |
| Lodge | Tennessee | Iron cookware | Cast Iron | Amazon |
| Made in | USA | Cookwear | 5 layers of aluminum and steel | Made in |
| Nest Homeware | Rhode Island. | Pots | Manufacturer's limited lifetime warranty | Amazon |
| Nordic Ware | USA | Bakeware | Since 1946 | Amazon |
| Pyrex | Pennsylvania | Glassware, food storage, measuring cups | Part of Corelle brands; durable Pyrex glass is oven-safe | Amazon |
| Smithey Ironworks | Charleston, South Carolina | Iron cookware | You can return any item before 45 days | Smithey Ironworks |
| USA Pans | Pittsburgh, Pennsylvania | Bakeware, stoneware, cookware | Fourth-generation family-owned business; professional-quality products | Amazon |
| Viking Cookware | USA | Nonstick and stainless steel pots and pans | 3-ply and 5-ply cookware is US made | Amazon |
Top 6 cookware brands made in the USA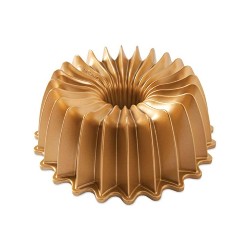 Nordic Ware
It employs over 300 people from the local community at its factory in Minneapolis.
Nordic Ware has been producing durable cookware infused with a sense of Scandinavian style in the USA since 1946. It partners with metal and raw material suppliers across the nation.
USA Pan
Owned by a fourth-generation family, USA Pan is based in Pittsburgh./p>
Bakers, listen up: After working with commercial bakeries for decades, USA Pan decided to offer its goods to home chefs. This durable cookware can be passed down from one generation to the next.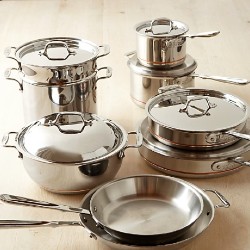 All-Clad
Outfit your kitchen with chef's pans, fry pans, roasters, saucepans and more — most have been made in the USA since 1971.
All-Clad uses American-made steel to produce cookware in Canonsburg, PA for home cooks and professional chefs alike. The stainless steel is naturally resistant to sticky residue and fingertips.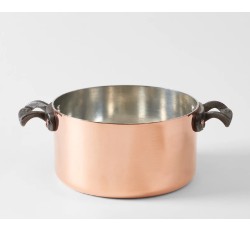 Brooklyn Copper Cookware
These hand-drafted designs were developed according to Julia Child's advice.
BCC experimented for years before coming up with the perfect blend of copper for its pans. It crafts each product by hand with minimal waste, and all byproducts are 100% recyclable.
Field Company
Tired of wielding heavy cast iron skillets? Field Company focuses on creating traditional styles with a lighter weight.
Two brothers started this company, borne out of a love for the vintage pans they inherited from a grandmother. They used microscopic imaging and a European materials expert to develop their own design, poured by hand in the USA.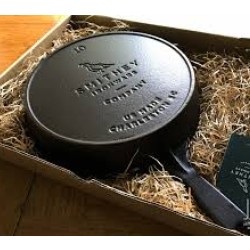 Smithey Ironware
Naturally nonstick iron cookware made in Charleston — complete with a lifetime guarantee.
The Smithey founder had an obsession with restoring antique ironware before deciding to make his own. These cast-iron skillets and Dutch ovens are crafted by a team of designers, blacksmiths and quality engineers in South Carolina.
Where can I shop for American-made cookware?
Many local kitchen stores and boutiques sell American-made cookware and may be the best places to shop smaller brands like Nest Homeware and Smithey Ironworks. If there's a brand you've got your eye on, check its website to see if there's a store locator where you can find a vendor nearby.
You can also find American-made cookware at large retailers around the US, including:
Which brands offer nonstick cookware made in the USA?
We've verified that the following American-made brands offer PFOA-free nonstick cookware:
All-Clad
American Kitchen
Belkraft cookware
Calphalon
Field Company
Nordic Ware
Smithey Ironworks
USA Pans
Viking Cookware
Keep in mind that cast iron and carbon steel is naturally nonstick after it's been seasoned — one of the benefits of investing in premium quality cookware, rather than relying on cheap metal that's been coated with chemicals.
How do I know if my cookware is made in the USA?
Cookware companies that manufacture in the US are generally proud of this, so you should be able to find confirmation in the About section of each website or in each product description. If you can't find this information on the brand's website, contact the company directly to inquire about a specific item.
Popular brands that are NOT made in the USA
You may be surprised to learn that pots and pans from these brands are actually produced overseas.
Cuisinart. This popular brand manufacturers its pots and pans in China.
Cravings by Chrissy Teigen. Though these products come with a low price tag — and are endorsed by an American celebrity — they're actually made overseas.
Rachel Ray. She's a famous US cookbook author and talk-show host, but her brand, owned by Meyers, makes its cookware mostly in Asia.
Williams Sonoma. While named after a wine country in California, Williams Sonoma makes most of its branded goods in Italy.
Shop more made-in-America products
More guides on Finder