Finder is committed to editorial independence. While we receive compensation when you click links to partners, they do not influence our content.
Top 25+ Made in USA clothing brands
Support American businesses and job growth while you shop.
For lots of consumers, buying American-made clothing is a conscious decision made for a number of different reasons — like ensuring high-quality, durable materials that will last and supporting the US economy. If seeing that made-in-the-USA tag on your clothing is important to you, shop our list of top brands designed and manufactured right here.
Note that not every product available on these websites is necessarily made in the USA. Some brands may only offer a small selection of American-made products. Check the product description before buying to be sure.
Our top picks
Made in USA clothing brands
Here are our top 25+ picks for brands made in the good ol' USA. Wherever possible, we've indicated the specific collection or clothing items that are American-made from these brands, as some companies do not manufacture all of their clothing in the USA. Double-check the product page of the item you're looking at to make sure it's domestically made.
Coats, outerwear, socks, ball caps, beanies,/td>

Men and women's dress clothes, outerwear, sleepwear, home goods, accessories and shoes

Only 1818 collection is made in the US; high performing garments for over 200 years

All American Clothing Co.

GA, IL, KS, KY, TX, WI

Men's and women's jeans, sweatshirts and outerwear

Unique denim sewing technique for maximum comfort

Men's and women's shirts, pants and outerwear

Offers a 20% military discount

Baldwin Denim & Collection

Men's and women's jeans, designer shirts and accessories

Men's designer outerwear, sweats, shirts and accessories

Clothing available from retailers across the globe

Leader in the contemporary dress market.

Men's designer jackets, polos, sweaters, accessories and pants

Some materials may be imported.

Not all items on the site are made in USA.

Women's designer blouses, dresses, shoes and jackets

Small, limited-release collections

Men's, women's and kids' ball caps

Women's dresses, jumpers, pants, tops and swimwear

Designed in Venice; made in LA

Sustainable manufacturing

Men's dress shirts, sport shirts and ties

Some materials may be imported.

Women's dresses, pants, sweaters and swimwear, including a plus-size line

Many items are made to order.

Women's lingerie and sleepwear

Sources USA-made components whenever possible

Women's designer tops, dresses, jumpsuits, pants, loungewear and accessories, including a plus-size line

Offers a 20% US Armed Forces discount

Men's designer button-down shirts, jackets, pants, athleticwear and hats

Supports ethical supply chain practices

Men's and women's polos, t-shirts and accessories

All production and manufacturing done in the USA. Company also donates 10% of profits to Loggerhead Sea Turtle conservation efforts.

Men's and women's basics, sweaters, bottoms, sportswear and accessories

75% of clothing is made in Los Angeles

Men's and women's dress shirts and sport shirts

Products only available from select retailers

Signature pants designed around bike commuting

Women's dresses, tops, denim, shoes, accessories, swim

Uses Tencel Lyocell, made from raw wood materials

High-end leather jackets for men and women

Only select products are made in America

All products are made in America

Jeans made with raw denim

Men's dress and casual wear

Avoids the unnecessary use of animal products

Men's shirts, outerwear, denim and basics

Only a small selection of clothing is made in the USA

Men's and women's designer jeans, sportswear, tops, and hats

Only select products are made in the USA

Men's jackets, sweaters, pants, dress shirts and tees

Company also sells home and lifestyle products from other brands

Women's designer blouses, dresses and pants
Does your company belong in this list?
Top 4 made-in-US clothing brands
Hanky Panky
The lingerie known for its scintillating sleepwear has manufactured in the Northeast since the '70s.
Hanky Panky manufactures its signature lacy basics from 100% Supima cotton and other quality fabrics in the USA — and has been committed to protecting workers and overseeing quality since its founding in 1977. It also uses locally-sourced materials when possible. Bonus points: as of December 2020, you can snag a free lingerie bag with your $150+ purchase.
Flynn Skye
Designer dresses, tops and skirts in feminine silhouettes.
You'll find plenty of pouf sleeves, cut-out details and pretty patterned classic mini, midi and maxi dresses from Flynn Skye. Everything is hand-sewn using limited-run manufacturing, so pieces are one-of-a-kind and all slightly unique. All clothing is designed in Venice and made in Los Angeles. Shoppers can enjoy free shipping on orders over $100 and 15% off after signing up for Flynn Skye's newsletter.
Karen Kane
Size-inclusive workwear, resort wear and more from a sustainable, all-American retailer.
Karen Kane touts its commitment to US manufacturing as well as ethical sourcing and charitable contributions to organizations like the Nature Conservancy and Children's Hospital Los Angeles. Shop women's apparel in straight and plus sizes made by people from underrepresented groups who are paid a living wage.
Todd Shelton
Professional workwear for men, straight out of the Garden State.
New Jersey-based men's retailer Todd Shelton sells directly to customers through its website. It focuses on finding the right fit with its Fit Kit that lets customers try two sizes without having to order the same item in multiple sizes. With attention to details like collar size and denim weight, it prioritizes soft, durable fabrics built for comfort on the 9-to-5 grind.
Which clothing brands sell American-made face masks?
Several made-in-USA clothing brands are now offering cloth face masks that are also made here in America, including these top picks: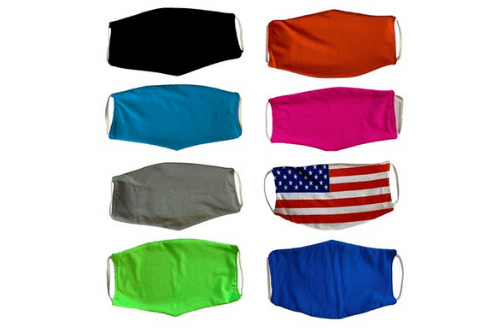 Made-in-USA UV Fashion Masks
from Etsy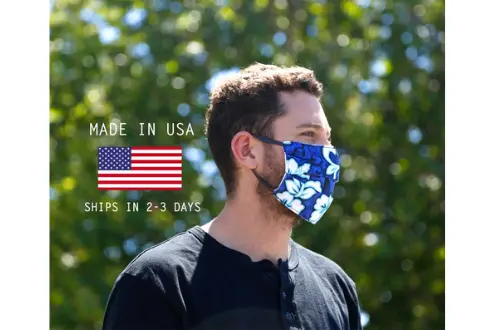 Washable, made-in-USA cloth face mask
from Etsy
What qualifications do "Made in America" clothes need to meet?
The Federal Trade Commission (FTC) regulates two types of standards that determine whether clothing companies can label or market their wares as "Made in America": unqualified claims and qualified claims.
Unqualified claims
An unqualified claim means the company can prove it meets the FTC's "all or virtually all" standard requiring the clothing and its parts are made in the United States.
For example, some True Religion jeans contain metal fasteners manufactured outside the US, which means that even if the final product is made here, the jeans can't be labeled "Made in America."
Qualified claims
Just as they sound, qualified claims detail the conditions that exclude them from FTC's "all or virtually all" standard. Qualifiers can include the percentage of content made in the US, where the non-US processing took place and more.
For the True Religion jeans example above, the company would need to qualify its claim with a label like "70% US Content" or "Designed in the USA, Assembled in China."
Is "Made in the US" clothing a more ethical choice over other options?
Yes, it can be. The United States has specific laws in place that protect its workers and resources using a high set of standards. In countries that lack labor standards, workers can be subject to child labor, unfair treatment, abysmal wages and concerning environmental issues that affect long-term health.
Of course, this isn't to say that brands that manufacture overseas are necessarily unethical. Many companies are taking a stand globally against poor working conditions and environmental concerns by holding their overseas manufacturers to the same high US standards.
Popular clothing brands that are NOT made in the USA
American Apparel Clothing. This iconic brand is making a comeback after being bought out by a Canadian company, but the "Made in the USA" messaging once plastered all over its former site appears to have taken a backseat. Very few — if any — products are still made in America. Most are made in Honduras. However, according to its website, American Apparel is "ethically made and sweatshop-free."
Shop more made-in-America brands