Macy's opens its Style Crew program to the public. Here's how to sign up and earn 5% commission.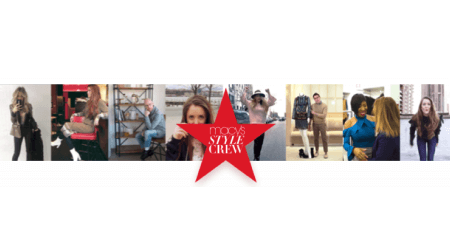 Fashion enthusiasts and social media gurus alike could benefit from the affiliate opportunity.
Macy's opened its Style Crew program — which was previously only for employees — to members of the general public on August 4. Now, fashion and beauty enthusiasts around the US with an Instagram account and an eye for style can sign up to start earning up to 5% commission. The application is online, and takes less than five minutes to complete.
This move by Macy's is an effort to tap into micro-influencer potential. Micro-influencers, with between 1,000 to 100,000 followers, are believed to have more direct influence over their audience than macro- or mega-influencers. This is because they tend to have a niche specialty, which leads to a more uniform group of followers. For example, a pug portrait photographer with 40,000 followers has a more specific audience than a pet photographer with 350,000 followers, and therefore may be more likely to directly influence purchasing decisions of, say, small dog accessories.
In a sense, Macy's is democratizing the influencer space. While you may not make thousands by promoting your favorite products, you could generate extra income by doing something you already do — shopping and sharing.
Style Crew launched in 2018 as a partnership with TVpage, a software company that connects advocates — also known as influencers — to brands. Members create their content and manage their Style Crew storefront through the TVpage app.
How do I apply for Macy's Style Crew?
Here's how to apply for Style Crew, starting from the login page:
Click Apply Now.
Enter your name and email address.
Create a username and password.
Enter your Instagram username.
Indicate whether or not you're a Macy's employee.
Agree to the terms and conditions.
Click Apply.
How does Macy's Style Crew work?
Affiliate marketing can seem confusing upfront. What's the common thread between your media, the products you're promoting, and the actual sales?
We dove in to learn how the magic of Macy's Style Crew actually happens, and were pleasantly surprised to find that it's pretty straightforward — simple enough for even a casual social media user to understand.
After applying through Macy's website, you'll download the Storefront by TVpage app. It's free to use. Log in using your Style Crew username and password to start creating content:
Upload a photo or video.
Add a title and description.
Select a category — for example, active, beauty or jewelry.
Tag products to your video. You can do this by:

Entering the product ID manually OR
Scanning the product's barcode (located on the tag)

Click Done.
Tip: Macy's suggests tagging about three to five products per video
That's all it takes to release within your Style Crew storefront. The next step is to share, which you can also do within the TVpage app.
Analytics and payments
Ah, but what about the money? Macy's offers five different reports that can help you track sales triggered by each post:
Overview. On one sleek page you'll see the top 10 most viewed videos, top 10 products — including the exact dollar amount in sales — and the number of clicks you've garnered.
Video report. This gives you detailed metrics for each video, including which social media channel the traffic came from, including the VTR, or View Through Rate, which shows how much of each video was viewed, on average.
Photo report. Similar to the video report, you'll get metrics like traffic source, along with the stats of shares, likes and comments.
Product link report. See how many clicks each product earned, as well as the final sales amount.
Sales report. This shows all the transactions you've generated, including your commission — Macy's calls this your Incentive Payment.
If an item is returned within 10 days of purchase, that commission will be deducted from your account.
What social media platforms can I post on?
From the TVpage app, you can promote your Macy's storefront via:
Facebook
Twitter
Pinterest
Instagram
Snapchat
Whatsapp
You could also send it directly to people through email, text or other forms of communication
More affiliate programs you can sign up for
Whether you're passionate about a specific brand or just love sharing your life online, affiliate marketing can be a valid way to earn extra cash. For digital entrepreneurs, it can be one part of a larger e-commerce business plan.
There are hundreds of affiliate programs across almost every industry you could think of — here are more that might be useful to fashion and beauty enthusiasts:
Photo: Macy's