Finder is committed to editorial independence. While we receive compensation when you click links to partners, they do not influence our content.
Compare pet loans for exotic animals
Big cats to tiny chimps, here's how to finance your wild pet dreams.
Editor's choice: LendingClub personal loans
Loan range: $1,000-$40,000
Coapplicants accepted
No prepayment fees or penalties
Go to site
If you're looking for a pet beyond your typical dog, cat or fish, you might be surprised by just how expensive a more exotic pet can be. Depending on the species you're interested in, prices can quickly soar to thousands of dollars.
But if your desire to love a wild creature outweighs your savings account, a personal loan is one way to finance your new exotic housemate.
Can I take out a loan to pay for an exotic animal?
In most cases, yes. Lenders generally don't require you to specify the exact purpose when you're looking to borrow money. You'll typically choose from a dropdown of borrowing options when you apply — and purchasing an exotic animal would full under the "Other" category.
If you qualify and are approved for a loan, you'll receive the money in your bank account and can use the funds to cover the costs of adopting the pet as well as other related expenses.
Personal loans to consider for an exotic pet purchase
What's considered an exotic animal?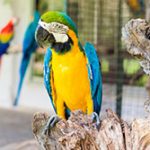 Before you dive into owning a new pet, do your research on the specific animal you're interested in. You'll also want to check into your local, state and federal laws to make sure you can legally own your pet.
In short, assume that any animal that isn't domesticated can be considered an exotic animal. Many species fall under the exotic animal umbrella, especially those considered to especially wild or dangerous, like large cats or venomous snakes. This might mean that your specific bird, fish, reptile, insect, amphibian or even mammal is "exotic" and therefore illegal where you live.
If your pet isn't a dog, cat or common farm animal, make sure it's legal before you attempt to take out a loan to purchase it.
Which exotic animals can I keep as pets in the US?
Each state has its own laws when it comes to buying and housing an exotic animal. Local city or county ordinances also play a role in what animals you can own where you live. You could find that you're able to obtain a license for an exotic animal in your state, but your city doesn't allow you to have that animal in a suburban or urban area.
Because laws vary widely across the US, read up on your local and state government regulations before you buy an exotic animal.
7 common exotic pets in the US
Tarantula
Bearded dragon
Sugar glider
Hedgehog
Capybara
Hyacinth macaw
Chimpanzee
How much does owning an exotic animal cost?
Adoption fees could be anywhere from $1,000 to $20,000 depending on the species, breed and rarity.
Beyond the purchase price of a new pet, exotic animals typically require more care and attention than a cat or dog. For many exotic pets, you'll need to prepare a safe environment for your pet to live in, one that's both spacious and resembles a wild habitat.
The ongoing cost of owning an exotic animal depends on the type of pet you choose to buy. For instance, a tarantula requires far less food and general maintenance than an aquarium of saltwater fish. Snakes often need heaters and a steady supply of either live or frozen rodents, and rabbits require toys to play with and space to move around.
Research the specific needs for your exotic animal before you buy one. The total cost of housing and maintaining an exotic animal can vary widely from a small terrarium at the local pet store to large enclosures designed to give your pet the room it needs to be happy.
Personal loans could help you cover this amount, but have an idea of the costs you face before you borrow.
Hidden costs of owning an exotic animal
Buying an exotic animal is only the first expense of owning a pet. While any hidden costs will vary by animal, a few to look out for include potential vet bills, boarding and diet.
Vet bills. Your exotic pet may require specialty veterinary services to treat injuries or illnesses it's susceptible to. Even common rodent species kept as pets can come with high vet bills. If needed, you can find financing options to cover vet bills as well.
Boarding. If you plan on traveling, the cost of boarding or finding a sitter for your exotic pet might be difficult. Consider the costs of maintaining a pet while you're away, which can quickly add up.
Specialty food. Finally, specific diets can be costly, especially when you need to feed a carnivore. It may sound obvious, but food costs for your pet isn't one many people plan for. Before you take out a loan to finance an exotic animal, budget out daily and specialty food your pet will need to remain healthy.
How else can I pay for an exotic animal?
Personal loans may not be your cheapest option for financing an exotic pet. If you're looking to finance an animal with credit, consider your full options.
Your savings. An exotic animal, like all pets, is a big commitment. It may be hard to build up enough savings to afford a new pet, but going into debt for an animal may not be the wisest financial choice. Consider creating a savings account and postponing a pet until you're ready to buy it outright.
Credit cards. If you have a credit card, you may be able to use your open line of credit to finance a moderately expensive exotic animal or its habitat costs.
Payment plans. Some breeders and retailers offer private payment plans if you find a baby animal you want to adopt and are waiting for it to mature. This isn't the most common option, but talk to your seller about the possibility of installments.
Bottom line
A new pet can be an amazing addition to your household. But if it's an exotic animal, you might need help financing your purchase. A personal loan could be that help, so don't hesitate to compare the rates, terms and eligibility offered by lenders when narrowing down your options.
Frequently asked questions
More guides on Finder