Lime Crime's Fairy Garden Collection is coming — and it's time to glow up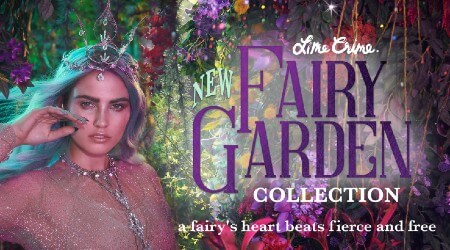 The pixie-perfect line includes twinkling eyeshadow, body highlighter and sparkling hair mist for starters.
Just in time for spring, Lime Crime is releasing its Fairy Garden Collection, an enchanting line of makeup, body and hair products designed to make you glow — this time not like a unicorn, but as a fairy. The collection includes its popular semipermanent Unicorn Hair color in two never-before-seen shades: the deep violet Genie and electric blue Mystic.
With no mattes or neutral shades in sight, check out what's in the collection:
Fairy Garden Body-Lite. A buildable liquid highlighter in three shades: Supernatural (mint green), Lunar (petal pink) and Enchantress (shimmering gold). Looks like you can expect loads of sheen and a creamy consistency.
Fairy Garden Lid-Lite. Suede one-pan shadows in 6+ shades — including a metallic mauve and frosted champagne that look divine.
Fairy Garden Wet Cherry Gloss. Sheer, sparkly lip toppers in surprising shades like Minty Cherry — a glitter-specked, multidimensional green — and the lavender-blue Fairy Cherry.
Unicorn Hair. Give your hair a vibrant hue with temporary shades Genie and Mystic.
Unicorn Hair Star Mist. Temporary spray in two shades that give locks a glittery finish before rinsing out.
Lime Crime hasn't announced a date for the new collection yet. But you can sign up for the Fairy Garden waitlist with your email address.
What people are saying about the collection
Reception is largely positive on Lime Crime's Instagram page, though users elsewhere online criticize the brand's reliance on magic and unicorn themes. A few users say they wished the brand would go in a more mature direction. Others complain about the packaging choices and shade names.
Still, many commenters say they're excited about several upcoming products, especially Lid-Lite. Some note the similarity between the new shadows and the now discontinued Superfoils.