LightStream, online lenders win top spots in 2020 J.D. Power survey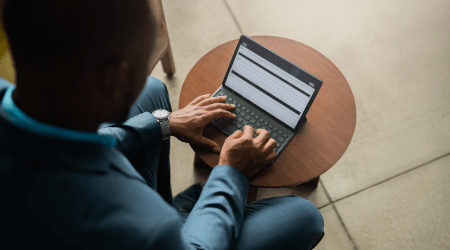 More Americans are considering online lenders than one year ago, survey finds.
Online personal loan provider LightStream announced it was named "Best in Customer Satisfaction" in J.D. Power's 2020 U.S. Consumer Lending Satisfaction Survey on Tuesday. And online lenders occupied the top five spots in the survey, including Marcus by Goldman Sachs, Discover, SoFi and LendingClub.
This continues a trend of online lenders overtaking banks and other traditional lenders when it comes to customer satisfaction. In 2019, online lenders held four of the top five spots in the J.D. Power survey.
The 2020 survey also saw a 9% jump in customers who would consider an alternative lender from 2019.
Why borrow online?
J.D. Power found that customers primarily cared about reputation and loan terms, which typically favors banks. But a rise in consumer preferences for quick application and few to no documents helped push online lenders into the top spots.
Typically, it only takes minutes to fill out an online personal loan application and seconds to receive a decision, thanks to the algorithm-driven underwriting online lenders use.
Many online lenders also only require a few documents, if any. Some ask to connect to your bank account to review your finances, rather than requesting recent bank statements.
Banks, on the other hand, have been slow to adapt to new technologies. Some require borrowers to visit a branch in person. Many still rely on individuals to underwrite and approve loan applications, which can take days or even weeks.
It's also possible COVID-19 has contributed to preference for online lenders. The 2020 study was conducted several months into the coronavirus outbreak in the US, between May 8th and May 10th — when many banks were closed or offered reduced hours.
Reputation and efficiency set LightStream apart
LightStream is the online personal loan arm of Truist Bank, the product of a 2019 merger between SunTrust Bank and BB&T. Its relationship with a bank gives it legitimacy that many online lenders have struggled to attain.
"As a digital business, LightStream understands that maintaining consumer trust is more important than ever," said Vice President and GM at LightStream Mark Ford in a statement. "We remain true to 'Customer First' values. Our streamlined loan approval and account management processes continually evolve to meet customer needs — transparently, efficiently and securely."
Customer guarantee and low rates
LightStream takes customer satisfaction seriously. Its guarantee program offers $100 to dissatisfied customers who complete a survey within 30 days of receiving the loan.
"It's not that we don't make mistakes, we do on occasion," LightStream Senior Vice President Todd Nelson told Finder during an interview in July. "We certainly want to know when we do but by and large, we know we've got a great experience and we're willing to put our money where our mouth is."
It also helps that LightStream offers rates that are more comparable to the low APRs banks offer, rather than other online lenders. Its rate beat policy allows customers to qualify for an APR 0.1% lower than an offer from a competitor — provided that the offer meets certain criteria.
Flexibility during COVID-19
LightStream has also been more flexible than your typical lender when it comes to customers. Rather than offering limited deferment, LightStream is allowing customers to defer repayments as many times as they need during the coronavirus. And they don't need to call customer service to do so.
"We've actually built out some self-service capabilities so that they can log into the LightStream website and defer their payments on their own," Nelson said.
Once customers get back on their feet, they can make additional repayments to get back on track or make one balloon payment at the end of the loan term.
How to find an online lender that's a good fit
LightStream might have ranked high for customer satisfaction. But it might not be the best fit for everyone — especially if you've experienced a reduction in income or have a credit score under 670.
Start your search for the right lender by figuring out what your top priorities are. For example, do you need the money as soon as possible or is cost the main concern? Use these factors to compare lenders available to residents of your state, credit score and income ranges.
After you've narrowed it down to a few lenders, see if you can prequalify to compare the rates and terms you might get if you applied.
If you're not sure where to start, you can narrow down your choices by using a connection service, which can help you prequalify with multiple lenders at once.
Photo: Getty Images